This is going to be an entire article without any health and fitness advice – just all about a summer weekend getaway my boyfriend, my dog and I were lucky enough to experience. It was so much fun and such an unexpectedly beautiful place that I had to write about it.
The Place
Malone, NY…apparently very close to the Canadian border and at the very north end of the Adirondacks. A favorite for skiers, this land is full of majestic mountains that go on as far as the eye can see. And gorgeous, pristine lakes – there are so many of them in this region. Just look at the blue water behind my boyfriend and my dog, Evie. Whether it was crossing over the southern tip of Lake Champlain, or driving alongside it for what seemed like forever, I have never enjoyed a really long ride (5.75 hours) so much.
Never in my life had I ever thought about visiting the Adirondacks – not that they are incredibly far from where we live, but it's something I just never considered, since the White Mountains are closer to us and where my family tends to visit. But after visiting here for what was definitely not long enough, I can see why people come here to get away from it all.
It is so peaceful – just look at the view from the front porch we were lucky enough to experience each morning – it's amazing…even with bad weather coming. (Turns out, weather sticks really do forecast weather accurately!)
The Cabin
It did describe the cabin as rustic in the description at the auction, so we were not surprised at the cozy quarters where we stayed. In fact, that was half the fun being here at the lake when used to living in a traditional/contemporary style home.
The cabin wasn't huge, and it wasn't tiny, but it was right on the water, so when you woke up each morning, all you could see was the glass-like surface of the lake…until other visitors got going and the boats came out, then the waves rolled in!
The Loons
This probably won't excite everyone quite as much as it excited me, but this was the first time I had the opportunity to see, and hear, loons. I've seen enough photos of them and heard their calls when squeezing those stuffed animals that talk, but this was the first time experiencing their majesty first hand. Not only are they absolutely remarkable to look at, their calls are really something else…almost haunting. So undeniably wild, yet so serene.
R&R
…

I Don't Think So

So, you'd think after escaping from the daily grind, this would be the perfect place to kick my feet up and relax…yeah, not so much. This was the perfect opportunity to learn how to operate a small boat and how to canoe – neither of which I had done before. Canoeing is hard work, lol! And, it was a great lesson in teamwork for us. And just an fyi, I drove the boat like an idiot at first, but it didn't take too long before I was going over one mile per hour :)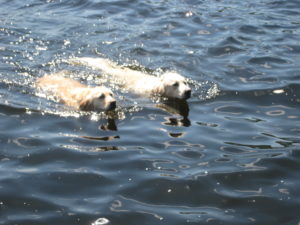 Yes, Lake Titus was the perfect place to enjoy outdoor activities, some relaxing, and spending time with my boyfriend and Golden Retriever. This was the first time I'd ever brought my little sweetie pie (Evie is on the left in this picture with the two dogs) on vacation, but she never strayed from our sides except to swim. She even came boating and hiking with us – along with her litter mate, Connor, who happens to be my sister's dog – here they are swimming back to the dock after trying to say hi to the seagull on the rock out front. The dogs also enjoyed themselves immensely, taking every opportunity to hop in the water or swim out to kayakers and drifting fishermen who came close to the cabin. It was their dream vacation.
Hiking Mt. Immortelle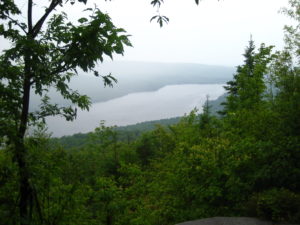 Our hostess told us of the glorious views from the top of this mountain as she dropped us off at the dock the first morning, so we knew right away we'd have to hike it at some point. Well…we picked the wrong day, because it was rainy and cloudy. Needless to say, the view was still gorgeous, although we will definitely have to go back some time to try it again on a crystal clear day.
While this trail was not too long, it was an awful lot of vertical climbing – a great butt booster and cardio workout in one!  I will never forget the view from the top – you could just see the lake from above, as well as the Adirondacks sprawling out in every direction as far as we could see on the overcast day. It was so inspiring and so worth the effort to climb up. Keep in mind Lake Titus is almost two miles long and 1/2 mile wide at its widest, and you're seeing almost all of it (except for what's hidden behind the overgrowth) from where we were standing at the top! The dogs loved the view too!
A Heavenly Location
Like I said, I never would normally have thought of this area to get away for the long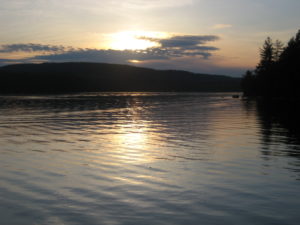 weekend, especially where we had only access to the cabin via boat, but it was really breathtaking and really worth the ride. And the sunsets, well, that could be another post entirely. As an artist and someone who has always loved nature, I just found the whole atmosphere incredibly awe-inspiring.
It really makes you realize how very small we are in the scheme of things and how much beauty really surrounds us. I never thought I could feel so differently as I sipped my coffee each morning, staring out at the cranes fetching their morning breakfast and just watching the way in which the waves rippled, but I did. It was an overall sense of well-being and peace that I don't normally get when I'm rushing to get myself ready in the morning. It's way too easy to take it all for granted in the hustle and bustle of daily life, but really, it's always important to take a step back, take a deep breath, and enjoy.
Have a favorite place you like to escape to? Please share below.