I just finished Brazil Butt Lift's Rio Extreme workout, and wow, it is pretty intense – not at all what I was expecting.
My Rio Extreme Review
Rio Extreme is NOT an intense dance workout like other reviews remark elsewhere online, although it is very intense and not that easy to keep up with if you don't know Leandro's signature moves. So far, it is the most intense Brazil Butt Lift workout I've tried. In fact, I had to stop and do moves from Cardio Axe during it to tone it down some when I found myself ridiculously out of breath. I had fun regardless – mostly laughing at myself.
I would strongly suggest doing other BBL workouts first, only because you will not understand and be familiar with the moves if you've never done a Brazil Butt Lift workout before. Otherwise, you may get a bit lost.
In the beginning, I thought it would be similar to Sculpt, but I was pleasantly surprised to find out it was more like cross-training where you work one part of your body with weights, in between short bursts of pretty intense cardio for about 1.25 minutes.
While this short bout of cardio may not seem like much, I can see how people might not be able to easily keep up – especially at the speed of the video. I can also tell you I was sweating hard only 10 minutes into it!
Yes, even after how I'd bragged about my noticeable increase in endurance level, I still had a very difficult time with this one, often switching to moves from other workouts as previously noted when I felt myself getting a little bit too out of breath. I also went a lot slower than they did on much of it, but did finish the video, which is all that matters to me.
Where Can You Buy the Rio Extreme Workout?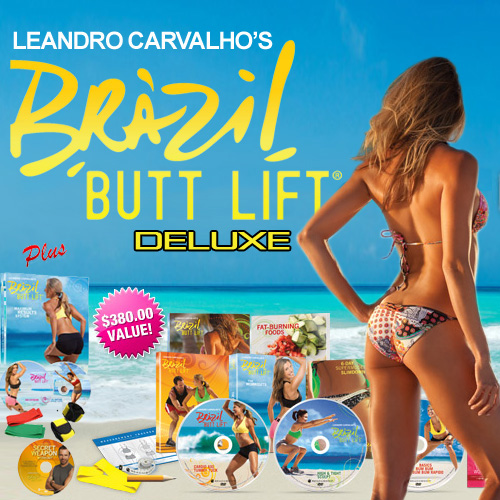 As with any other workout from Beachbody, the Brazil Butt Lift Rio Extreme workout is only available with one of the Brazil Butt Lift packages, although you may be able to find it on Amazon for more money.
The original version of Brazil Butt Lift package does not come with the Rio Extreme workout, so you will either need to purchase the BBL Deluxe kit or do what I did and buy the regular BBL version, then purchase the Brazil Butt Lift Deluxe Upgrade kit separate from the original workout package.
The upgrade comes with Rio Extreme, Abs Rapido, and Uppercuts. It also comes with some equipment to help take your booty makeover to another level, which includes two additional strength bands – a medium (green) and advanced (red) to up your intensity from the beginner one that comes with the original kit and booty buster anklets to intensify such workouts as High & Tight.
While the workouts are tough enough in the beginning that you may not want to use this added equipment, by week two, you will definitely want to start adding some resistance to really help tone your muscles. I'm on Week Four and using 4 pounds of ankle weights no each leg for High & Tight. Next week, I'm moving onto 5 lbs., and then, I may need to get heavier weights or double-up like Leandro suggests. I always thought he was nuts suggesting doubling up during High & Tight, but now I can see why. As you get stronger, you need to keep challenging yourself to reach your ultimate goals: to get the best butt of your life!
If  you're interested in purchasing the Brazil Butt Lift program, I would strongly suggest saving some money and purchasing the Brazil Butt Lift Deluxe version that comes with the regular program – it's worth it…I just wish I'd noticed it when I first bought it instead of buying the kit separately.
The Rio Extreme Moves
You will definitely recognize moves from other workouts like Bum Bum, Tummy Tuck, and Sculpt in this one. But, there were also some other great new moves incorporated – like kickboxing or dance moves I remember from back in the day when I was first learning tap, jazz, and ballet. It was the scissors move from tap that sparked some nostalgia – but nothing like this crazy version! I actually made myself laugh several times at how silly I must've looked trying to keep up with them.
For some of the cardio, you do jogging, jump roping, and Afro-Brazilian lunges (which you will learn in Bum Bum). You also do a myriad of other cardio moves that I should've taken more notes on. For the weightlifting, you do a lot of compound moves like squats with Arnold presses or slow squats with quick standing up as you shoulder press, pliés with bicep curls, or stiff legged deadlifts with leg raises.
Regardless, it is no easy feat. However, you will feel like a million bucks after finishing it.As for how many calories burned, it was at 395 for the 50 minutes – but let's not forget that I didn't do it at maximum intensity, because I am sure you could get near 500 calories burned at full speed.
I am treating myself to non-fat plain Greek yogurt with some frozen wild blueberries for dessert tonight to give myself a pat on the back, which is just one of the many amazing recipes in the Brazil Butt Lift diet plan that you will be able to read about very soon.
Leandro uses different momentum to change things up throughout the Rio Extreme workout, so you are not getting the same workout twice. It was crazy at times, but an awesome way to burn some calories – did I mention it's a lot of fun too?
When to Try the Rio Extreme Workout
While I did have a lot of difficulty keeping up with this one, I would highly recommend it if you want a change-up from your typical workouts or you're already doing the program and want a new challenge. You could even add it into a day where you're just doing High & Tight and Tummy Tuck to get some cardio in. However, I would suggest not doing Sculpt the day after this.
Like all of the other Brazil Butt Lift workouts, Brazil Butt Lift's Rio Extreme workout will change your body!