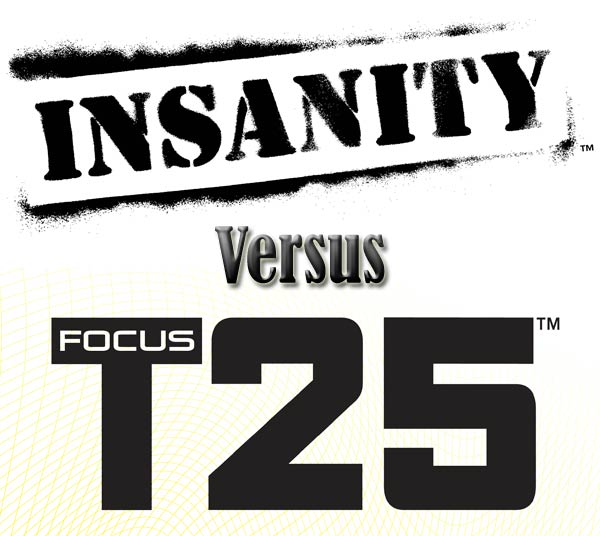 Choosing a workout program is never easy, and it became even more difficult with the introduction of Focus T25.
Let's face it, you not only want a program that will get you the best results possible - you also want a workout that works with your schedule, so you'll stick with it. No workout is worth it if you're not going to be able to commit the time.
If I were to compare Focus T25 and Insanity in just one sentence, it would be this:
Insanity is an insanely intense workout program where you push your body to its cardiovascular limits, while Focus T25 pinpoints your workout efforts in an extreme, 25-minute workout that leaves you with that "just had a really good workout" feeling, not going to pass out on the floor feeling (aka Insanity).
Most Frequently Asked Questions Answered
Focus T25 is not just a shortened version of the INSANITY program.  Focus T25 is based around the theory that 25-minutes of high-intensity exercise puts your body in the optimal range for continued calorie burn. This means your body will continue to burn more calories after your workout is over.
Quick Comparison Chart of Insanity vs Focus T25
Fitness Info
INSANITY
FOCUS T25
Weight Loss
X
 X
Muscle Toning
X
Core Strength
 X
 X 
Flexibility
X
Abs
X
  
Cardio Endurance
X
 
INSANITY
FOCUS T25
Schedule Length
2 Months
10 Weeks
Avg. Workout Time
 45 Minutes
 25 Minutes
# of Workouts a Week
 6
 5
Equipment Needed
 None
 Resistance Band (included)
Equipment Recommended
Plyometric Mat, Heart Rate Monitor
 Resistance Band or Dumbbells, Mat
Diet
 Balanced Diet Plan
 Simplified Balanced Diet Plan
# of Workouts
 12
 11
Saying
"Dig Deeper"
"You Have to Focus"
Workout/Fitness Guide
 Included
 Included
Workout Calendar
 Included
 Included
Money-Back Guarantee
 Yes 60-Day
Yes 30-Day
Price
 $119.85- 

Buy Here

 $119.85- 

Buy Here
Who these Programs Are Perfect for
The Insanity workout program was created for people who want an intense cardiovascular exercise program that is not dance oriented. The plyometric-based movements are meant to shred fat from your body and is great for people who want a more bootcamp style workout. Think insanely tough :)
Focus T25 is also high intensity cardiovascular training with some weight training mixed in for a full body toning workout that hits not only your core, but your legs, arms, and back. The workouts in Focus T25 are only 25 minutes long for 5 days a week, which is optimum for those with full time jobs – including busy moms. The program is perfect for those who want to get an intense workout with less time to spare each day and even for those who just want to change up their longer daily workout routine for something shorter to maintain results. You can also opt into the Gamma phase, which will prolong the workout for another 25 days.
Focus T25 Trumps Insanity in Modified Moves
The biggest drawback I can find with the Insanity workout program is there are really no exercise modifications. I understand the workout would not be as intense with exercise modifications, but I would rather a less intense version of an exercise than only being given the option to walk it out or jog in place until being able to continue with the workout. So, if you're not already in good shape, plan on walking or jogging in place to catch your breath often. The good news is that you do build up endurance quickly, so you often are able to make it longer each and every workout.
Focus T25 has modified variations of every single exercise move. Sometimes, the camera angle is not always the best for viewing the exercise modifications, but you do always have the option, which is especially nice when you're doing spider pushups for the first time… yikes! I absolutely love having the modified moves to fall back on when I was out of breath or just couldn't physically do the moves.
When I really feel like I can't keep up, I drop down to the modified movements, and then when I catch my breath, I focus back on the real movements. The modified moves in Focus T25 are perfect for:
Those who are not in that great of shape
Those with bad knees – you never have your feet leave the ground with the modified exercises, because they are all low-impact variations :)
Workout Equipment is Minimal
Insanity has a leg up on Focus T25 when it comes to exercise equipment you'll need for the program. With the Insanity workout program, you don't need any equipment. However, a heart rate monitor and plyometric mat are highly recommended.
On the other hand, Focus T25 does have some weight training workouts, which means you will need to supply your own set of dumbbells or use a resistance band. Luckily, the Focus T25 program comes with a 15lb B-Lines resistance band. I prefer dumbbells, although it's a little bit of an investment at first, but something you can use for the rest of your life after you finish the program. Resistance bands don't last forever, and the movements can be restricted.
Workout Schedule Differences
The Focus T25 workout program is 10-weeks long, and Insanity is 60-days. Needless to say, it's not that big of a difference. Both programs have two phases: the first phase preps you for the second phase, which is more intense than the first. The second phase workouts of Insanity are longer than the workouts in the first phase, while the Focus T25 workouts remain 25 minutes throughout the second phase. There is also a third phase to Focus T25 called gamma (sold separately) that you can opt into if you're looking to continue the program after the first 10 weeks.
What Kind of Results Can You Expect?
Both programs have produced awesome results, so that's what you can expect: real results! With Focus 25 being a newer program, there are still limited results to see. After three days of T25, I was already seeing a difference in my abs and my thighs – I was beginning to see my lower abdominals even!
Here's a short breakdown of what you can expect with both:
Insanity:
Weight loss
Improved muscle definition
A ripped athletic looking body
Focus T25:
Weight loss
More toning and shaping of the muscles
A well-toned body
—–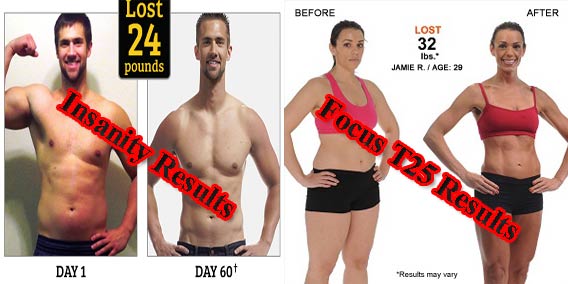 Shaun T is Not the Same Trainer
Much like actors in different movie roles, Shaun T's personality and training style is much different in T25 than it is in Insanity. He also slightly altered his appearance  for Focus T25. He looks so different with hair!
In Insanity, Shaun T is clean shaven (including his head) and has more of a drill sergeant personality than a fitness instructor. He does a lot of yelling, screaming at you to push it and dig deeper – not necessarily my favorite style of motivation, but for a lot of people it works…and it works very well.
In Focus T25, Shaun T is sporting a goatee and a full head of hair. Not only is his appearance different, he is more concerned about proper form and having you focus on your core muscles than in the Insanity program.
Which is the Better Program for Beginners?
If you are just beginning to work out on a regular basis after a long time away or just not used to working out, I whole-heartedly recommend beginning with the Focus T25 first, and then moving on to the Insanity workout program after. After Focus T25, you will be in better shape to conquer the Insanity program. Plus, as I mentioned earlier, T25 shows you a lower intensity modification on every single move.
Which Program Will Help you Lose the Most Weight
Ah, it all comes down to the big question and the most difficult to answer: Will you lose as much weight with Focus T25 as you would with Insanity? There are so many factors that go into this, but my initial thoughts are probably not.
Insanity workouts burn more calories than Focus T25 workouts, which means if you consumed the same amount of calories on both programs, you would lose more weight with Insanity.
How Much the Workout Programs Cost
Something interesting that I have to tell you is that if you order Insanity or Focus T25 through Team Beachbody, you receive a free workout program with both programs. This is something you can only get through Team Beachbody and is only available for a limited  time.
Both workout programs are $119.95, plus any applicable taxes, as well as shipping and handling charges.
To order the Insanity workout program with the free Fast & Furious workout, click here.
I have also included a direct link to ordering the Focus T25 workout at the lowest price available online. And, it includes the free Core Speed workout (which I LOVE!) that you can get by clicking here.
Still Need Help Deciding?
If you still need help choosing between Insanity vs. Focus T25, please leave a comment below, and I will do my best to help you decide. Please share as much information about yourself as you feel comfortable, so we can make the right choice for you.