Looking for the best in streaming home workouts?
In this post, I'll be sharing my experience with both the Beachbody on Demand and the Daily Burn streaming workout membership sites. I don't favor one site over the other (there are definite pros and cons with each), but hopefully this write-up can give you an overview of the services each workout site offers.
I personally have had the Beachbody on Demand service since its introduction in early 2015. I have been following Beachbody's Yoga Booty Ballet pregnancy workout and Active Maternity workouts for the past four months.
When I saw an ad for the Beautiful Belly yoga maternity workout from Daily Burn, I decided to give the service a try, which is what led me to writing this review of Beachbody on Demand and Daily Burn.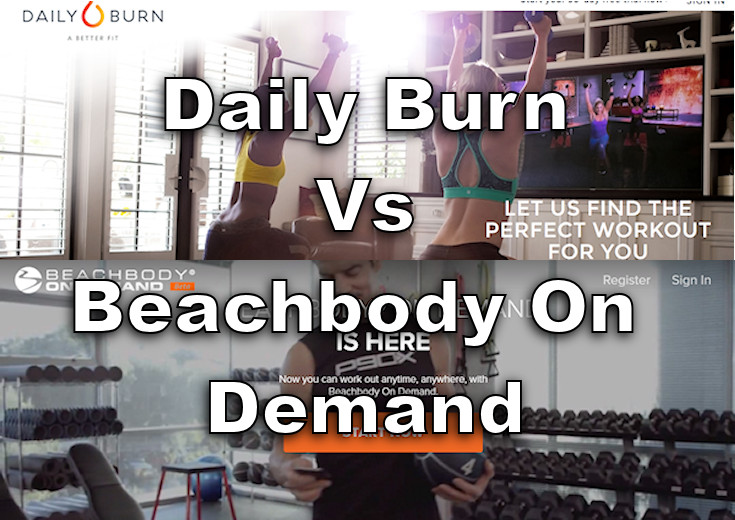 Here is what we'll cover:
Quick View Videos of Each Service
In the video above, I share with you a simple screencast and voiceover of what the backends of Daily Burn and Beachbody On Demand look like. Both have simple layouts, that are pretty easy to navigate. and you'll get to see the key features of both sites.
Brief Overview of the Two Companies
Beachbody was founded in 1998. Their most famous program, P90X, was launched in 2002. Since P90X, the company has released a number of other at-home workout program hits such as Insanity, PiYo,  21 Day Fix, Focus T25, and Body Beast.
Daily Burn was founded in 2007, beginning as a health and nutrition tracking app that officially became the Daily Burn Tracker in 2011. In early 2016, Daily Burn 365 was introduced – a live streaming fitness show and workout.
So…who copied whom? Beachbody was around first, but did not offer streaming of their at-home workouts until 2015. Daily Burn hit the workout streaming market prior to the introduction of Beachbody on Demand (BOD for short.)
I always felt like there was some carryover between the workout themes and layouts of the two companies, so I was not too surprised to discover on Wikipedia that the producer of the Daily Burn 365 workouts also directed P90X, which definitely could contribute to that.
Each Offers Different Workout Programs
This section was last updated September 2016.
Both sites have a great selection of workout programs. However, there are definitely some differences in types and amounts of offered workout programs.
Daily Burn allows access to 19 complete workout programs, plus the Daily Burn 365 daily workout.
Daily Burn complete workout program list currently being offered:
Live to Fail: bodybuilding type workout.
Black Fire: high intensity program, with resistance training, and plyometrics.
TBT: total body training with bodyweight exercises, circuit-based with 3 different fitness levels to choose from.
DB15: 15 days of 15-minute workouts.
Total Cardio: cardio-based workout for beginners to intermediates.
DBK: kettlebell-based circuit training workout program.
Core: 14-day program for ab sculpting.
Pilates phase one: 16-day program focusing on building a base for more advanced Pilates-based moves.
Pilates phase two: graduate on to more advanced Pilates moves that target the core and strengthening the entire body.
IntelliBurn: varying 4-week sample of workouts from all programs.
Cardio Sculpt: 3-month program with 12 different various cardio-themed workouts from kickboxing to yoga.
Yoga Made Simple: 4-week yoga program for beginners.
Yoga: 2-month intermediate yoga program.
Recover: one week's worth of mobility, stretching and light yoga workouts.
Move: dance-based cardio workout.
InfernoHR: advanced 28-eight day high intensity interval training.
Inferno: 21-day metabolic conditioning program of cardio and strength training moves.
True Beginner: 8-week program to build a fitness base.
Beautiful Belly: 3 trimester maternity and postnatal yoga series with 3 different workouts per trimester plus a 10-minute meditation workout.
Beachbody On Demand Workouts Offered
Beachbody on Demand has 32 complete workout programs in their Member Library, which I have categorized by trainer for the most part. There are also exclusive workouts from trainers that I did not include below, plus a changing Challenge Du Jour workout each day. The Premium Content library is shared in the next section.
Shaun T Workouts
Hip Hop Abs: Dance-based workout with a focus on working your midsection with standing-based abcentric exercises that also burn fat.
Rockin Body: Another dance-based workout focused on both calorie burn and body sculpting moves.
T25: High-intensity nonstop full body workouts. Each workout is 25 minutes and a mixture of cardio and resistance training on a 5 days a week schedule.
Insanity: MAX interval training workout where you perform exercises at high intensity for an extended period of time followed by short rest periods. Mostly plyometric moves, no dance.
Insanity: the Asylum: High intensity workout that uses sports-based moves to improve your agility, as well as overall performance. Uses an agility ladder, chin-ups, and a dumbbell set.
Insanity Asylum Vol. 2: Follow-up to the above workout, but a little more difficult. These workouts have a couple very good core workouts.
Insanity MAX:30: 30-minute high intensity workout with a variety of body weight moves. When you can no longer keep proper form, you write down what's deemed your max out time and try to improve upon your time the next time you do the same workout. From Shaun T.
Tony Horton Workouts
P90X: Advanced total body workout system. Uses strength training, cardio, and a yoga workout. Workouts alternate between resistance training, cardio, and yoga.
P90X One-on-One: Tony Horton takes you into his home studio to work out with him for one of them.
P90X One-on-One Vol. 2: Another out-of-studio set were Tony takes you through his own personal workouts.
P90X2: Advanced workout program based around the theory of creating instability to your moves to engage more muscle and stabilizer muscles.
P90X3: 30-minute workouts that engage the entire body. Resistance, cardio, and flexibility workouts to hit all fitness angles.
P90: Updated beginner level workout for all ages and fitness levels for the p90x series with 30 minutes workouts.
10 Minute Trainer: Short 10-minute workouts to get the blood flowing. The workout program wants you to stack the workouts as you build stamina.
Power Half hour (classic): 30-minute workouts. Shortened versions of P90X workouts.
Power 90 (classic): Beginner level workouts with cardio and strength training.
Leandro Carvalho Workout
Brazil Butt Lift: Workouts that focus on the lower body, but also tone and sculpt the entire body.
Brazil Butt Lift Master's Series: Easier than the original workouts, good maintenance program with a focus on the lower body. Uses an exercise ball.
Brazil Butt Lift CARNIVALE: 30-minute workouts with updated moves and different layout than the original.
Chalene Johnson Workouts
TurboFire: Kickboxing moves and cardio-based workout program.
Chalean Extreme: 3-Phase circuit training routine. I like to think of this program as a P90X's little brother workout.
Turbo Fire: High intensity interval training workouts to boost your metabolism and burn more calories.
Turbo Jam (classic): Cardio-based workout program.
Autumn Calabrese Workouts
21 Day Fix Extreme: Follow-up to the hit 21 Day Fix workout, the extreme version workouts are more difficult and the diet is stricter.
Hammer & Chisel: From Autumn Calabrese and Sagi Kalev, a full body program that uses resistance for most workouts to tone and sculpt.
Active Maternity: 3 workouts from Autumn Calabrese, one workout for each trimester.
Additional Workouts
Body Beast: Bodybuilding workout from Sagi Kalev using weights and a bench. May look a little intimidating for women, but I have seen some amazing results from women who follow this program. You will not get too bulky!
RevAbs: 30-minute workouts with a focus on the core.
Slim in 6: From trainer Debbie Siebers, a six-week program to tone up quick.
Tai Cheng: Tai Chi-based workout with a mobility and recovery warm-up.
Yoga Booty Ballet (classic): Yoga and ballet moves with with a focus on lower body moves.
Total Body Solution (classic): Total body workout for beginners.
Kathy Smith's project YOU Type2 (classic): The only workout and nutrition program designed in partnership with the American diabetes association.
Great Body Guaranteed (classic): Total body workout program.
3 Week Yoga Retreat: 3-week yoga program designed for beginners to learn yoga. Each workout is different and progresses over the program.
June 1, 2017 update: Beachbody no longer has a premium content area. All programs are treated the same.
21 Day Fix: 30-minute cardio and resistance workouts, 7 days a week for 21 days to build the habit of daily exercise. Portion control containers to learn proper portions carbs, proteins, and healthy fats without counting calories.
22 Minute Hard Corps: 22-minute military-themed workout program from Tony Horton. You do military-themed exercises. Workout also includes using a light sandbag.
CIZE: Dance-themed workout where you learn new steps and put it together – a little like Zumba. By Shaun T.
Country Heat: Like Cize, Country Heat is a dance-based workout set to pop country music anybody would recognize. 30-minute workouts from Autumn Calabrese.
PiYo: This is a yoga and Pilates inspired workout from Chalene Johnson. The body weight exercise moves flow from yoga poses to Pilates moves. Good program for the core, flexibility, strength, and improving posture.
With some of the more recent programs, Beachbody On Demand has options for different languages selections. You can even have the option to lower or even mute the background music or trainers.
The Daily Burn 365 Daily Workout vs Beachbody Challenge Du Jour
You have access to independent programs with each service, but both also offer a unique way of bringing you a daily workout that changes each and every day.
The Daily Burn gimmick is a new live streaming workout brought to you 365 days a year at 9 a.m. Eastern time. You can also live chat with other members. Cons are it can be hard to learn what is coming next as you will never repeat the same workout and background extras are not always showing the best form. I've only seen body weight workouts so far. To me, it looks like someone is videotaping a live class at a local gym.
You do not get access to previously screened Daily Burn 365 workouts unless you subscribe to the archive for an additional $12/month. I will cover more of that when we compare costs of the two services a little bit further down.
Daily Burn 365 Daily Workout Example:
Sunday: Yoga Flow – flexibility, mobility, and recovery workout.
Monday: HIIT – high intensity interval training using bodyweight exercises
Tuesday: Kickboxing – cardio-themed workout.
Wednesday: General – cardio workout with all sorts of moves from different trainers.
Thursday: Total Body Workout – body weight based moves for the whole body.
Friday: Mini Circuit – bodyweight circuit training exercises and cardio.
Saturday: Tabata Workout – 20 seconds on with 10 seconds of rest with warm-up and cool down.
I like to explain the Daily Burn 365 workout to people as getting access to someone who is live streaming an in-studio fitness class. I never had problems with streaming, but once in a while, you do see people in the chat screen complaining about buffering and needing to refresh their browsers.
Beachbody On Demand also has a changing daily workout called the Challenge Du Jour. It is a handpicked workout from Beachbody trainers. You get a different trainer and different workout daily from their lineup of programs. Think of it as hybrid schedule combining nearly all Beachbody workout programs.
Unlike Daily Burn, there is no chat feature built into the Challenge Du Jour. I personally turn it off on Daily Burn anyways, since I am there to workout not necessarily chat. While Beachbody does not offer a live chat built-in, they do promote hash tagging your daily workout with #cdj to connect with people. I do think the text reminder of the Challenge Du Jour is a pretty neat feature.
Beachbody On Demand Challenge Du Jour Example:
Sunday: Focus T25 Rip't Circuit – 25 minute circuit workout with resistance.
Monday: 21 Day Fix Extreme Plyo Fix – a cardio plyometric based workout.
Tuesday: P90X2 Shoulders + Arms – upper body strength-building workout with resistance.
Wednesday: Core & Cardio – P90X live-inspired workout.
Thursday: Body Beast Build Legs – weight training for the legs.
Friday: 22 Minute Hard Crops Cardio 3 – 22-minute cardio workout.
Saturday: Autumn Calabrese Exclusive workout Kill Cupcake – ab workout.
As you can see, the Beachbody On Demand "daily workout" plan is very well planned. You pretty much do a resistance workout followed by a cardio workout the next day, then more of a recovery or ab-focused workout on the third before the cycle repeats. The plan also takes into a account what body parts and types of training you do, so you never train the same way two days in a row.
You would need fundamental exercise equipment like dumbbells or a resistance band and bench or stability ball for Beachbody Challenge Du Jour workouts to get the most out of them.
Who Streams to More Devices
This is a hard section to write because both services, especially Beachbody on Demand, are constantly being updated (Apple Watch was added as I write this). At this time in September 2016, here are the devices for each site.
Daily Burn Streams on:
Apple TV, ROKU, Amazon FireTV, Google Chromecast, iPad, Android Tablet, Amazon Fire, iPhone, iPod, Android devices, web browser.
Beachbody on Demand can be Streamed on:
Amazon Fire Stick, Amazon FireTV, Amazon Fire, ROKU, Google Chromecast, Apple TV, iPhone, iPad, Apple Watch, web browser (there is no android app, but you can use the web browser on most smartphones).
Physical DVDs and Materials
One of the Daily Burn slogans is "say goodbye to DVDs". This means you cannot get any of the Daily Burn workouts on DVD or get the physical copy of workout calendars, diets, or materials – which for some reason, I still like to have a physical copy of.
Beachbody still allows you to buy the physical DVDs and program materials for most programs. There are some workouts that are Beachbody on Demand exclusives that you cannot get a physical copy of, but for about 95% of the programs, you can still order on DVD.
For new program releases, Beachbody will give you the option for digital only version at a discounted price, but you can still order the standard program with printed materials shipped to your home.
The Community Effect
While both services are mainly to bring workouts straight into your home, each platform has worked hard to build communities that you can go to for extra support and motivation with like-minded people. Something that is very important to your overall success.
Both Daily Burn and Beachbody offer coaching services
Daily Burn calls their coaching service from REAL coaches, which is offered through a third party app called Vita. The cost is an extra $40 per month and gets you one-on-one virtual guidance. You can choose your own coach, get feedback from your coach at anytime, and you also get access to track exercise, nutrition, weight and more with Vita.
Beachbody's version of coaching is everyone gets access to a free coach, but Beachbody coaches do not have to have any real qualifications or special knowledge. Beachbody coaches are there mostly for support and motivation through the programs (most have done or do programs). In my experience, some coaches will provide more support than others, but if you do not gel with your coach or find them MIA, you can always ask to change coaches.
Tracking Results
On Daily Burn, you can track your age and weight from your profile. When starting a new workout calendar, you can set a date to start, and a workout will then appear for that day. If you miss a workout, there is no option to push the workout back one day, which can get confusing since you will have to mentally note what day you're on.
With Beachbody On Demand, you also get access to the SuperGym were you can log your workouts and track the program schedule. It is more intuitive and has options to edit workouts. You can also add progress photos, measurements and create an entire profile. You can even your own blog if you want to.
Both sites have a forum area for community discussion. At the time of writing this, the Daily Burn forum  is a is new and not very active. Beachbody forums are very active, but there is a lot of people trying to offer their coaching services, which can make it a little ad heavy – and sometimes a little overbearing.
When it Comes Down to Cost
Both sites offer a free 30-day trial to the streaming workout service. Neither company will charge your credit card until the end of the trial. Making both no-risk.
Daily Burn Costs
When getting started with Daily Burn, there are not really any pricing options that can easily be found. You start with the free 30-day trial, and then can continue with the base service for $14.95, but can upgrade to more services.
Daily Burn has these 4 tiers if you wish to continue your service – all are billed month-to-month.
Monthly Workout – cost $14.95. This gets you unlimited access to Daily 365 Workout, nutrition and recipe content, workout apps, and workout programs we discussed above.
Monthly All Workout Access – cost $24.95. You get everything that is included in the Monthly Workout service, plus unlimited access to Daily Burn "Best of 365" workouts.
Monthly Premium – cost $52.95. Includes everything that is included in the Monthly Workout package plus 1-on-1 personal coach accessible through the Vita mobile app and personalized guidance to reach your goals.
Monthly All Workout Access Plus Coaching – cost $64.95. Gets you everything from the above three offers. 
To my knowledge, you must first start with the free 30-day trial to the "monthly workout", and then you may upgrade your account to one of the premium offers. Just be aware of what you are getting with the premium access, since I found it a little confusing that the services don't stack in order, but you get access to different features.
Here is the Link to the Trial of Daily Burn
Beachbody On Demand Costs
Beachbody On Demand also offers a trial but is only a 14-day free trial where your credit card will not be charged unless you opt to continue the service.
There are no different access levels with Beachbody On Demand, however, you do get more billing options that can result in savings.
Just a brief recap of what you get with Beachbody On Demand: unlimited 24/7 access to all the programs we mentioned above, workout calendars, nutrition guides, and all program documents in pdf format.
Beachbody On Demand Payment Options:
Option 1: 3-Month – No payment required during the 14-day trial, then billed at $38.87 each quarter starting after your 14-day trial. This works out to $12.96 per month and can be canceled anytime.
Option 2: 6-Month – A $59.00 payment gets you 6 months of Beachbody On Demand services. You pay on the date of activation, and if you do not wish to continue the service, you have a 30-day money back guarantee period. Works out to be a 23% savings or $9.99 month.
Option 3: 12-Month – At $99.00 paid upon activation fee, This year long membership is the most expensive up front, but equals a 35% savings or just $8.33 per month. You still have the 30-day money back guarantee.
Here is the Link to the Beachbody On Demand Offers
Beachbody On Demand is part of the Team Beachbody Club membership, which also includes  customizable meal planner, Q & A with trainers, coaching, message boards, as well as access to the SuperGym to track your workouts and your progress.
Over the course of a year, this is how much each service could cost:
For a year of Daily Burn Monthly Workout, you would pay $179.40. With Beachbody On Demand 12-Month payment option, you would pay $99.00 for the year and access all content.
Cancelling Accounts
Canceling looks to be easy on both platforms (I have not canceled on either.)
To cancel your Daily Burn, you simply go into your account profile at the bottom left of the screen and select>Account Settings>Manage Subscription>scroll down to View Your Options>then you have a form you can fill out and continue the process (this is as far as I went, since I did no really want to cancel!)
Beachbody On Demand service can be canceled by calling Beachbody customer support. From what I've heard, all you need is your order#, and the process is hassle-free.
My Final Thoughts
Personally, I just can't get into the Daily Burn live 365 daily workout. It always feels too much like an aerobic fitness class to me.  It does have a couple of unique programs like Yoga Maternity and DBK (kettlebells). The mobility and recovery workouts are also very good, which is an often overlooked area of fitness that Daily Burn really nails.
Beachbody On Demand breaks it down into easy-to-follow workout programs with calendars, nutrition books, and community. It is not rocket science, but motivation, getting started and keeping going is what it takes to be successful in the long run, which is where I really think Beachbody shines – it's simple to understand, easy to follow, and motivational.
I tried to make this comparison of Daily Burn and Beachbody On Demand streaming services as thorough as possible, but if you have a question about either service, please leave a comment below and I will try my best to answer it for you – or if you have experience with either, please share.