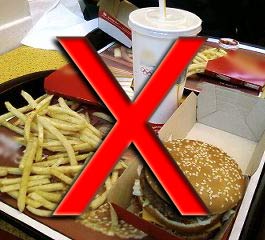 Surprisingly, not all fast food is full of evil, empty calories. Of course, you can always opt for a fatty bacon cheeseburger, artery-clogging deep-fried french fries, or a nutrition-less sugary soft drink to wash it all down. But, your best bet for overall health, not only just when you're trying to lose weight, is to opt for the better menu options. The good news is that most fast food joints have caught up with times to accommodate those more concerned with their health and offer a wide variety of food that is quick, convenient, and will not super-size your mid-section.
This article is for those times when you are on the road, time is tight, or you just don't feel like cooking. You may think you would never fall into the fast food trap, but it happens to the best of us. The best thing you can do is know the healthier options.
My 10 Guidelines to Healthy Eating on the Go
Drink diet soda or water – a medium soda can contain over 200 hundred calories. Most diet sodas are calorie free, but the best option will always be bottled water.
Hold the cheese and/or bacon – fast food restaurants can be surprisingly accommodating, but try to ask for shredded cheese or bacon bits on the side for toppings. Mozzarella and swiss are low-fat cheeses and are okay in moderation.
Avoid mayonnaise, ketchup, bbq sauce, and the "special" sauce – many condiments are a hidden source of unwanted sugars and fat calories – opt for mustard or salsa.
Opt for grilled over fried – choosing grilled chicken over fried chicken can save you over one-hundred calories.
Forget the fish – almost all fast food fish sandwiches are fried. Surprising, fried fish sandwiches are often the most calorie dense item on the fast food menu- the best advice: avoid them.
Pile on the vegges – ask for extra tomatoes, onions, peppers, pickles, and lettuce on your sandwich -this trick can turn a snack sized sandwich into a meal.
Skip the fries – french fries are the classic side to a fast food meal, but a plain potato, apple slices, or a side salad are a much better option.
Pick out the croutons – I  never knew until a short time ago that croutons are high in calories – pick them out of your salad.
Don't fall for the salad trap – some salads at fast food joints can contain over one thousand calories. Look for the side salad or a garden salad, and avoid full fat salad dressings, instead opt for low-fat dressings, or better yet, a vinaigrette.
Dessert? – low-fat ice cream or yogurt can make for a tasty treat, but just be sure you don't overdo it. Small or kiddy size is the way to go. Make sure to avoid the pies and anything fried.
The above are just general guidelines to eating at fast food restaurants. Generally speaking, you should try to avoid any food that is fried, sugary soft drinks, and fatty dressings. Opt for grilled and baked items and forget about the combo meals and large sizes – stick to ordering single items and smaller sizes.
Choose These Foods at Fast Food Restaurants
Single Patty Burgers or Jr. Sized Hamburgers
Grilled Chicken Sandwiches/Wraps
Turkey Sandwiches
Baked Potatoes w/o sour cream or cheeses
Water, Diet Soda, and Black Coffee
Low-Fat Yogurt/Low-Fat Ice Cream
Low-Fat Chili
Apple Slices
Mustard, Salsa
Low-Fat Cheeses like Swiss or Mozzarella
Lean Roast Beef Sandwiches
Grilled Fish Sandwich
Grilled Chicken Wraps
Garden Salads with low-fat/fat-free dressing