If you have checked out my About Me(link above) page, then you know I do not try every single Beachbody program. Why? Sadly, all of the programs don't interest me to try it out for the full duration, and I don't think it would be fair to anyone who visits my site and reads my reviews if I'm not actually doing the programs, too.
With that said, I can't wait to start The Master's Hammer and Chisel Program! I am so excited about this one!!! It's a program based around resistance training, which I love to do.
What is Unique About The Master's Hammer and Chisel Program?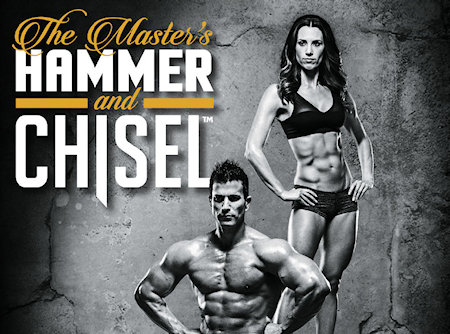 Behind every great at-home workout program, there is a trainer who can motivate you, instruct you, and push you to reach beyond what you thought was possible. Except with this program – you get two for the price of one!
Sagi Kalev, who created and was the trainer in the Body Beast program, which I've done workouts from, but have not completed the 90-day program yet. From a technical standpoint, Sagi does an amazing job at teaching proper exercise form. From a relational standpoint, he adds a touch of humor and is very motivational/inspirational when you need to get those last couple of reps when you think you're done for. And, he is also a two-time Mr Israel, a fitness model, and a renowned trainer and nutritionist…just to name a few. Love him!
Sagi = The Hammer
Autumn Calabrese, best know for the creation of the 21 Day Fix workout program with its color-coded portion control has taken the fitness industry by storm, pushing it to be recognized as the #1 at home workout program right now. Autumn brings a strength of compassion and real world experience. Plus, this mother-of-two is also a bikini competitor, author, and celebrity trainer. And she is so nice in person!
Autumn = The Chisel
My first thought was two trainers who were on screen at the same time would be a little too much, but luckily, they opted to have the trainers do their own workouts, which works out really well as they both get to play-up to their strengths.
There is Lots of Resistance Training
This program is designed to sculpt and tone your muscles with what has been termed SSP Training. SSP stands for Stabilization, Strength, and Power.
Base program includes 12 workouts
Sagi Workouts: Hammer Plyometrics, Iso Speed Hammer, Total Body Hammer, Max Hammer Strength, Hammer Power, Hammer Conditioning.
Autumn Workouts: Chisel Balance, Iso Strength Chisel, Chisel Endurance, Chisel Cardio, Chisel Agility, Total Body Chisel
You might almost be able to tell from the workout names that Sagi's workouts are going to build your strength and power, while Autumn workouts are going to define those muscles. This will prevent all of the ladies who are reading this, worrying they'll get too big to relax…you will not get bulky with this program.
Extra workouts with the Deluxe Master's And Hammer and Chisel program workouts. With the optional upgrade to the deluxe package, you get 4 more workouts that include the use of an 8lb medicine ball. They are Hammer Build Up, Power Chisel, 15 Min Leg Hammer, and15 Min Glute Chisel.
There are also the bonus workouts that come with either package and are only available if you purchase directly from Beachbody, which you can find a link to below. 10-Minute Ab Hammer, 10-Minute Ab Chisel, and the Master's Cardio workout.
For the Intermediates/Advanced
If you have never touched a weight before, this is probably not the best program for you to start with. The 21 Day Fix program, which can read more about here, is targeted more for the beginner or even the Body Beast program.
You also have to want to lift weights. There is no way around it with this one, because the The Master's Hammer and Chisel program is designed to sculpt and tone through resistance training. There are also the cardio-based workouts to burn more calories and improve your cardiovascular health, but I would call it a resistance-based program first and cardio program second.
The good news is that there is a lower intensity modifier doing the moves, but I still believe you need some training experience before tackling this program.
You'll Need Some Equipment
You don't need anything fancy here. When compared to most at home Beachbody programs, there is more equipment than normal, but if you already have weights, then you're well on your way.
Dumbbells of varying sizes
A resistance band
An adjustable weight bench or stability ball
Chin-up bar or resistance band door attachment
A 8lb medicine ball for deluxe workouts (included in the deluxe package)
Beachbody On Demand Sneak Peek
In the old days (pre-streaming), we did not get the luxury of being able to try out workouts from new releases. But with Beachbody On Demand, you do have that opportunity, which is just one of the many reasons I LOVE it!
Iso Speed Hammer by Sagi & Total Body Chisel by Autumn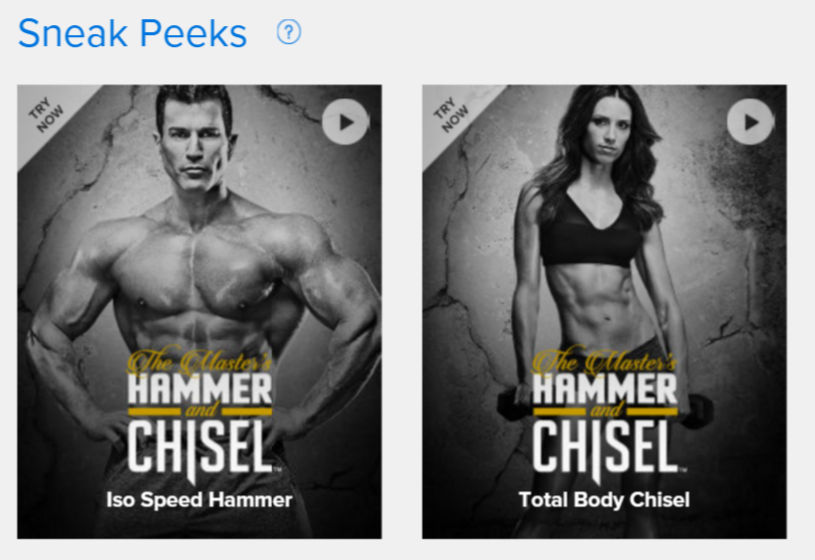 Click Here for the Club Membership Sneak Peek
Even though I just ordered this program yesterday and won't be receiving the physical product in the mail until next Tuesday, I have been able to try out a couple of the new workouts, as well as read through the quick-start, the program and the nutrition guide(Autumn's Portion Control containers are used). Plus, I have access to the online calendar.
The Official Release Date Was December 1, 2015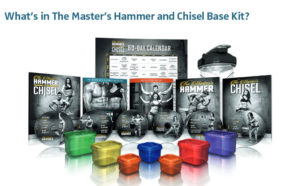 The workout program can be ordered exclusively through Team Beachbody with no shipping charge as part of the new release promotion, plus the 60-day money-back guarantee. Typically, Beachbody runs the shipping promotion for the first two weeks after a new program is introduced, but this time, you have the entire month of December 2015 to take advantage of this deal.
Though mine is ordered and will be here withinthe next week, I will not be starting the program until the New Year. If you would like to join me in completing this program and seeing how much we can change our bodies in just 60 days, you can check out the different program versions that offer, which I covered above.
Is the Master's Hammer and Chisel going to be part of your New Year workout plans…or perhaps something else? Please leave a comment a below.