If you've been thinking about trying out the Brazil Butt Lift at-home workout program, the Brazil Butt Lift Challenge Pack is one option to consider.
The Brazil Butt Lift Challenge Pack Unveiled
The Brazil Butt Lift Challenge Pack is just one of the many options you have when first ordering your Brazil Butt Lift workout program. To buy or not to buy, is really up to you. With the Challenge Pack, it's not just about you getting the body of your dreams, it's about totally transforming your health from the inside out. You will need to decide before placing your order if you want to try this one, because it isn't something that can be added in afterwards, like the BBL Deluxe Kit upgrade.
What you get with the BBL Challenge Pack:
Brazil Butt Lift Workout Program

Shakeology

on Home Direct in your choice flavor or combination of flavors
30-Day Trial to the Team Beachbody Club
So, Why Choose the Brazil Butt Lift Challenge Pack?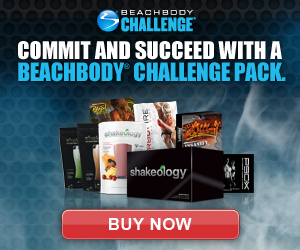 Because I said so. No, seriously…it's because it will save you a lot of money, and most important than money, it will help you live  healthier, more fulfilling life.
If you ordered the program, the club membership, and the home direct Shakeology separately, you would pay $191.76 plus shipping and handling. However, if you buy the Brazil Butt Lift Challenge Pack now, you only pay $160 for all of it! A total savings of $31.76!
Besides the obvious savings, here's a more detailed description of the Challenge Pack:
A better butt (and body) in 60 days doing a fun, but hard, Brazilian-inspired workout.
A club membership where you receive such things as meal plans customized for your personal goals, 10% off all purchases, your own personal coach (me!) who can provide you with guidance and support any time you need it, access to WOWY the online SuperGym where you can schedule and log your workouts as well as tracking your progress, advice and support from the online Beachbody community, and access to your favorite Beachbody trainers (like, Leandro!) and experts, including live video chats where you can ask all your questions.
The healthiest meal of the day, Shakeology, which will make your life a whole lot easier…especially if you hate cooking :) You can read my What is Shakeology? article if you're not sure if the Challenge Pack is best for you. On home direct, you will not have to pay expensive shipping charges on the product, and it will automatically be delivered right to your door every 30 days.
What Do You Have to Lose?
Except for a less than healthy lifestyle and maybe some of your tush, there really is nothing to lose with the Brazil Butt Lift Challenge Pack. It's worth every penny, but can only be purchased through Team Beachbody which you can do below.