I'm very sorry, but this offer is no longer available.

If you've been wondering whether or not to purchase the Brazil Butt Lift workout program, then there is no better time than now…literally.
What is the Brazil Butt Lift Challenge Pack?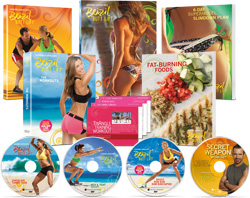 Right now, Beachbody, the company behind Leandro Carvalho's Brazil Butt Lift workout program, is offering a great deal where you can try out the Brazil Butt Lift program, get your 1st Home-Direct shipment of Shakeology, and get a Team Beachbody Club membership for only the cost of shipping and handling, which is $14.95.
This means there is relatively no up-front cost. The bad news is that after 30 days, you will be charged $160 for all your goodies and additional monthly charges if you choose to get Shakeology delivered each month. Shakeology is a healthy meal replacement shake that comes in Chocolate, Tropical Strawberry, and Greenberry.
Free Trial Offer
The good news is that, if you don't like the program for any reason, you may easily return it without paying for any of it – no matter how much Shakeology you've drunk or how many times you've done the workout!
You have nothing to lose – except your thighs and butt, so take the challenge and order your 30-Day Free Brazil Butt Lift Challenge Pack Trial Offer now!
Buy ordering now, I will also become your personal Team Beachbody coach. This means you can contact me regarding any questions you have or if you're just looking for some health or nutrition advice.
Chances are, you won't see another deal offered like this for a very long time. This is the first one I've seen since looking into their workout programs for the past year or so.