Are you straight from the waist down with no real noticeable curves or volume? Do you want a sexier backside? If the image below looks anything like you, then the Brazil Butt Lift at-home workout program is the secret of how to a bigger butt…guaranteed.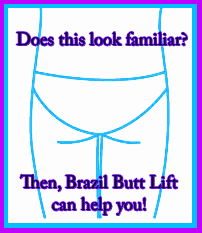 BBL is a proven way to get yourself a better looking booty in 60 days – no unnecessary, unrealistic-looking and expensive surgery required! With the Brazil Butt Lift workout program, you can finally have the fuller butt you've always wanted and deserved.
What is the Brazil Butt Lift Workout Program?
Brazil Butt Lift is a 60-day at-home workout program designed by renowned supermodel and celebrity trainer, Leandro Carvalho. It was created specifically to help women get the booty, and body, of their dreams with a unique combination of Brazilian dance-inspired moves, tried and true butt-sculpting exercises,and Leandro's award-winning personality.
Let's face it, not many women can really say they're 100% happy with their behind. Whether you're too straight, too big, too pear-shaped, or a combination of any of these, BBL can help you. I'd show you my own before & after results, but I'd rather show you how it really can help you get a bigger butt naturally.
The best part is, depending on your results, you may only need 30 days of the program to get you where you want to be.
How Brazil Butt Lift Gives You a Bigger Booty

When you lack shape on the bottom half of your body, it's due to your naturally occurring body shape. Brazil Butt Lift helps fight genetics by building up your buttocks muscles from all sorts of angles. This is what will give you the curvy behind you've always wanted.
Add you can see from some of the before & after images, the Brazil Butt Lift, lifts and shapes your rear to perfection.
What Calendar Schedule to Follow
If you want a bootylicious behind, then you must follow Brazil Butt Lift's Lift & Shape plan, also known as the Too Flat Solution, which you can view here on my Brazil Butt Lift calendar page. This schedule is designed specifically with the flat butt in mind. The Lift & Shape plan consists of more strength training workouts than the other workouts to really get your butt shaped. This is what creates the volume you're looking for to give you the sexy curves you want without taking too much away with extra cardio.
Leandro works with supermodels, and we all know most of them are very long and lean with not many naturally occurring curves (depending on model type, of course). So, how does he remain a top supermodel trainer? Because he gives them the sexy curves they need with the Brazil Butt Lift workout. With its unique combination of spot-specific and weight training workouts, you will lift your butt, shape your butt, and be on your way to a more well-rounded derriere.
Make Sure to Do This to Get Your Best and Biggest Butt with Brazil Butt Lift
Use ankle weights! It's not worth your time and money if you don't. The ankle weights are what are going to really build up your backside, so make sure you don't skimp out on this one. For those looking to really add some boom to their booty, try buying weights that are adjustable to 10 lbs on each leg. You may need to buy two pair of ankle weights – one pair that goes from less than a pound to five and then another pair for going from four to ten pounds. You really need the heavy weight to build up your bum bum, so don't settle for less!
Use heavy weights during Sculpt! While I wouldn't recommend going too heavy at first, try to use tens for the leg exercises. It is the weighted movements, like lunges, squats and deadlifts that are going to get you the butt of your dreams. Too often women thing they're going to get bulky, but with your lacking backside, you need the added oomph.
Get Started
If you are ready to get a bigger butt that is not only more voluminous, but also shapely, give Leandro's BBL workout program a shot. Brazil Butt Lift is not available in stores, which means you can only purchase it online or over the phone. I recommend purchasing the program through TeamBeachbody.com because you will not only get the 60-day, 100% satisfaction guaranteed refund protection, but you will also receive the Bonus Secret Weapon workout (a $20 value) FREE!