This is totally irrelevant to any helpful advice, but I happened to be checking out Beachbody.com to see if there were any new offerings I could let you all know about, and there was my backside on the Brazil Butt Lift web page under their REAL RESULTS!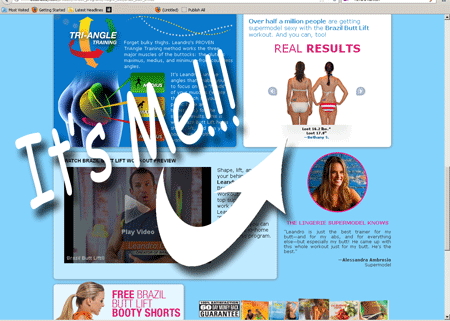 I couldn't believe it! I knew Beachbody said you could be featured in future marketing materials when sending in your results photos, but I never thought I'd actually be in their advertisements! All the hard work paid off. :)
While I did love the, "Ask me who's behind my behind" free t-shirt I received when sending in my results, I liked the $500 check for winning the Beachbody Daily Challenge even better. Yes, if you send in your results to Beachbody, you too can win $500! It's not a ton of money, but it's a help.
Of course now, if you send in your BBL results photos, they give a free pair of BBL booty shorts that are black with Bum Bum written in bright yellow. Now, I would've loved those, so after I finish the Brazil Butt Lift Master series, I will definitely send in my results again! I love all the free gear you can get – they're great for working out.
Remember
If you decide to transform your body with the Brazil Butt Lift workout do not buy from Beachbody.com. You will want to order from a Team Beachbody storefront to get the Brazil Butt Lift Secret Weapon workout(20$ value) for free which you can do by Clicking Here.