The 7-day Clean Week workout and nutrition program from Beachbody is designed to jumpstart a healthier lifestyle with an easy-to-follow nutrition and fitness program. You can make clean living a lifestyle if you make it one week.
I want to start by clearing up some of the confusion around accessing Beachbody's Clean Week program:
You can access the Clean Week workout programs without having to purchase Beachbody On Demand. All you need to access this program is a free Team Beachbody account.
You need to be a Beachbody On Demand subscriber to be able to access the official Clean Week Meal Planner Guide.
I can definitely see how the above requirements would be a little confusing with allowing you to access to the program for free but not allowing you to access the Meal Planner Guide without the subscription. And I completely understand how some may not want to upgrade to a Beachbody On Demand membership when they're first starting out.
I wrote this post to help you design your own Clean Week meal plan and help you begin with the basics of clean eating.
What the Clean Week Meal Planner Guide Covers
If you don't have access to the Beachbody Clean Week nutrition guide and meal planner, you can always start with a 14-day free trial to Beachbody On Demand.
There are four main topics covered in the Clean Week nutrition guide:
Determine your eating plan. If you weight less than 185lbs, you get breakfast, Shakeology (or snack), lunch, dinner. If your weight is over 185lbs, you add in one more snack between lunch and dinner.
Create your Clean Week menu. For each meal and snack, you get 7 different recipes to choose from. This makes meal planning SO simple! You can easily mix and match the foods you enjoy to provide the right nutritional value for the week without overthinking it.
Meal prep for the week. Once you have your week long meal plan created, you can start meal prepping for the week. This is a huge time saver and will also keep you on track without excuses for slipping.
The last step from the guide is to Drink Your Shakeology daily. Shakeology is used as a snack with this program. The nutrition guide comes with several delicious recipes I enjoyed very much. You can also choose another snack if you don't have Shakeology, although Beachbody created a 7-Day Sample Pack of Shakeology specifically for this program if you want to try it out before committing.
Sample recipes that come in the Clean Week guide are:
Breakfast: protein pancakes, berry walnut oatmeal, egg & veggie scramble, almond butter banana, lox 'n' toast, yogurt parfait, and breakfast bowl.
Lunch: tuna melt, Mediterranean veggie pita, lentil quinoa salad, chicken quinoa and broccoli, turkey burger, protein-packed salad, and salmon bowl salad.
Dinner: buffalo wings, teriyaki tempeh, veggie burger, grilled halibut, sweet potato and veggies, shrimp and veggie pesto pasta, chicken corn and salad, and pork and beans.
Snacks: veggies 'n' hummus with almonds, protein power edamame, nutty apple, yogurt bowl, trail mix, avocado toast with fruit, and sweet and savory turkey jerky.
Shakeology: almond butter cup, chocolate-covered cherry, banana bread, berry-licious, nutty mocha latte, cafe latte banana, strawberry almond dream, and strawberry chia. I also have over one-hundred more Shakeology recipes you can take a look at for ideas.
As you can see, there are a number of tasty recipes to choose from. And I really love the ease and simplicity of just mixing and matching. No one should be able to say there's nothing on the meal plan they don't like!
The recipes are pretty basic and use just a handful of ingredients. I've always found the easier healthy food is to prepare, the more likely you will stick with it.
My Sample Clean Week 1200 Calorie Target
Below is my own rendition of 7 days of clean eating. As you will see, I like to double up on the same meals sometimes. This way, I can cook double the amount while meal prepping, which cuts prep time in half since I have two meals now instead of one! This makes it especially easy if you're a very busy person.
Can you eat clean for 7 days? What clean eating means:
Clean eating means to concentrate on whole foods. Vegetables, fruits, whole grains, lean meats, healthy fats are considered clean foods. You want to avoid processed foods, foods with preservatives added and those that contain unhealthy fats. My rule of thumb is if you could pick it or kill it, you can eat it on Clean Week.
If you weigh more than 185 lbs, my sample Clean Week meal plan is for right you. If you weigh less than 185lbs, simply remove the second snack between lunch and dinner.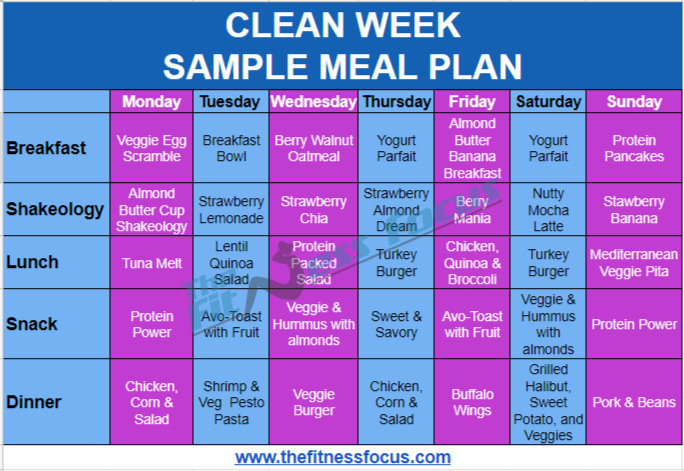 Here are the links to the Clean Week Sample Meal Plan in Google Drive. Click file make a copy to edit – https://docs.google.com/spreadsheets/d/1uXSelFFIRu8r2m7nsXiV5zGXhoIZOHNhO58kcsi6RVo/

And a link to a Blank Clean Week Sample Meal Plan Template – https://docs.google.com/spreadsheets/d/1WEJdo5M0_ENm0PSGwgphibPlxPB–6rKDpsVjNpAqoQ/
Order the Clean Week with Shakeology sampler and get the nutrition meal planner and quick start in print. Workouts are online and open to everyone with a Team Beachbody Account. Simply use your Team Beachbody user and password to login and access the Clean Week workouts online.
Conclusion
I hope you now have everything you need to succeed with the Clean Week eating plan. If you have any questions or would like to join my private Intro to Clean Eating 7-day group, please leave a comment below this post, email or message me on Facebook.