We all get sore sometimes after working out – it happens, especially when beginning a new exercise program or upping the intensity of your current workouts. The trick is to not let it stand in the way of your fitness goals by learning how to help ease the discomfort associated with muscle soreness and be on your way to the next workout pain free.
Muscle soreness the day after, or even two days later is called DOMS – Delayed Onset Muscle Soreness and is a harmless condition that is more of an inconvenience that harmful. Some people like the feeling of sore muscles, not me, I want to feel ready to conquer my next workout pain free.
For the most part, you won't get too sore after your body grows accustomed to workouts, but in the beginning…oh my gosh! And, that's why I am writing this post!
What Causes Muscle Soreness?
I'm not going to bore you  with the scientific explanation of muscle soreness, but I will tell you that the burn you feel when working out is why you get muscle soreness the next day – it's microscopic damage to your muscle fibers caused by the burning feel of lactic acid build up.
7 Ways to Prevent and Help Treat Muscle Soreness
1.) Stretch it Out
Stretch your muscles before and after a working out to help relieve muscle soreness, although scientifically, this is not proven. While real muscle soreness is not caused by muscles and their fibers' contraction, stretching sore muscles helps loosen any tightness – at least for me, it does. I know my muscles always feel better if I stretch my sore muscles out. I must say, the Brazil Butt Lift's warm-up and cool down usually stretches you out enough. However, there were sometimes when I knew I needed more stretching and continued for at least another five minutes after the workout (like after High & Tight) if I felt really sore after the cool down. When I did that, I didn't feel any muscle soreness in my tush the next day.
2.) Include the Right Foods Your Diet
We all know eating a healthy diet is essential for a healthy life, but it is also important for alleviating muscles soreness, essentially by preventing it. Some foods have natural anti-inflammatories in them, like omega-3s, which fight against the inflammation that causes muscle soreness. Eat foods like salmon, free-range meats, avocados, flax and walnuts. Even pineapple has anti-inflammatory properties, so enjoy as a snack.
3.) Make Sure to Keep Moving
Circulation helps with muscle soreness recovery time, so make sure you don't skip your next workout no matter how much you want to. I know it doesn't seem possible when you can barely move because your tush or abs really hurt, but it really does help. What doesn't help is sitting at a desk all day long! Depending on how sore you are, do low-intensity exercise before the workout to really warm your body up, even if you just march in place for five minutes.
If your abs are really sore from Tummy Tuck and that's what's on your schedule for the day, try doing another workout instead like Cardio Axe. And if you're miserably sore that it hurts to move any part of your body, consider taking that day as your rest day to fully recover.
4.) Self-Myofascial Release
This is one of the best ways to relive muscle soreness. Self-myofascial release massages the connective tissue covering your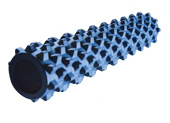 muscles. The only way to do this at home is with a foam roller, so if you don't have one, you really may want to consider adding it to your list. What you do is use your body weight to press against the foam roller on the floor as you roll back and forth for about a minute over the sore muscle, making sure to cover sufficient surrounding areas. I have to say, I LOVE to use this anytime I'm sore whether it's from hike in the woods or doing one of the BBL Master Series workouts! Sure, it's a little uncomfortable at first when you begin to loosen the knots out, but after 30 seconds, you will be on your way to bliss. I had a regular foam roller and had to upgrade to the rumble roller (pictured right) when I saw it. It really gets to the knots quickly and efficiently. You can buy it here at Teambeachbody.com. It really is one of the best ways to help if you're sore from working out. I know I liked to use it a lot for my hamstrings, calves and quads during the Brazil Butt Lift.
5.) Ice that Body
For the same reasons you ice your head if you bump it on something, you put ice on your sore muscles after working out. It helps reduce/prevent inflammation. Make sure you ice immediately following your workout, and don't ice for too long – 20 minutes is sufficient. You really only need ice if you're terribly sore after a weightlifting workout or a vigorous run. I never had to use ice after doing the Brazil Butt Lift videos, but it's not crazy intense. It would be something you'd need for P90X or something similar, and you can usually tell if you're going to need ice by the slight swelling and aches.
6.) Heat 'Em Up
Heat really helps relieve muscle soreness. Contrary to ice, which you'd use right after an accute injury, you apply heat to your muscles once feel sore. The warmth relieves muscle tightness by improving circulation. Heat is one of my favorite ways to help get rid of muscle soreness because it provides instant gratification. Heat really helps to loosen muscles up, but if you need heat to help your muscle soreness
7.) Ibuprofen
If all else fails, take some ibuprofen – it really does help. Unless you have kidney problems where you medically cannot take an anti-inflammatory, I see no point in suffering if nothing else is helping to relieve the muscle soreness pain, and you feel like you couldn't possibly work out because of it. Ibuprofen helps reduce inflammation, which in turn, relieves your muscle soreness.
Not Sore? Not a Problem
If you don't feel any soreness, even minor, that does not mean you did not have a good workout. As you get more advanced your muscles get stronger and rebuild quicker meaning less soreness.