While every good at-home workout program comes with its own diet plan to follow to keep you pointed in the right direction to eating and living a healthier lifestyle, there is one diet I've tried that really takes the weight off fast. And instead of just six days like the Brazil Butt Lift's Supermodel Slimdown, this diet lasts four weeks or less.
One thing the Fat Shredder diet is NOT is a diet to stick to forever – it's short term, and like all other high protein type diets, you will only keep the weight off if you continue to eat healthy and workout afterwards.
An Introduction to the Fat Shredder Diet
The Fat Shredder Diet is a higher protein, lower fat diet full of yummy stir-fries and soups, designed to strengthen your muscles and boost your metabolism while rapidly shedding excess body fat. Because it is designed to cut down body fat percentage, your available energy stores for exercise will also decrease. In other words, it really is not a sustainable diet, and you should never use it for prolonged periods of time – just like the 6-day Slimdown plan.
It's the first diet phase of the P90X workout program.
Here are the ratios you eat:
50% protein, 30% carbs, and 20% fat
Who Should Try the Fat Shredder Diet?
If you have a higher body fat percentage and are relatively unfit, then the Fat Shredder Diet could be a great beginning to a successful weight loss program such as Brazil Butt Lift – although this diet could really be used in conjunction with any at-home workout program.
After this diet, you would then follow the Brazil Butt Lift diet plan or whatever other program you're following. If you choose to do the Fat Shredder Diet and the Supermodel Slimdown, I would do the Slimdown plan for the first six days, and then move on to the Fat Shredder. I would not do the Fat Shredder for longer than three weeks if you began with the Slimdown, and even then, pay close attention to how your body feels. Some people really can't tolerate lower carb diets very well and get cranky or overwhelmingly tired.
Why am I recommending this then? Because if you want rapid weight loss and a quick full body transformation, then this diet will help. I know this because I've tried it myself and was stunned by the results.
Who Shouldn't Do the Fat Shredder Diet?
If you have relatively low body fat and are physically fit, then the Fat Shredder diet is not for you – you don't need it. You will only feel lackluster energy and probably get grumpy, such as I did before I stopped at the end of three weeks. For example, I would not use the Fat Shredder diet now, because I don't have enough body fat to do so. Also if you have any health issues like diabetes, please talk to your doctor first – a healthy, well-rounded diet is probably the best weight loss diet for you.
Fat Shredder Diet Sample Grocery List
On the Fat Shredder Diet, you will only be eating lean proteins, recovery drinks if you wish, protein shakes, whole grain carbohydrates, fruits, vegetables, nuts, and some condiments here and there to keep you sane for the relatively short time you're on it. It's much better now than it used to be…trust me. If you can, I would recommend buying your groceries fresh each week, except if you find a sale on chicken breast – then, I always recommend buying in bulk. 
Fat Shredder Diet Sample Week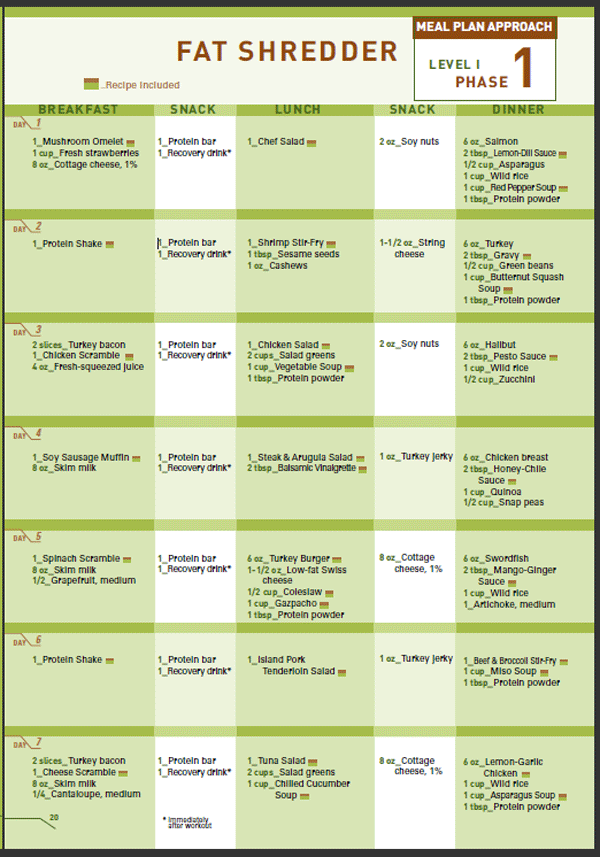 See More Sample Weeks at Here
How Many Calories Can You Eat on the Fat Shredder Diet?
Eat as many calories as are recommended by your current at-home diet plan. If you're feeling famished, then by all means, increase your daily caloric intake little by little to see how much it takes to help you feel satisfied. Also, try drinking a glass of water if you're hungry. Sometimes thirst is misinterpreted by your body as hunger, so you eat unnecessarily.
Your body cannot function properly if you feel like you're starving to death or you can't gather enough energy to get off the couch. Just add in foods 50 calories at a time and keep the 50/30/20 ratio during this brief diet period.
My Experience with the Fat Shredder Diet
When I followed this diet, I continued for three weeks. In that time, I lost 12 lbs. I stopped at the end of the third week, because I felt lackluster in energy and as if I couldn't get my butt off the chair to work out. I knew it was time to move on to a more sustainable diet. Unfortunately, it was soon afterwards, that I went back to college full-time and gained weight again after studying and painting for hours while eating whatever was quickest and easiest.
Let's just say in that amount of time since I've done it, this diet plan has gotten sooo much better and tastier. The choices are terrific, and the recipes sound scrumptious. Here is just one yummy recipe from the Fat Shredder Diet plan:
Vegetable Soup
Serves 18, Serving size: 1 cup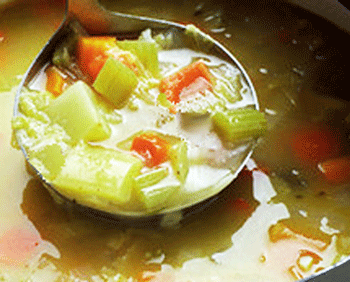 10 cups fat-free low-sodium chicken broth
4 red potatoes cut into 1-inch cubes
4 cups onions, quartered
1 cup carrots, sliced 1 inch thick
3 cups celery, sliced 1 inch thick
2 cups zucchini, sliced 1 inch thick
8 ounces canned tomato sauce
2 cloves garlic, minced
1/4 bunch fresh parsley, chopped
1/4 bunch cilantro, chopped
dash black pepper
1. In a large stockpot, combine the chicken broth, potatoes, onions, carrots, and celery. Bring to a boil, reduce
heat to medium-high, and simmer until the potatoes are tender, about 30 minutes.
2. Add the zucchini, tomato sauce, garlic, parsley, and cilantro. Reduce heat to medium-low and cook for 10 to
15 minutes more, or until the zucchini is just tender. Season to taste with black pepper and serve.
3. If desired, add protein powder just before serving.
You can find more recipes here. And if you ever have any questions regarding any of the content on my site, please email me at thefitnessfocus@gmail.com or leave a comment below. Thanks for visiting!