Now that I'm two weeks into PiYo, Beachbody and Chalene Johnson's new at-home workout program, I wanted to write a post for anyone who's wondering if the program is right for them, wants to know exactly what Piyo is, and what you can expect from the workouts.
What is PiYo?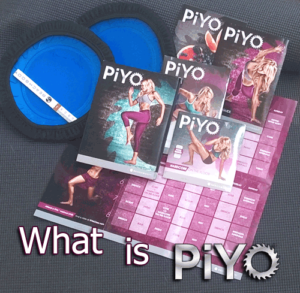 You've likely heard of it – PiYo is a workout that blends Pilates and Yoga into one workout.
To me, PiYo workouts are stretching and bodyweight resistance exercises rolled into one. The workout moves at such a pace that you will be burning calories and toning your muscles at the same time. Just be prepared to sweat.
Why Chalene Created PiYO
Chalene says she loved yoga, but could not sit still for the lengths of time yoga has you sitting still for, so she invented PiYo. This is the first workout program I've ever done from Chalene, and I have to say, I really like her as a trainer. She does a really great job of explaining the moves all while keeping you motivated with her positive attitude so you give your all each and every workout.
So far, I LOVE the PiYo workouts. I have been recovering from a minor back injury and knew this program would be perfect, since there are no jumps. However, the bodyweight exercises still get your heart pumping to burn fat.
Who the PiYo Workout is Made For
Everyone! Yes, this is one of those workouts anyone can do: beginner, intermediate, advanced, younger, older, guy, girl, it really doesn't matter. Usually, I can't say this about Beachbody workout programs, but I can for these reasons:
It is not high impact, so it is very easy on the joints
There are no complex dance moves, so you can have three left feet and do PiYo
There is always someone doing a move modifier on screen, so if you lack flexibility or can't keep up with Chalene, the modifier is always performing a less intense version you can follow
Let's just say my boyfriend has not missed a PiYo workout with me in almost two weeks. I have actually heard him utter the words "that was a great workout" and talk about how athletes would benefit from the flexibility and core training.
As with any workout, it's as tough as you want to make it and even the more advanced person will find this workout fun and challenging. It's just challenging in a different way.
How PiYo Workouts Create Results
Since you don't use any weights or do any straight cardio in PiYo, you might be wondering how you could possibly get great results – or perhaps you're just wondering what type of results you'll get with PiYo.
The program promises: Get Ready To Define Yourself
And honestly, that is exactly the type of results I am already beginning to see. My shoulders, triceps, and my oblique muscles are starting to appear. And they're not big bulky like many women are afraid of getting, they are getting defined. Friends have already begun to compliment my arms and shoulders, so I really can't wait to see how I look after the full 8 weeks! I didn't have much to lose anyways…just really wanted to define myself.
And just to make note, I have dropped a half inch off my calf measurement in this short amount of time. Let's just say for a girl with naturally larger calves, this is by far what I am most excited about. I have never dropped below 14″ calves in my adult life…woo-hoo! I have also lost weight and inches and am seeing my 4-pack when not flexing.
Are the PiYo Workouts Too Easy?
Usually, you hear how Beachbody programs are way too difficult for people, they can't keep up, so after a few workouts, they quit. With PiYo, I have heard the opposite – that the workouts are too easy.
I believe this statement comes from two of the PiYo workouts: Define: Lower Body and Define: Upper Body. Both of these workouts are shorter – less than 25 minutes each.
However, these two workouts are only done during the first 15 days of the program and are meant to teach you the moves, so you get used to performing the moves quickly and with proper form. They prepare you for the rest of the PiYo program, which is better than being thrown in with the lions.
Once I have done all the workouts at least once, I will start reviewing them individually. For now, I can honestly tell you that the PiYo Core workout will leave your obliques on fire and the Buns workout will give you killer legs and a toned, lifted bottom.
Form is of the Utmost PiYo Importance
As strange as it sounds, every time I repeat a PiYo workout, it gets harder than the previous time I did the workout. That's because with PiYo, proper exercise form and body control is more important than in any other workout program I've done.
It is really easy just to go through the movements without doing the moves correctly, but if you listen to Chalene and do the moves as she explains while keeping your core tight, PiYo is an amazing and tough workout. Plus, if you don't perform the moves properly, you will likely injure yourself, since some of the moves are pretty crazy…hello, PiYo pike and punter's kick :)
Two PiYo DVD Packages to Choose From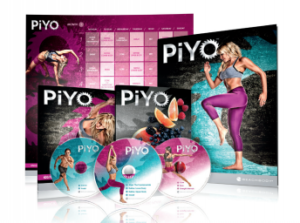 PiYo Base Package – the $59.85 PiYo base kit comes with:
The Workouts:
Align: The Fundamentals (40 min.)
Define: Lower Body (20 min.)
Define: Upper Body (20 min.)
Sweat (35 min.)
Core (30 min.)
Strength Intervals (25 min.)
Drench (45 min.)
Sculpt (30 min.)
Buns (25 min.)
Extras:
Quick Start Guide
Get Lean Eating Plan
PiYo 60-Day Workout Calendar
Tape Measure
24/7 Online Support
It is always best if you are going to order PiYo or any Beachbody program to do so through Team Beachbody, because you will always get a FREE bonus workout – something you will not find elsewhere. In this case, the free workout is "Hardcore on the Floor". Here is the link to order.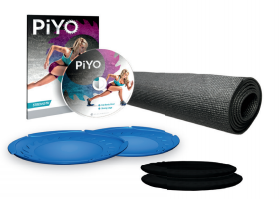 PiYo Deluxe Package – the PiYo deluxe kit comes with all of the above plus:
Two  Accelerated Workouts:

Full Body Blast (30 min.)
Strong Legs (30 min.)

Equipment: 

Beachbody Strength Slides with Booties
FREE bonus Yoga Mat
The PiYO deluxe workout package costs $119.70. Click here to learn more.
Still have questions about PiYo? Please leave a comment below.