After recently completing the eight-week long at-home workout program, I figured it was time to share my thoughts on the PiYo workout by Chalene Johnson, as well as my PiYo results at the end. Here is my official and always no holds barred PiYo review.
Why I Chose PiYo
I'd been suffering from intermittent back pain after falling on a slippery deck a couple years back. Sometimes the pain was debilitating. It seriously would hurt like you-know-what. Maybe it was from wearing high heels every day, but over the past six months, the pain worsened and became more frequent in nature. I decided to see the doctor.
After results from my MRI came back, I learned that crashing to the slippery deck had damaged my lower spine, including an annular tear, which is the protective sheath that covers the vertebrae. Not being able to exercise comfortably and having gained back a lot of the weight I'd lost with the Brazil butt Lift workout program, I was very interested when I saw a program being released from Beachbody that combined Pilates with Yoga. The program looked like I might actually be able to do: PiYo by Chalene Johnson.
It turns out it was an excellent decision. In the beginning, there were moves that bothered me. I'd just do the modified version of those moves. As my strength increased with each week, I felt these moves becoming easier until I was performing every workout at full capacity. Today, my back is feeling better than ever, and the pain I felt in the beginning when I'd have to modify is gone. In fact after visiting the physical therapist, they said my core was strong and to just continue doing what I'm doing.
PiYo Overview: Define Yourself with Low Impact Exercise
Beachbody programs like P90X and Insanity are high intensity, high impact workout programs. They can put a lot of stress on your joints and muscles, which can cause a lot of soft tissue injuries when people push themselves too hard too soon.
PiYo is different. The eight-week long, complete at-home workout program was designed by Chalene Johnson for Beachbody to totally transform your body without any weights, jumps, or unnecessary strain on your body. The best part? The intensity level of the program can be altered based on your needs. For the beginner, or if you suffer from joint mobility issues, there is dedicated exercise modifier who performs all the moves at an easier, more manageable level. There is also someone doing more advanced moves if you're more advanced. And if your fitness level is somewhere in between, you will likely jump back and forth.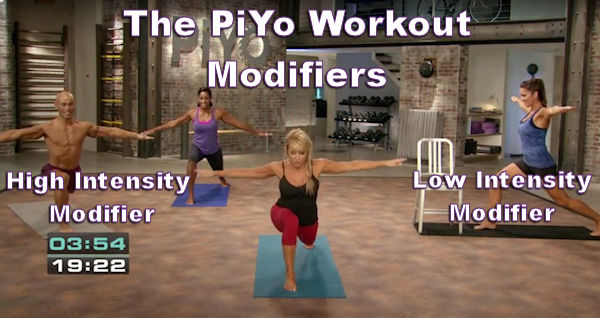 PiYo is also designed to increase flexibility, stability and strength. The program accomplishes this by utilizing a unique combination of Pilates and Yoga-based moves to produce long, lean and toned muscle all while keeping the pace quick enough to help you burn unwanted fat.
PiYo is not about Yoga and then Pilates or doing a combination of Yoga and Pilates. With PiYo, the easiest way to explain it is that you incorporate the fluid moves of Pilates with Yoga-based poses while constantly staying in motion. This helps you get the muscle-defining moves of Pilates with the flexibility of Yoga – WITHOUT USING ANY WEIGHTS!!! PiYo will give you hardcore results without the strain of some other at-home workout programs.
Meet Chalene Johnson: PiYo Trainer Extraordinaire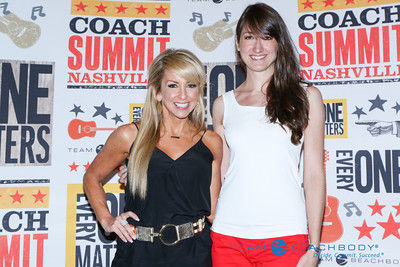 Chalene Johnson is a best-selling author, health and fitness expert, athletic clothing designer, and oh, did I mention she is also the mother of two?! She is a high-energy personality who turned her love of health and fitness into a career. I've had the privilege of meeting Chalene a couple times at Coach's Summit, and she is just as upbeat and animated in person as she is in the PiYo video, which is something I  happen to like when I'm grunting my way through a workout. She is also tough and encouraging, pushing you to your limits when you need it.
It's important to just listen to her and trust her. Pushing yourself each and every time is the only path to your ultimate success.
A Little About the PiYo Diet
The PiYo diet plan is one of the best out there, because it focuses on whole food nutrition. It rivals the 21 Day Fix's eating plan as far as being easy-to-follow, although unlike the 21 Day Fix, you do need to measure your food the old-fashioned way (with serving sizes.) The PiYo diet allows you to enjoy certain amounts of each food group depending on your calorie needs and is whole foods-based.
There are five categories of food in the PiYo nutrition plan. Depending upon your calorie needs, you get different amount of servings per group:
Primary Vegetables
Secondary Vegetables and Grains
Fresh Fruit
Lean Protein
Healthy Fats
This is designed to help you learn to appreciate the taste of real food over sugary or processed versions. For a more in-depth look at the PiYo meal plan, I've written a post on getting started with the PiYo diet.
And if you're curious, yes, you can use the 21 Day Fix portion control diet with the PiYo program instead of following the PiYo diet plan. In fact, the diets are very similar aside from using the colored containers to measure your food vs serving sizes. The major difference is the PiYo diet is a little higher in vegetables and grains than the 21 Day Fix diet.
PiYo DVD Package vs PiYo Deluxe DVD Package
When Chalene Johnson and Beachbody put together the PiYo workout program together, they decided to create two packages. Version one,  the PiYo DVD Package, is an eight workout package. The second version is a package that includes everything from the original, plus two additional workouts. These extra workouts use the strength slides (which we will cover below.)
The infomercial I see on television is for the PiYo DVD Package. For the rest of the review, we will call this version PiYo Base.  The second version that includes the strength slide workouts will be called PiYo Strength or PiYo Deluxe.
What the heck is a PiYo strength slide? 
The strength sliders used in the PiYo Strength workouts are best explained as plastic discs you use to increase the intensity of the PiYo workout moves. You use them either by placing a foot or hand on the disc. They allow you to move your body in ways it's never been worked before while providing you with proper form and an increased difficulty of keeping your core stable.
The strength slides can be used on carpet or on hardwood flooring. If you are using them on carpet, you do not use the fabric cover that comes with a set. If you're using them on hardwood flooring, you need to use the fabric cover to protect your floors.  The sliders do come with the PiYo Deluxe package or can be purchased separately as an add-on to the PiYo Base kit.
Pro tip: Instead of the sliders, you can use paper plates on carpet or just wear a pair of socks on hardwood. These won't work quite as well as the sliders, but they will work.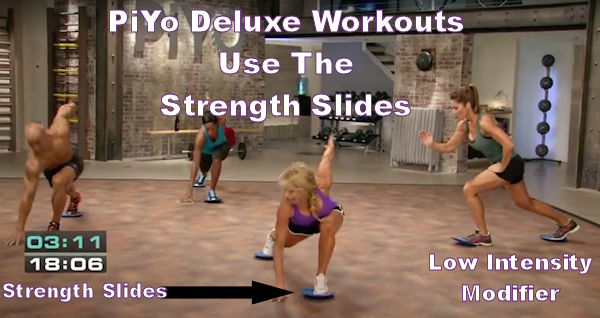 If you decide the PiYo Deluxe workouts are for you, here are a couple tips:
Go slow and stay in control at all times. The sliders will help you work on stability by making you unstable.
Do not overstretch. The sliders allow for a greater range of motion on many of the move, so be careful not to go too far and pull anything.
PiYo Workouts
There are eight workouts that come with the basic PiYo package:
Align: The Fundamentals. Breaks down the moves in slow motion, so you can perform them in proper form during the regular workouts. You can repeat this workout as many times as you need to or refer back to when needed.
Define Upper Body: Lots of push up variations to start cutting away at your upper body, defining your arms triceps, and shoulders.
Define Lower Body: Start sculpting the legs with this workout from your glutes to your calves.
Sweat: A more traditional PiYo workout that utilizes flowing yoga-based positions and resistance exercises to provide an effective cardio/strength workout.
Core: This ab-centric workout chisels away at your mid-section to get you a strong core, which can help lower back problems.
Strength Intervals: One of my favorites! This slightly shorter, fast-paced, calorie crushing workout has you switching from strength to cardio and back, it really gets the heart rate up while being low impact.
Drench: This tough endurance workout is all about calorie burn and works every muscle in your body. Prepare to get drenched for real. :)
Sculpt: Various tempos keeps your muscle under tension for various periods of time to provide you with a muscle-defining workout that totally transforms your body.
There are two PiYo Strength Deluxe workouts that use the strength slides.
Full Body Blast: This is a full body workout that is short, but super intense and really gets the heart pounding.  Similar to the strength intervals workout that we talked about above with greater intensity.
Strong Legs: The strength slides really add an extra layer of intensity with workouts. The addition of the sliders allows you to control the moves better and go deeper into a lot of the holds, which really ups the intensity. The first time I did this workout, my legs were a completely different type of sore than they've ever been.
PiYo Workout Schedules Explained
There are two 60-day workout schedules included with PiYo. Depending on what package you decide to try, there is a slightly different schedule to follow:
Basic PiYo Schedule: Follow this if you choose the PiYo DVD Package. This is the pink side of the calendar.
PiYo Strength Schedule: Follow this is you choose the PiYo Deluxe DVD Package.  This is the blue side of the calendar.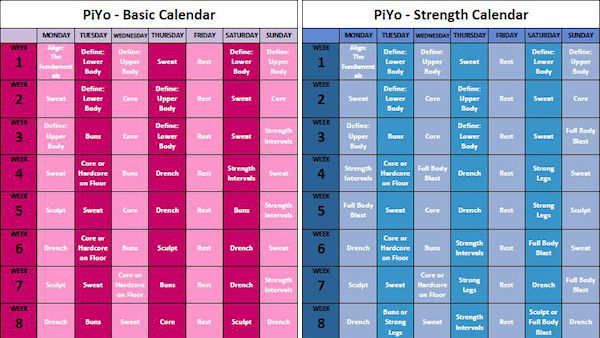 I created the image above to show people how the PiYo workout schedule is arranged. The pink calendar is what you follow if you do the PiYo Base workouts. The blue schedule is the strength PiYo schedule that includes the full body blast and strong legs slider workouts. (FYI, the actual program comes with a much better quality workout calendar.)
The first three weeks of the PiYo schedule are designed to get your body in shape for the more advanced workouts to come in the last five weeks of the program. You could always repeat the first three weeks of the program if you need to. On the other hand, if you feel the PiYo workouts are too easy, you can always skip to the end of week three to increase the intensity.
The PiYo Cons
There was only one issue I had with PiYo, and it's that there is a limit to how many bodyweight exercises there actually are that will burn fat and sculpt muscle. Be prepared to do the same moves repeatedly throughout the varying DVDs for the two months. Sure, Chalene changes it up and switches the workout sequencing to prevent it from becoming boring, but it is the same strength-based moves. The other minor flaw is the background music. There was just something about it I didn't love. Luckily, that's an easy fix as you can just turn down or turn off the background music.
Despite these minor flaws, I have never seen all the muscles in my body like I did after completing this workout program – even more so than when I did BBL. It really does work, and you will not be disappointed.
If you're looking to define yourself and want something that's not dance-based or hard on your joints and uses your own bodyweight, then PiYo could be the right workout for you.
My 60-Day PiYo Before and After Results
After wondering if I would really get results from just doing yoga poses, push-ups, down dogs and body resistance exercises, I am very pleased to reveal my PiYo results. I lost a total of 15.5″ (including calves and ankles) and 13.2 lbs. More importantly, I can now easily do 15 push-ups in a row (before PiYo, I could barely do one!) I'm not just long and lean, I am more defined and stronger than ever. I can even see the different muscles in my legs when I flex and have lost inches off my calves and ankles…I love it!
My results are very real. I only did the program for the eight weeks while following the eating plan almost to a tee (I like to live a little, too!) This is not something where I did the workout twice through. And it's not just about looking better, I feel way better too.
What The PiYo Workout Program Comes With
Again, there are two versions of the PiYo program to choose from:
PiYo DVD Package: This is the basic package that includes the following:
Eight PiYo workouts on 3 DVDs
Quick Start Guide: Discover just how PiYo will define you while getting insider tips to help you get the best results possible.
PiYo 60-Day Workout Calendar: This is one where the workouts are arranged strategically to get more difficult as your endurance progresses to get you stronger and more flexible.
Measuring tape for tracking your weekly progress.
Get Lean Eating Plan: An easy-to-follow guide to get you eating healthy to get you the body you want.
Buns Workout: Designed specifically to target the hard-to-define glute and hamstring areas.
24/7 Online Support: Get your questions answered and connect with other like-minded people.
FREE bonus workout DVD: Hardcore on the Floor.
The total cost of the PiYo DVD Package is only $59.85. Order through this link.
PiYo Strength Deluxe DVD Package: Get the basics plus the more advanced slider based workouts.
PiYo DVD package: everything listed above.
Strength slides: designed to increase the intensity of your workouts.
Two accelerated workouts using the strength slides: Full Body Blast and Strength Legs.
Monster Yoga Mat: something you will definitely need for either workout package – a $29.95 value.
FREE bonus workout DVD: Hardcore on the Floor
The total cost of this  package is $119.70. Link to order PiYo deluxe.
2019 Ordering PiYo Update – 14 Day Trial with Streaming Workouts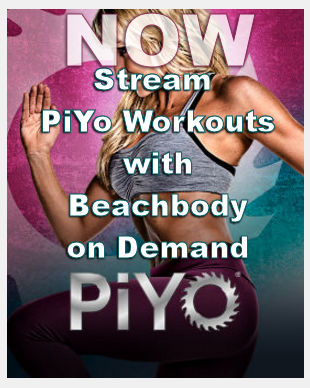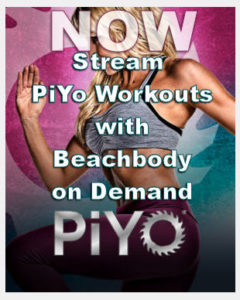 Since the initial release of the PiYo program, Beachbody has launched online streaming of its ever-growing library of workout programs. This feature is called Beachbody On Demand. It is an online membership that allows you to access every workout that used to come with a program package only now in digital format.
PiYo is now available to try with the streaming feature for 14-days(use the following link and scroll down to the bottom right) without charge and then goes to a quarterly membership to the service for $38.87 quarterly if you continue, but you can cancel at anytime. The most cost effective option for this program is the yearly membership to Beachbody On Demand. This allows for unlimited streaming of all Beachbody programs, plus any future releases. The cost is $99/year(you can always upgrade from quarterly to annual if you like the service). This option is cheaper than the PiYo Deluxe kit by itself and you get access to all programs.
But, you can start with a 14-day no charge trial and then if you like the service there is the option to upgrade your account to take advantage of the greatest savings or if PiYo is not for you, cancel and pay nothing.
What is the PiYo Challenge Pack?
This is yet another option you can choose from when ordering your PiYo workout. It includes the full workout program along with the Shakeology meal replacement shake on Home Direct shipping. Choose from five great regular Shakeology flavors: Café Latte, Chocolate, Strawberry, Greenberry, or Vanilla or two Vegan options: Tropical Strawberry or Chocolate Vegan.
Honestly, the best results I see in my online groups and from coaches on our team are from those who purchase the Challenge Packs. Those who purchase the challenge packs seem to be more driven to stick with it the most. The downside of the PiYo Challenge Pack is that it only includes the PiYo Base kit, so if you want the PiYo Strength workouts you would have to order them separately.
Special reduced price of $160.
UPDATE: There is also the Beachbody On Demand Challenge Pack(access to streaming all Beachbody workout programs)  for the same $160 cost as the PiYo Challenge pack, reduced from $199.95.
Please leave a comment if you have any questions about the PiYO program or want to share your own thoughts.