It's been a long-time since I have completed and a Beachbody workout program (over 2 years). And with how I was feeling (stiff, sore, and out of shape), I wanted to do a something that could help make my body & mind feel better.
Enter Beachbody's 3 Week Yoga Retreat. It's been out for over year and getting good reviews so I figured why not give it a try and see if I like it.
I'm not a yogi by any means. I've done my fair share of DVD yoga workouts in the past, but never a true class. After day one of this program, I learned I hadn't been doing the basic downward dog or forward bend poses correctly which was a surprise to me.
To give you the best look at this program, I wrote a few notes about each workout. I also included mine and Dan's (Yes! I finally got him to try yoga, and he actually stuck with it!!!) results with the included pose tracker.
But first here's an overview chart for what you can expect with the 3 Week Yoga Retreat program.
| | |
| --- | --- |
| 3 Week Yoga Retreat | Overview |
| Trainers: | 4 Yoga Instructors, 1 new each week with a weekend trainer |
| # of unique workouts: | 21 Different Workouts |
| Workout Length: | 30-Minute Average with Optional Sunday Workouts |
| Fitness Level: | Beginner (but can be done at any fitness level) |
| Modifier: | Yes (modifier is in the background right) |
| Nutrition Plan: | Yes (whole foods-based) |
| Results: | Flexibility, balance, destress |
| Program Cost: | Depends $39 to $119.70 |
| DVD Package: | Two packages available: Basic or Deluxe (extra workouts + equipment) |
| Online Streaming: | Available with Beachbody On Demand |
How the Program is Laid Out
There are 21 unique workouts in the 3 Week Yoga Retreat. Each week has a different theme and a new Yoga trainer.
Week 1: Foundation Week with Vytas
Week 2: Expansion Week with Elise
Week 3: Progression Week with Ted
Weekends: Workouts are taken over by Faith
Here is an overview of what the schedule looks like:
Monday: Core (30 minutes)
Tuesday: Stretch (30 minutes)
Wednesday: Balance (30 minutes)
Thursday: Flow (30 minutes)
Friday: Flow-On-The-Go (20 minutes)
Saturday: Relax (25 minutes)
Sunday: AM * PM * ABS (Pick one or do all – 10 minutes each)
The workouts are the same general theme each week, but they build on one another. This allows you to see and feel your progress.
Each workout features background modifiers. 1. A modifier who shows a less intense version of each move. 2. A more intense modifier for those who feel they need an extra challenge.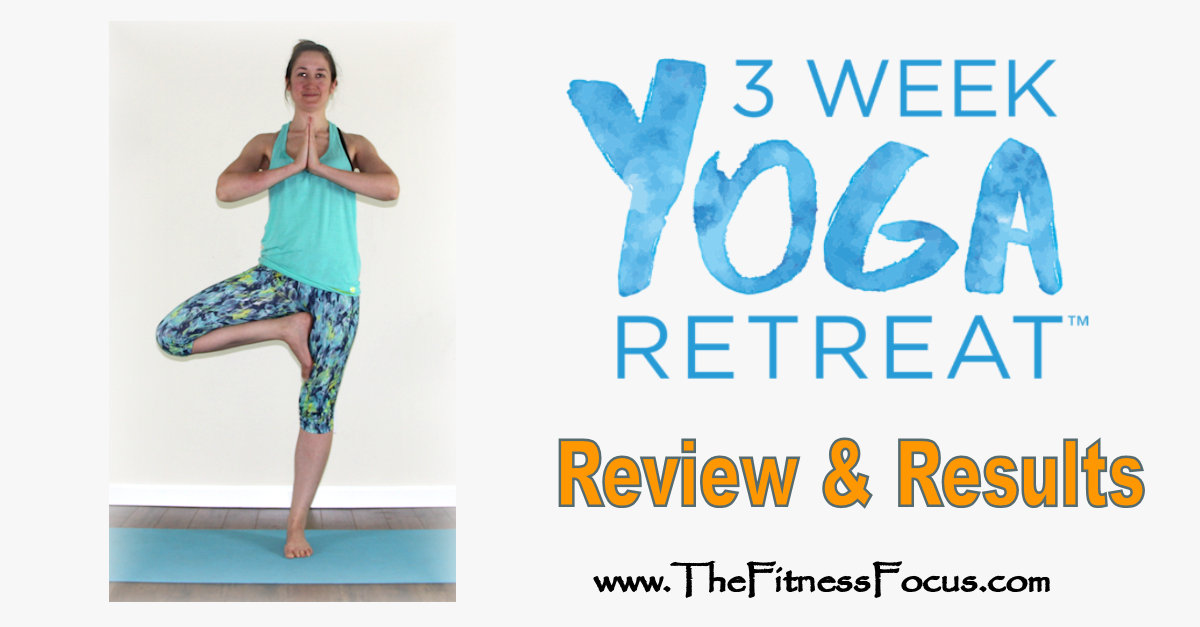 Week 1 of 3 Week Yoga Retreat: FOUNDATION
Vytas leads you through the first week. This week you'll begin learning the basic yoga poses to lay the foundation for mastering more advanced yoga poses and sequences.I was surprised at how awesome the instruction is. It's like I was like taking part in a live yoga class good. I literally felt like he was there with me, watching my form, and correcting me when I needed it. The tips he gave perfected my posture on even the most basic poses I'd been doing not entirely correct.
I was surprised that by doing the moves correctly, it felt like a full body workout. I sweat and even dropped down to the modified versions! This is when I learned my body was a mess and knew I'd made the right decision.
Week 2: Expansion
This week is all about creating space. Elise is the trainer this week, which builds off of what Vytas taught us in week one. Poses become a little more advanced with the goal of lengthening and creating more space within our muscles, joints, and ligaments. Elise has very good direction. There was one day that suddenly felt like it was a lot more advanced in poses, endurance and strength than I remember from week one, but there is always a modifier if you need it. This is the week where it started to feel like a live yoga class with the fluidity and speed of movements.
Week 3 Progression Week
Final week = Progression week! Our more advanced yoga instructor for this week is Ted. Ted is very knowledgeable. This week is a real step up from weeks 1 & 2. While it was great to feel my knowledge and practice of the yoga poses increase, I will admit I did get lost more than a couple times this week. I would say to really get a feel for this week, I would need to repeat it at least once. This week, I definitely feel stronger and stretched. It is more advanced than previous weeks, but there is always the modifier. This week really made me notice the tightness suffered from carrying around my toddler most of the day :) Think lengthening moves, including new moves like lizard and camel and shoelace yoga pose.
One quick victory: I couldn't go down to chaturanga without my knees when I first started. I did all the chaturangas without knees by week 3!
Our 3 Week Yoga Retreat Before and After Results
When checking to see the kind of results people were getting with the 3 Week Yoga Retreat, I was surprised to find mostly body composition photos. This is why I decided to post our before and after photos from the Beachbody 3 Week Yoga Retreat Pose Tracker that's included with the program.
Here are the yoga poses I saw the most difference in. Some of the improvement is not just because of an increase in flexibility, but also a better understanding of how to do the movement correctly.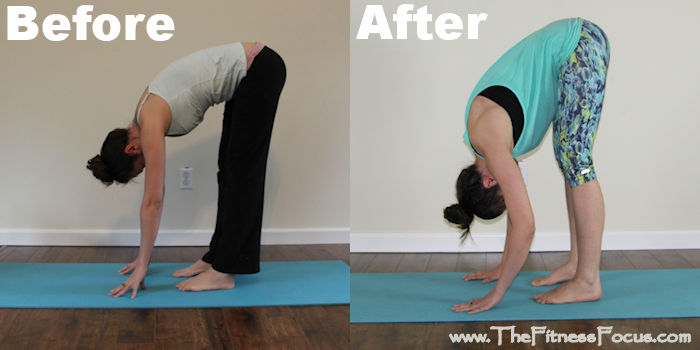 Forward Fold: Looking at the before photo, I am really leaning back with my booty and putting all my weight on my wheels. After, you can see I gained some flexibility and am now leaning forward and putting onto the balls of my feet to keep my legs straight.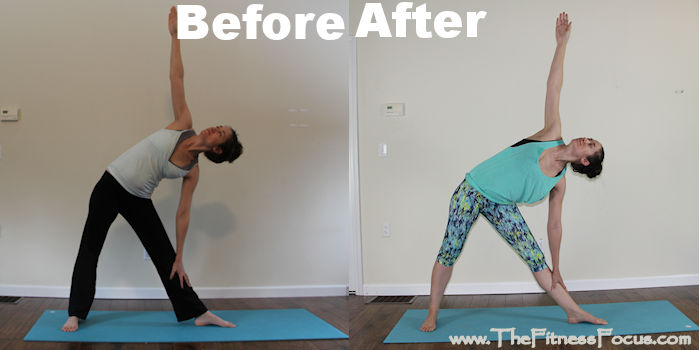 Triangle Pose: My flexibility definitely increased in my side back muscles and obliques, allowing for a deeper side bend.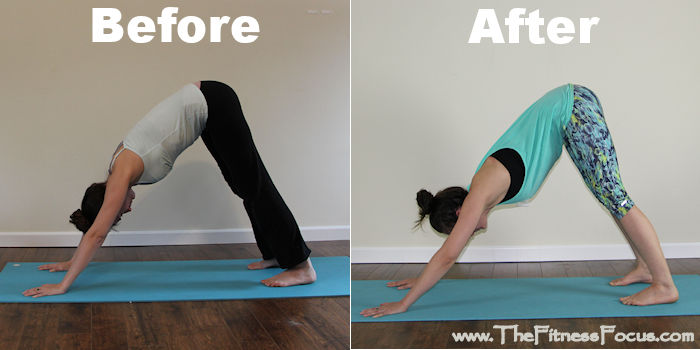 Downward Dog: If you look closely, you will notice in my after photo, that I am reaching back through my booty and pushing down through my heels. You can also see a straighter line from my butt to my neck and my shoulders are flexible enough to be in line with my spine.
The results you can expect with this program are:
Increase in flexibility
Increase in balance
Increased strength
Decreased stress
If you are looking to lose weight with the 3 Week Yoga Retreat, I would suggest adding in a a couple 30-minute cardio sessions or walking daily to create a larger calorie deficit. Contact me if you would like help designing a calendar.
This Is a True Beginner's Yoga Routine
I can say without hesitation, this program is for beginners. If you're more advanced, you'll most likely find the beginning weeks too slow. It's more for people who:
Don't know where to begin with yoga.
Have been away from yoga for a long time.
Thought of going to a yoga class, but feel intimidated.
Need a break from more intense workouts or injury (this is me!)
Are looking to get your man to try yoga, this is great place to start (two male instructors helps!)
You'll learn these fundamental yoga poses that are common with any yoga practice:
Downward Dog
Yoga Squats
Cobra
Upward Dog
Warrior Poses
Child's Pose
Corpse Pose: Savasana
There are many more poses and stretches you'll do in this workout. This is just a sneak peek at what you can expect. It's also worth noting there are a number of hip flexor and hip opening stretches. Great for people who sit at a desk most of the day.
If you've done lots of yoga classes in the past, I'm guessing you aren't going to learn a whole lot from 3 Week Yoga Retreat. It would still be a good yoga workout, especially weeks 2 and 3 Flow workouts.
A Couple Words About the Nutrition Plan
The accompanying nutrition plan to the 3 Week Yoga Retreat is called "Clean Eats." I love it because the general theme is exactly what I preach about nutritionally: a well-balanced, whole and minimally processed foods diet.
Determining Your 3 Week Yoga Retreat Calories and Nutritional Needs
Your calorie range for this program is determined by whether you're a man or a woman and by your weight. Everyone starts with the same choices for breakfast, lunch, and dinner. Depending on your calorie level, you get to choose between 150-calorie snacks or 300-calorie snacks.
The meal plan includes 7 different meal ideas for breakfast, lunch, dinners, and snacks. You simple choose the meals you want to prepare from this list and add them into your meal plan for the week.
The nutrition plan also gives you a 10 Healthy Principle list of easy changes you can make in your daily diet that can make a huge difference in your energy levels and overall well-being like staying hydrated, cutting back on simple sugars, and eating the right fats.
For the record, I did not follow the diet during the program, but did try my best to eat healthy whole foods and stick to the 10 principles (which I generally do anyways).
The Equipment You'll Need for the 3 Week Yoga Retreat
This could be a really short section, since all you really need is a yoga mat. But you may also want to consider adding a yoga block and strap to your practice. And even a bolster pillow if you have mobility or joint issues.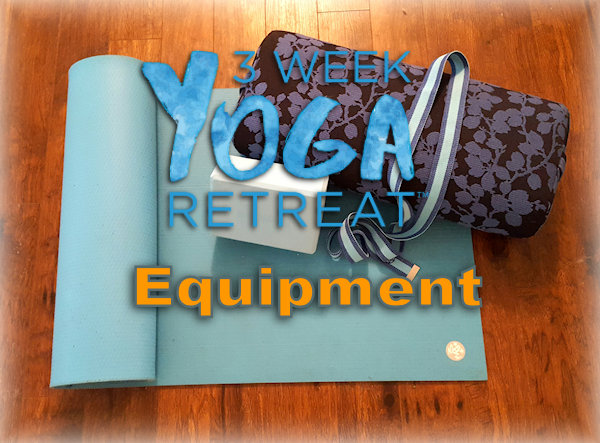 Yoga mat: You'll be doing a lot of static poses, using your hands and knees on the ground. The extra cushioning a yoga mat provides will help protect and generally be more comfortable.
Yoga block: Basically a light weight foam block. This can be used when you can't quite touch the ground on some of the poses or you need extra help to stabilize yourself. You may also be able to use a decent hardcover book or a folded towel.
Yoga strap: I didn't see the yoga strap mentioned in any of the materials, but it is used a couple of times by the modifiers in the videos. This is good for when you can't quite reach your toes with some of the hamstrings stretches and can be used to better stabilize yourself on some of the poses or deepen the stretch of some poses.
Bolster pillow or folded towel: A folded towel is often used in the videos when you need help lessening the intensity of some of the poses or you need to modify some of the hip opening poses. A bolster pillow is simply a firm type of body pillow you can use in place of the towel that is gentler. Great for prenatal yoga, too. That is when I started using one!
I don't recommend a lot of equipment on this site, but I have to say if you want an awesome yoga mat, definitely look at the Manduka Pro Yoga and Pilates Mat. I've worn out a couple of store-bought yoga mats in the past (including one from Beachboy) and my Manduka mat is going on a few years old without any signs of wear and tear. And it still lays flat. The other yoga accessories you can find in most sporting good stores or Amazon. :)
How to Try the 3 Week Yoga Retreat Yourself
I thought this Beachbody program was online only until I saw infomercials for the program. This is actually what made me try the program, and I'm glad I did!
The 3 Week Yoga Retreat is available on DVD and/or online with Beachbody On Demand (BOD for short.)
BOD is a membership-based platform that allows online access to all of Beachbody workouts via online streaming and printable materials in pdf format. If you are already a BOD member, great! you have already have access to the complete program. If you are not yet a BOD member, here are a couple different offers:
14-day FREE trial: If you have not tried out BOD yet, you can try it out for 14 days free of charge. This then will turn into a quarterly membership ($39 charged quarterly to your credit card or until you cancel.)
6-month membership: $59 dollars billed twice yearly.
Annual membership: $99 billed annually. If you decide to start with a free trial, you can upgrade your membership at any time to take advantage of the better pricing.
Challenge packs: Beachbody also gives a couple more options with different Challenge Pack offers for the Shakeology and other deals you can take advantage of.
Here is the direct link to Team Beachbody Beachbody On Demand plans for the above ordering options of the program. Streams with PC, MAC, Fire TV, Roku and basically anything with a web browser and internet connection. I screen mirror from my Android phone to my Samsung Smart TV.
And if you prefer, you can still purchase the 3 Week Yoga Retreat on DVD. Beachbody has two different ordering options.
3 Week Yoga Retreat Base Kit: Includes 4 DVDs with the 21 different workouts (includes an additional 13 short videos to perfect your poses). Here are the materials included: quick start guide, nutrition and meal plan, workout calendar, and pose tracker to log your results. Retail price is $59.85.
3 Week Yoga Retreat Deluxe Kit: This includes all of the above plus 4 additional workouts – Get Centered (30 minutes), Muscle Recovery (30 minutes), Radiate and Shine (30 minutes), Yoga for Low Back Pain (10 minutes). You also receive a yoga mat and block with these package at $119.70.
*3 Week Yoga Retreat comes with a 30-day money back guarantee when purchased through Team Beachbody, less shipping and handling charges, if you are not satisfied with your results or just not satisfied for any reason.
Final Thoughts On My Review of the 3 Week Yoga Retreat
I really did not have high hopes for this program. I mean it's been out for over a year, and I just got around to reviewing it now.
What I liked most about it was:
Excellent instrution
A different workout each day
Trainer variety
The 10-minute optional workouts on Sunday
Never any over the top intensity or boredom
I felt almost as balanced structurally as after visiting the chiropractor just one week in
It makes you more aware of your body and mind
I took me a little bit, but here is what I have for negatives:
The plain white background is kind of weird
Got lost a couple times on Week 3 of Flow
Three 10-minute Sunday workouts, kind of a pain if you want to do all three.
I could see myself doing this program as compliment to another workout, as something to do in between programs when I need rest, when recovering from injury, and/or as a supplemental weekend workout.
Questions about the program you liked answered from someone who completed it? Please leave a comment below.