Before I do a complete review of the 80 Day Obsession Workout program, I wanted to put together a quick overview answering some of the more commonly asked questions.
I just have to say how excited I am to do the 80 Day Obsession along with the Today Show! This was the first live shot workout program by Beachbody that has ever been recorded for the entire length of the program. And you know how some DVD workouts can get a little boring after a couple weeks? Well, they won't with the 80 unique workouts.
We'll go over everything you need to know about how the 80 Day Obsession works, the equipment you need, the nutrition, how to order the program, what the workouts are like, and what type of results you can expect. Some of what I'm quickly covering now, I'll go over in more detail in upcoming blog posts. I will update with a link to these once they become available.
As Seen on the Today Show just aired – this what it's all about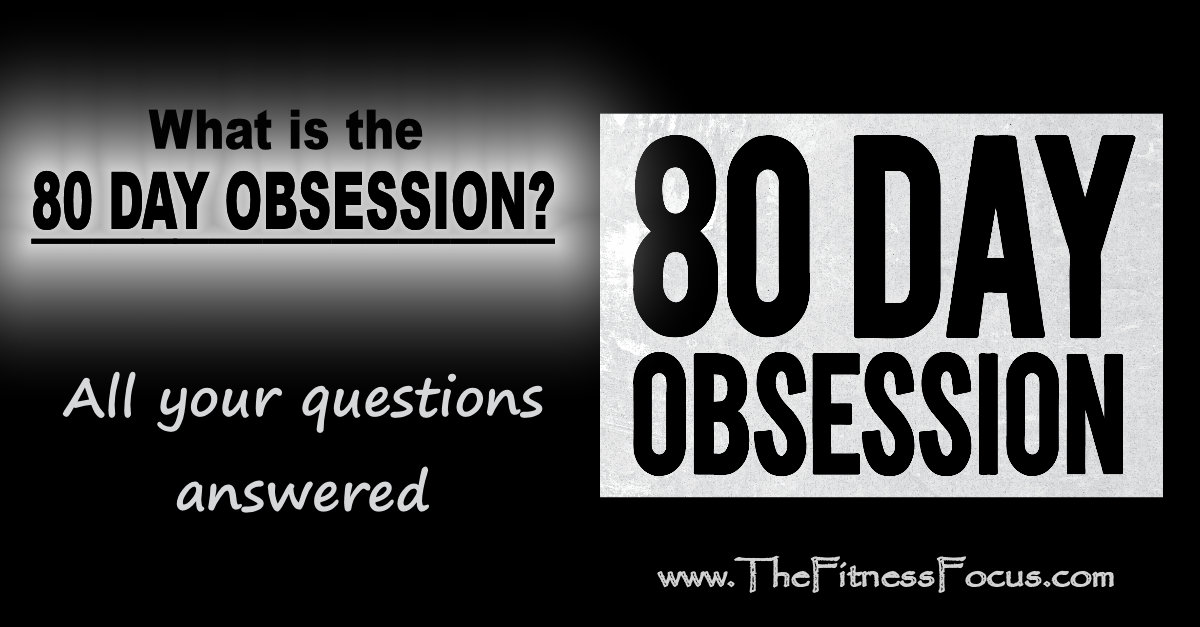 Who is the Creator of the 80 Day Obsession?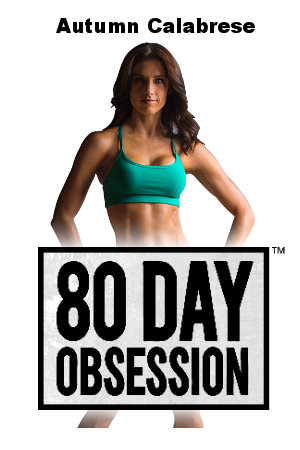 You just might have already heard of her. Autumn Calabrese is the creator of 80 Day Obsession. And if the name isn't familiar, you most likely have heard of at least a couple of Autumn's other Beachbody workouts:
21 Day Fix
21 Day Fix Extreme
Country Heat
Master's Hammer & Chisel
A Little Obsessed
I've personally seen Autumn grow as a trainer from the first program I did with her. She's motivating, she gives you your dose of positivity to make the right changes in your life, she's funny, and you just can't help but love her. Pretty much the same as in real life when I had the opportunity to meet her.
Who This Program is Intended For?
Beachbody recommends this program for intermediate to advanced fitness levels. BUT, and I say but in all caps, because there is a modifier to follow along with if you need a less intense version or are a beginner. The first couple weeks of the workout are pretty doable in my eyes and you always have the modifier if you need her.
What kind of workout is the 80 Day Obsession program?
This program is nicknamed the Abs and Booty workout. So if you want a leaner toned core and a more shapely booty, then be prepared to work your booty and your core like never before!!! It's also a great program if you need with help with eating right. This program makes it easy by telling you exactly when and what to eat.
How to Get Ready for the Program?
If you are very new to working out or just getting back into a workout routine and are feeling a bit nervous, you could choose a less intense program to begin with. It's really up to you. But I'd just go for it! You got this!!! Another option would be to do A Little Obsessed until you are feeling more confident and then move up to the full program.
What is A Little Obsessed?
A Little Obsessed is a 5 day/week program with 30-minute workouts designed to prepare your body for the much longer and more intense 80 Day Obsession Workouts.
What the 80 Day Obsession Workouts Are Like?
I'm not going to go into too much detail here, since I'm going to write at least one blog post about the workouts. Yes, they are seriously that diverse! Here's a little bit of what you can expect:
Total Body Core: This workout will hit every area of your body from shoulders to legs with compound movements.
Booty: Prepare to focus on getting a tighter, more shapely booty. You'll hit your tush from every angle.
Cardio Core: This is one of my favorites. You do two cardio-based exercises (one low-intensity, one high intensity) followed by one core exercise, and then you do one last set of just the core exercises at the end.
AAA: This workout focuses on your arms, abs, and you-know what. You do negative reps, which means you change the tempo of the repetition and slow down the lowering of the weight for three seconds. However as the program progresses, you add in other moves at regular tempo.
Legs: I think you can guess which area this workout focuses on, although I was super happy it worked even calves!
Cardio Flow: This is a fat-blasting cardio workout adds a new move to a sequence each round. Each round gets more intense as you add new movements to challenge your body and mind.
There are three phases in the program. Each phase is 4 weeks long. There is also Peak Week after Phase 3, which takes workouts from the different phases. The workouts stay the same for each phase of the program, however, the moves, reps, and sets change from week to week. This keeps your muscles guessing and prevents plateauing, making the workout more effective. The workout names remain the same for the entire program, but the moves change and build upon the previous months to totally change up the workout.
                                  How the 80 Day Obsession workouts change from week to week
Number of reps
Detail
Weeks 1
2 sets of 15 reps
Each set is performed, then repeated for two rounds
Weeks 2
3 sets of 10
Each set is performed, then repeated for three rounds
Weeks 3
3 sets of 10
Each set of exercises is done 3x's, 10 reps each exercise
Weeks 4
2 sets of 15 reps
Each set of exercises is done twice in a row, 15 reps each exercise
How Long Are the Workouts?
The workout lengths vary slightly from week to week and month to month. All workouts are about 40 to 60 minutes with most being closer to 60 minutes in length.
And this is my only complaint about the workouts – they are long! With a busy 18-month old running around, it's been a little bit of a struggle to get a whole workout in without having to pause or work out after he goes to bed. I will say however that the workouts do go by fast and other than a couple of the first month's workouts, you are not sitting still or wasting time. I should mention my son doesn't take long naps and goes to bed towards the later side of healthy bedtimes for his age.
What is the 80 Day Obsession Calendar Like?
The program is broken down into 3 phases with a different rotation of workouts, plus Peak Week:
Phase 1 (Days 1-26): Total Body Core, Booty, Cardio Core, AAA, Legs, Cardio Flow, Roll & Release or Stretch & Release (optional)
Phase 2 (Days 27-50): Booty, Cardio Core, Total Body Core, Legs, AAA, Cardio Flow
Phase 3 (Days 51-74): AAA, Cardio Flow, Legs, Total Body Core, Cardio Core, Booty
Peak Week (Days 75-80): AAA (Phase 1), Cardio Flow, Legs (Phase 1), Total Body Core (Phase 3), Cardio Core (Phase 2), Booty (Phase 2)
From Phase 1 to Phase 2, the workouts move much faster and the intensity of each workout also picks up. I'll update the post once I make it to Phase 3. I have noticed my heart beating a lot faster during almost every Phase 2 workout.
You are working out 6 days a week with the 80 Day Obsession. In Phase 1, there are a couple Rest/Self-Care days where the foam rolling or stretch workouts are suggested, but after that, you can opt to do these or take the full rest day.  One thing you should opt into is the Weekly Obsession where the crew does a recap of the week and what's coming up.
If you miss a workout here, are a couple options.
Double up the next day.
Push the entire schedule back a day and pick up where you left off.
Add the workout you missed to the end of the program before starting Peak Weak.
What Equipment You Need for the 80 Day Obsession?
Here is the equipment you need for completing the 80 Day Obsession to maximize your results:
What Is the 80 Day Obsession Timed Nutrition Diet?
You may have heard after you work out is the best time to have a whey protein shake. This post-workout time period is sometimes called the "window of opportunity." The time period after your workout is the best time to use a fast-digesting protein to help speed muscle recovery. Feed your body the macronutrients it needs to get the best results at the best times is the theory behind the "80 Day Obsession Timed Nutrition Plan" just over the entire day.
Every meal time and what you should be eating using the portion control containers made popular by the 21 Day Fix workout is laid out for you. This ensures you are getting the correct macronutrient amounts at the right times to maximize results. With the 21 Day Fix, you were allowed to choose what and when to eat the allowed foods. 80 Day Obsession takes any confusion out of this.
There are lots of recipes, tracking sheets, etc. that the 80 Day Obsession meal plan comes with. Here is a sample of what a typical Timed Nutrition day looks like on the 80 Day Obsession:
Green, Red, TSPGreen, BlueGreen, Ref Orange
Time:
Meal:
Containers:
7:00 AM
Pre-Workout Meal
Green, Red, Yellow, TSP
WORKOUT 7:30-8:30 am
8:30 AM
Post-Workout Supplement
Purple + Post Workout Protein Powder
9:00 AM
Post-Workout Meal
Green Purple, Red, Yellow, TSP
12:00 PM
Meal  (Option 1)
3:00 PM
Meal  (Option 2)
6:00 PM
Meal  (Option 3)
What Supplements Are Recommended for 80 Day Obsession?
This will definitely be a whole other blog post, because I have so much to say about it. But here's a little about what the 80 Day Obsession recommends for supplements to get you started:
Beachbody Performance Line of Supplements and Shakeology:
Beachbody Performance Hydrate: A workout supplement taken during your workout that contains electrolytes and carbohydrates to help replenish what your body is sweating out to keep you better hydrated.
Beachbody Performance Energize: A pre-workout supplement designed to help you focus and give you that energy boost you sometimes need. The main ingredients are beta-alanine, an amino acid that may help prevent lactic acid build up and muscle fatigue, caffeine from green tea, and Quercetin a plant flavonoid that may prevent muscle fatigue.
Beachbody Performance Recover: The post-workout drink from Beachbody contains a unique blend of fast- and slow-digesting proteins as well as branch chain amino acids to help your muscles recover from the workouts.
Beachbody Performance Recharge: This is the before bed nighttime drink to help your muscles recover. The main ingredients are branch chain amino acids and micellar casein protein, which is a slow digesting protein to help aid muscle recovery while you sleep.
Shakeology: A meal replacement shake from Beachbody that on the 80 Day Obsession Timed nutrition plan counts as a red container when called for.
While the supplements are highly recommended to get the most from the program, they are not required. Beachbody created a time nutrition meal plan layout for people who do not use the supplements. I found this pretty decent, since there are some people who can't take supplements for medical reasons.
How Much the 80 Day Obsession Costs?
There are a LOT of options when it comes to ordering the 80 Day Obsession. I counted 14 package variations  when I took a quick look! Here are a couple of the must-knows:
The 80 Day Obsession workouts are available for online streaming via Beachbody On Demand (BOD) Membership only.
Equipment and supplements can be ordered directly through Team Beachbody through completion packs if you are already a BOD member.
To be able to get access to the workouts, you must have Beachbody On Demand. Here are the best options if you already have the equipment and don't mind not having a hard copy of the program material:
Quarterly Membership with no charge 14-Day Trial: For $39 billed quarterly (every 3 months) you can access all Beachbody workouts and programs. Scroll to the bottom right for a no-charge trial option, just be sure to cancel before the 14-days if you don't want to continue.
Annual Pass: The main difference here is cost. At only $99 for a year, you save a ton of money.
Neither option requires you to stay a member for any period of time. You can cancel at anytime.
Now if you would like to order the 80 Day Obsession equipment, have a hard copy of the workout calendar or nutrition guide sent to you, or if you take advantage of the nutritional supplements, then you'll want to take a look at these:
1.) If you are new to Beachbody On Demand:
If you do not have Beachbody on Demand membership, there are "challenge" packages to consider:
80 Day Obsession Beachbody On Demand Annual & Shakeology Challenge Pack: This contains the annual membership to BOD and the resistance loops, sliders, portion control containers, program materials, and Shakeology.
80 Day Obsession Mega Challenge Pack: This comes with everything the program recommends except for the weights. You get everything listed above in addition to the core comfort mat, a foam roller, Performance Energize, Hydrate, and Recover.
Or 2.) If you are already a Beachbody On Demand:
If you do have Beachbody On Demand, then you'll want to take a look at the "completion" packages for accessories and/or supplements, which can be ordered separately.
80 Day Obsession Mega Completion Pack: This is the same mega pack listed above except you do not get the annual Beachbody On Demand membership, because you are already a member.
80 Day Obsession Accessories Only: This is the bare bones option that provides the resistance loops, the strength slides, portion control containers, a physical copy of the intro guide, and physical copy of the workout calendar.
Here is the link to the Team Beachbody listing for all of the above ordering options for the 80 Day Obsession. To view the different packages, use the grey arrow on the right of the link-to screen (seen in photo below) and to read more about what each package contains, click on the details link.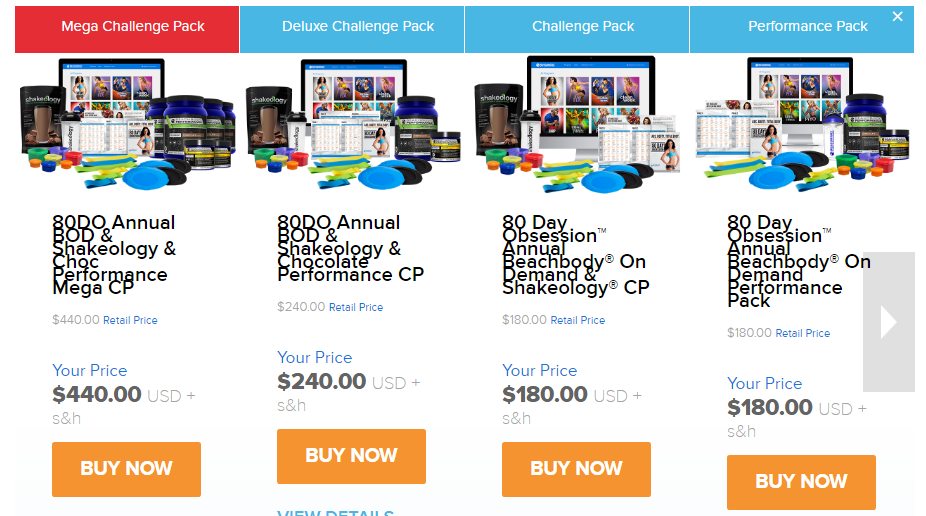 How to Stream the 80 Day Obsession Workouts?
Once you have Beachbody On Demand, you can stream the 80 Day Obsession and/or any of the 600+ workouts from Beachbody via almost any device with an internet connection.
Here is a quick list of supported devices:
Roku player and roku tv
Amazon Fire TV
Google Chromecast
Apple TV
PC
Personally, I use my android  smartphone and screen mirror to my smart tv.
Can You Buy the 80 Day Obsession on DVD?
The 80 Day Obsession workout is not available in DVD format as of this time. I honestly have no idea if the program will ever be available on DVD. There are 80 unique workouts and lots of video extras, I just can't see how it would work out like that.
I think in the future it would be great idea if Beachbody released this program to DVD. For that to happen, I think the workout structuring would have to change somewhat.
What Results Can You Expect?
Since I'm still only on Day 39 of the program, I'm not going to to go too much into detail here about the results you can expect. We'll save that for when I finish the program.
For now I can tell you this. After just 4 weeks of following the 80 Day Obsession, I have majorly noticeable differences in my shoulders, arms and abs, which are also where I tend to carry the least amount of fat. I am also seeing a lot more definition in my fattiest areas like my calves, thighs, and booty. They are definitely looking more toned and I'm feeling great! I have noticeable fat loss and lots of lean muscle coming through too.
In just 4 weeks, I lost 5lbs and 4″! Not too bad.
Questions about the 80 Day Obsession workout that I did not cover above or something to add? Please leave a comment below.