This post is for my friends in the United Kingdom. I'm getting a lot of questions recently about the fitness programs and nutritional products Beachbody offers, since news of the Beachbody.co.uk was recently released.
In this post, I wanted to share answers to some of the more frequently asked questions I receive about the United Kingdom Fall 2017  launch. I don't know the answer to all the questions I've been receiving, as I know more, I will update this post with the new information.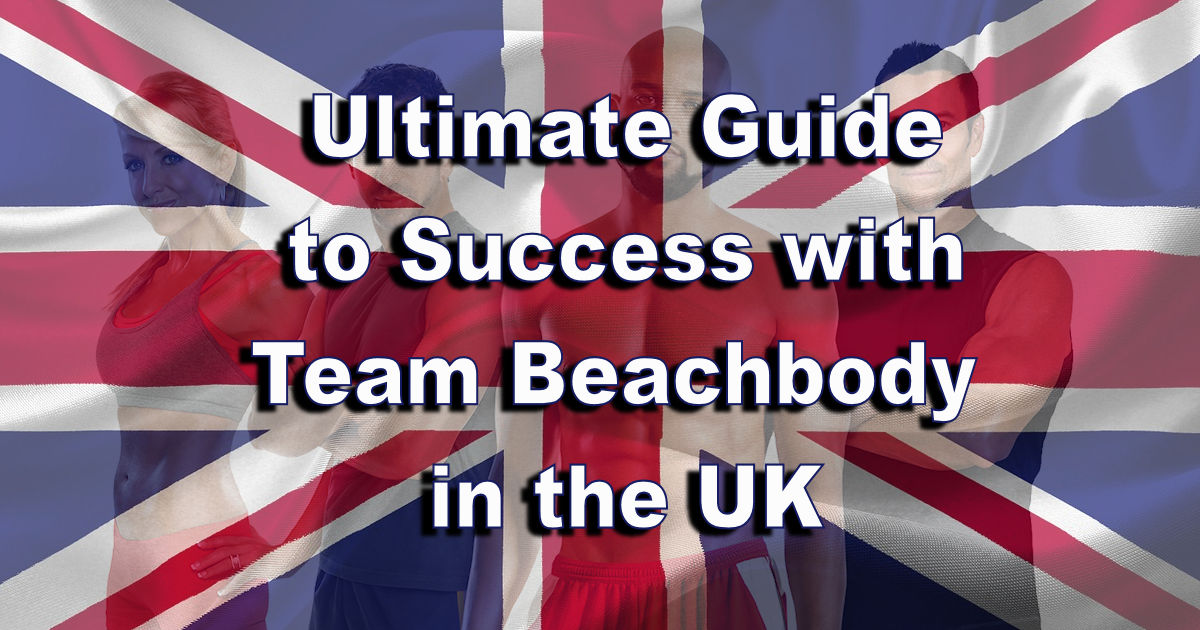 The Availability of Beachbody Programs in the UK
The workout program DVDs are NTSC, which means they play in the standard UK DVD player. Yes, I had to look that one up! You have two options for accessing the programs. You can order the DVD package, or you can access the programs with Beachbody On Demand. You get the same materials with either option. The key difference is  Beachbody On Demand is all digital (streaming workouts & pdf materials) and if you purchase the program on its own, the program are physical materials (dvds, printed guides, etc.)
Here is a list of the current Beachbody programs and other company products available:
T25
21 Day Fix
Cize
Core De Force
Country Heat
3 Week Yoga Retreat
22 Minute Hard Corps
Tai cheng
Insanity MAX:30
PiYo
Body Beast
Master's Hammer and Chisel
Slim in 6
Insanity
21 Day Fix Extreme
P90
P90X
P90X2
P90X3
Fixate (book)
Turbofire
Insanity The Asylum
Insanity, The Asylum Volume 2
Portion Fix (portion control diet book and container system)
Rockin Body
Hip Hop Abs
Chalean Extreme
I have a number of reviews and helpful blog posts about many of the above mentioned programs if you're interested. From the sidebar located to the right, you can find many of these posts organized into categories by program name.
Access All Programs with Beachbody on Demand in the UK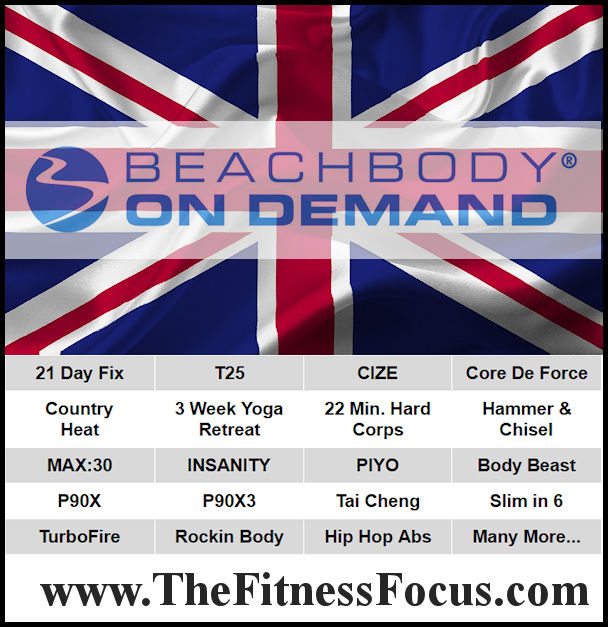 Beachbody On Demand is a member area that is included with a Team Beachbody Club membership. The Club membership allows access to all of Beachbody On Demand workouts to be streamed over the Internet.
From my understanding, the UK version of Beachbody On Demand is the same as in the States. I've written a detailed look at Beachbody On Demand All-Access Annual Pass and what it offers.
The cost of Beachbody On Demand All Access Annual Pass in the UK is £99.85 yearly. This allows access to all digital versions of the current programs and future programs. For the most value, this is by far the best option that you have.
The best part is though that you can start with a 14-day trial no charge trial to BOD the membership if you like.
How to Order Beachbody Programs in the UK
There are currently two ways to get Team Beachbody workout programs in the UK. Ships anywhere in the UK.
https://www.amazon.co.uk
Beachbody includes the shipping costs into the price on Amazon. On Beachbody.uk, the shipping price is added on separately. They will come out to the same price in the end.
Prices in the UK are very competitive with the US prices. For example, the 21 Day Fix workout program in the United States costs $59.85, and in the United Kingdom the price is £59.85. With today's exchange rate, the cost in dollars would be about $74.81.
Whether it is Beachbody On Demand or single program purchase, there is at minimum a 30-day money back guarantee protection. If you are unsatisfied for any reason, you may return for full refund minus any postage fees.
Is Shakeology Available in the United Kingdom?
Different countries have different rules and regulations when it comes to nutritional supplements. The UK Department of Health, similar to the FDA in the states, regulates the food supplement industry in the United Kingdom.
Shakeology is not available in the UK at this time. This does not mean it necessarily contains ingredients that do not fit the Department of Health's standards, but I assume it would still need to pass inspection. I believe this will be the same for any of Beachbody's other nutritional line of supplements for now.
Shakeology is now available in the UK through Team Beachbody only.
Is a Free Coach Available in the UK?
When you purchase a Beachbody product in the US, you can get access to a coach who is there to support you and  help you reach your health and fitness goals. However, assigned coaches are not available in the UK as of this time. I'll go over the Team Beachbody "coaching" below.
The good news is that there are a lot of other resources available to you. And if you ever have any direct questions you would like personally answered, please leave a comment on this blog. If you would like to get started with me as your coach a little early, please email as bethany@thefitnessfocus.com.
How to Become a Team Beachbody Coach in the UK
October 19, 2017 is the date you'll be able to join us as a Team Beachbody Coach in the United Kingdom! This will allow individuals in the UK to begin working for Team Beachbody to help motivate others to reach their health and fitness goals.
October 19th, 2017 – Team Beachbody Coaching available to all UK residents.
If you're interested in joining one of the fastest growing teams in the company and want to take learn more about what coaching is all about, be the first to know about it, I created a specific email list that you can subscribe to here. Just make sure to confirm your email address once subscribing to ensure you are notified properly.
If you'd like to learn more about coaching, definitely take a look over the coaching category on this site and/or visit my YouTube channel for more information.
And if you know of anything in this post that is not up-to-date or if there is any information you feel would be beneficial to other people in the UK, please leave a comment below!