There was a time not too long ago I was walking through the parking lot with a friend to do some Christmas shopping, and while chatting on our way into the store, we passed by a car covered with decals of P90X and Insanity – along with their Beachbody coach URL.
My friend says, "I'd do that to my car, too, if I got paid." It took a minute to sink in, but my friend wasn't aware how Beachbody coaches earn money from the coach program!
I looked at my friend and asked, "You do know I'm a coach right?" and she replied, "Yeah, but you don't do that – you do online stuff."
I Didn't Know Any Better Once Either
I'll be the first to admit when I'm wrong or don't know any better. If you look at my About Me page, I didn't really know much about Beachbody coaching when I first started out three years ago. I was just chronicling my experiences and my results with the BBL at-home workout program.
I was already investing numerous hours each week into answering comments and questions, as well as writing articles (which I love to do!), but it wasn't giving me anything back in return other than satisfaction and gratitude. My boyfriend suggested I should monetize, because he could see the satisfaction I had when helping others reach their health and fitness goals.
But for some reason, I felt like if I made money when someone clicked on a link and ordered a program, I was taking advantage of them. Obviously, I would be a horrible salesperson, but that is honestly how I felt.
How I Started Earning Money As A Coach
I started by adding links to this site to purchase Beachbody programs on Amazon.com. As an Amazon affiliate, I was earning 4% per sale, which is definitely not bad – at least it is something, right? A workout program selling for $139.80 would earn about $6 per sale.
It was only after really doing my homework on what coaching was really all about that I decided to become a coach. Not only am I able to continue doing what I love to do by helping others reach their health and fitness goals by providing support and motivation, you can also earn an honest living from it.
As a coach, you earn 25% commission on workout programs, equipment and nutritional orders, which means that if you sell a program (typically they're $119.85) you would earn $29.96 with your coach account – a considerable amount more than an Amazon sale. Plus if a person orders through Amazon, they get placed with a random coach who may not really care about their customers' needs, which really bothered me. Now, if people order through me, I become their coach – what a bargain! :)
And, as even more added incentive, workout program orders placed directly through a Team Beachbody Coach gives you a free bonus workout. These are often incorporated into the program schedule or can be used to add workout variety.
There it is…not too long of a story, but the how and why I became a Beachbody coach.
And Even Worse, I Mean Better…Paid Weekly!
As an Amazon affiliate, payments are sent almost two months after a commission. As a Beachbody coach, payments are sent weekly by electronic deposit for the prior week! That means you can earn extra cash each and every week. I prefer this over the biweekly or monthly payouts that other companies use,
3 Main Ways a Coach Earns Money
I believe there are nine total ways a Beachbody coach can earn commissions and/or bonuses. But, these are three areas that I would like to highlight.
25% Commission on all product sales – Programs, nutritional supplements, equipment, etc. will earn you a base 25% commission per order. Every time your customer orders, you earn 25% no matter if that is a once-a-year order or one of the popular monthly autoship programs.
45% Beachbody Club commission – With the release of Beachbody On Demand streaming workouts, the Beachbody Club membership just became a whole new ball game. Right now, you earn 45% commission on Club membership fees for life.
Team Bonus – This feature, like many referral programs allows you to refer people, and as a by-product, you can earn what is called the team bonus. Bonuses are earned and paid on a weekly basis also.
If you would like me to go into more depth or cover the total ways a Beachbody coach makes money, please leave me a comment below.
You Want to See How Much I Make?
Sorry! That is between me and Uncle Sam. I have paid off nearly all my student loan debt eight years early, gone on multiple family vacations I would not have otherwise been able to afford, and replaced my day, oh and I make more than double what I did working 50 plus hours a week – all with this side coaching gig. No joke.
But honestly for me, it is not all about the money anyways. It is about how many people I can help live a more fulfilling, healthier and happier life. So, instead of the customary money shot, here is a look at the amount of people in one day who joined me in transforming their lives.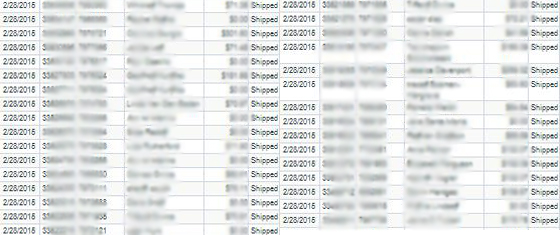 Remember, a coach is not a trainer like Shaun T or Tony Horton. A coach is there for support and to provide motivation!
Statement of Earnings:
***Team Beachbody® does not guarantee you any level of success or income from the Team Beachbody Coach Opportunity. Each Coach's income depends on his or her own efforts, diligence, and skill.
Related Articles
F.A.Q About Beachbody Coaching
And as always, please do not hesitate to contact me if you have any questions about this topic or questions in general. I will try my best to help you.