The 21 Day Fix program was released about three years ago, which is about the same amount of time most fad diets and workout programs begin to fade away.
But when it comes to the 21 Day Fix, I don't see the 21 Day Fix portion control diet going anywhere anytime soon. This is why I have decided to create a new category on this blog dedicated entirely to 21 Day Fix-approved recipes.
The goal is to bring you one new recipe each week. I see a weblogs that call their recipes as 21 Day Fix allowed, but then they use ingredients that are not Fix-approved. The recipes I post here will only use 21 Day Fix-approved foods.
The recipes I will be posting will:
Use 21 Day Fix-approved ingredients only.
Be adaptable to your own tastes and needs.
Be quick and easy to make.
Not contain huge lists of ingredients.
The first recipe in this series is going to be a simple 21 Day Fix approved pot roast. This can either be slow cooked in the crock pot (my personal favorite) or baked in the oven.
Below is how I made this meal. But, you can always add more veggies or remove some. Balsamic vinaigrette can also be used in place of the beef broth or water to add a little more flavor to this meal.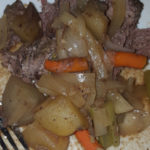 21 Day Fix Approved Pot Roast
Ingredients
1

3-4 lb

Roast

Preferably Grass Fed, Antibiotic Free

1

Onion sliced

3

Carrots chopped

3

Stalks

Celery chopped

1

cup

Water or Beef Broth

5

Potatoes cubed

Salt & Pepper to Taste
Instructions
Brown the roast on each side by pan frying for a minute or two.

Add onion to bottom of the slow cooker.

Add water, beef broth, or balsamic vinaigrette to slow cooker.

Place roast on top of onion, season with salt & pepper to taste.

Add the rest of the veggies and potatoes to the slow cooker.

Cook on low for 8 hours or until meat is cooked to your liking and veggies are tender.
Recipe Notes
Alternatively you could bake the roast at 350 degrees for 2 hours or until cooked through, flip roast after 1 hour.
21 DAY FIX CONTAINERS
4-6 Servings
1 Red 1 Yellow  1 Green
Get More Healthy Recipes
If you are not yet part of The Fitness Focus weekly newsletter and want to get more recipes like this delivered directly to your inbox be sure to subscribe below this post.
Have any spins on how you make pot roast or want to share any tips? Please leave a comment below. Thanks!