Meatloaf. There's just something about meat being paired with the word loaf that just doesn't sound that appetizing to me!
But meatloaf being made from low-calorie lean ground turkey? Well, now that sounds a bit more interesting and maybe even worth trying out.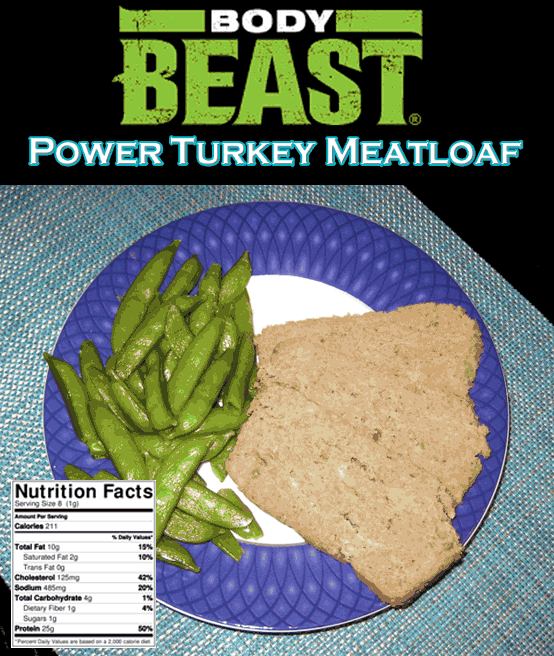 When I found out this was a recipe for Body Beast Power Turkey Meatloaf, I was expecting something less-than-spectacular for dinner. But wow, was I ever wrong – this meal was amazing! And by amazing, I mean I wanted to go back for seconds and thirds, but after almost 4.5 oz of the loaf, I had definitely had enough for one sitting :)
Moist and packed with 25 grams of muscle building protein, this refreshing turkey version of meatloaf is low in saturated fat. It is a very healthy alternative to ground hamburg. Red meat is something I am trying to limit to once a week now, so this recipe, and Sagi's turkey meatballs, are a keeper.
Hold on a Second, Salsa in a Meatloaf Recipe?
I know, it might sound strange at first, but the second ingredient in this recipe is salsa. I figured this would make the meatloaf have a mexican flavor, but you would never know it contained salsa – it just has this really awesome flavor. It is the BEST meatloaf I have ever tasted! And that's including the versions I used to eat that were bathed in yummy, and fattening, gravy.
With less than ten ingredients, this recipe takes about ten minutes to prepare with about an hour of cooking time in the oven.
Optionally, you could cook this in a crock pot on low for about 4 hours. For easy clean up, simply line the inside of the crock pot with aluminum foil.
Body Beast Turkey

Meatloaf Recipe

Ingredients:

2 pounds of lean ground turkey meat

1 cup whole wheat bread crumbs (I used panko)

3 cloves of garlic, finely chopped

ground black pepper to taste

1 cup of all-natural mild or medium salsa

2 large eggs, lightly beaten

1 teaspoon sea salt

fresh chopped parsley(optional, garnish)

Instructions:

Preheat the oven to 375° F.
Combine the ground turkey, salsa, whole wheat bread crumbs, eggs, garlic, sea salt, and pepper in a large bowl.
Form into the shape of a loaf and place in a 9″ x 5″ loaf pan.
Bake on the center rake of the oven for 60-70 minutes until no longer pink in the middle.
Let stand for 10 minutes before serving. Cut into 8 equal pieces.

Alternatively, this can be cooked in a crock pot for four hours on low.
Nutritional Profile: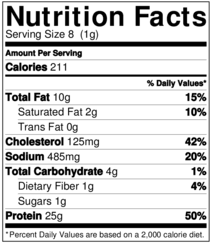 What recipes have you replaced hamburger with lean ground turkey?