We enjoy making our own protein bars rather than spending money on those with not-necessarily all whole ingredients.  I have to say these are not just delicious, they're super easy, too! In fact, the total time to make these is about 10 minutes prep time, plus 20 minutes of waiting time.
You might recognize the image of these from last week's food prep tips for beginner's post. I received a few emails asking to share the recipe, and like any good blogger – if you ask, you shall receive.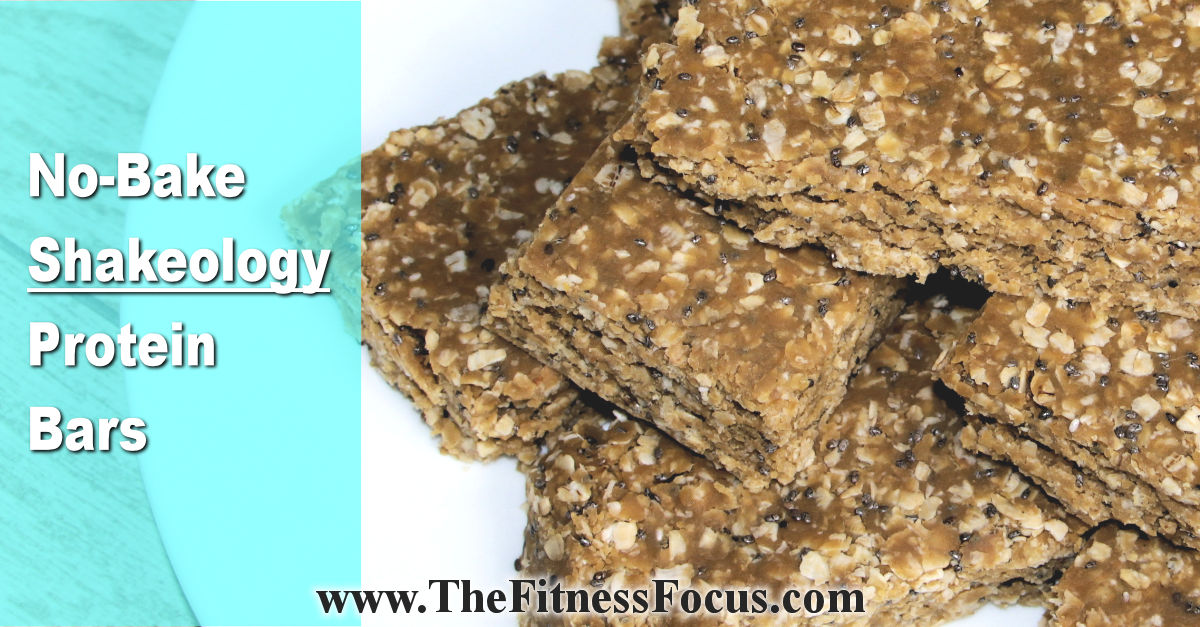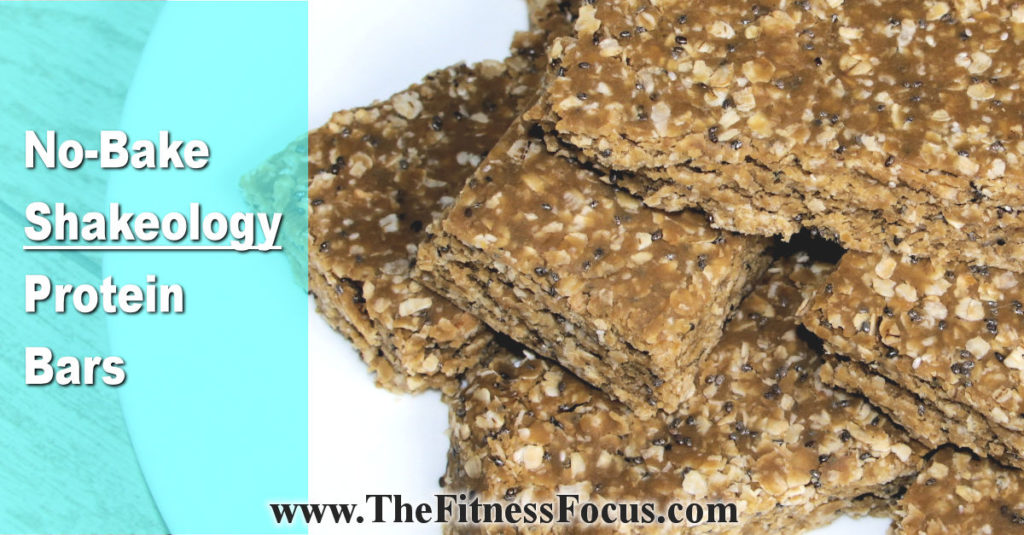 Why I Choose Homemade Bars Over Conventional (At Least Sometimes)
I'm not going to lie. I have a stash of Clif energy and builder bars, and as treat, a Quest bar for when I'm traveling or as a back-up bar when needed. But I do try to limit these to less than a couple times each week.
There are many reasons that I like to make my own bars:
I enjoy making them – sometimes I really miss baking!
I know what ingredients they're made from.
They're relatively inexpensive to make compared to pre-packaged types.
Cornerstone Ingredients
I make these no-bake protein bars often, but I don't always make them the same way. This is a very easy recipe to make adjustments to and change the flavor of, however, there are certain ingredients that you will always want to use to make sure it's the right texture.
You'll always want to have a base ingredient like oatmeal, ground flax, or chia seed. Then, you want a sticking ingredient to hold the bars together like honey, nutter butter, or canned coconut milk. For some extra flavor, you can add things like coconut flakes, dark chocolate chips, raisins, or even a flavored extract. It's always up to you and how adventurous you want to be!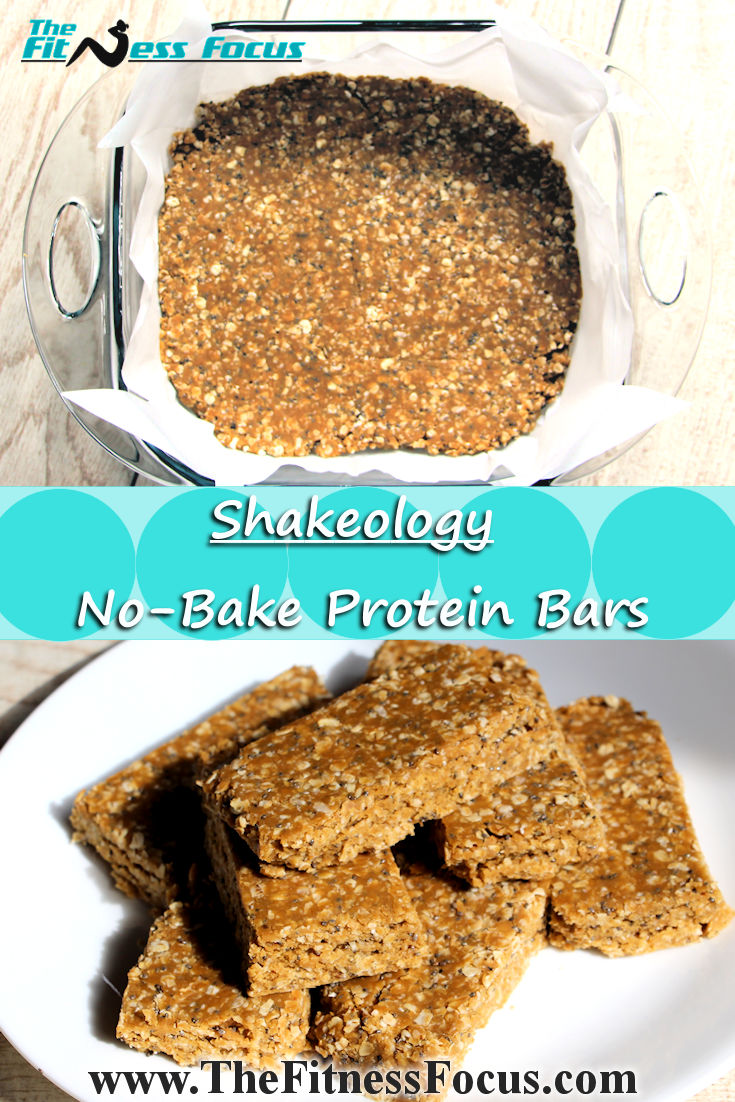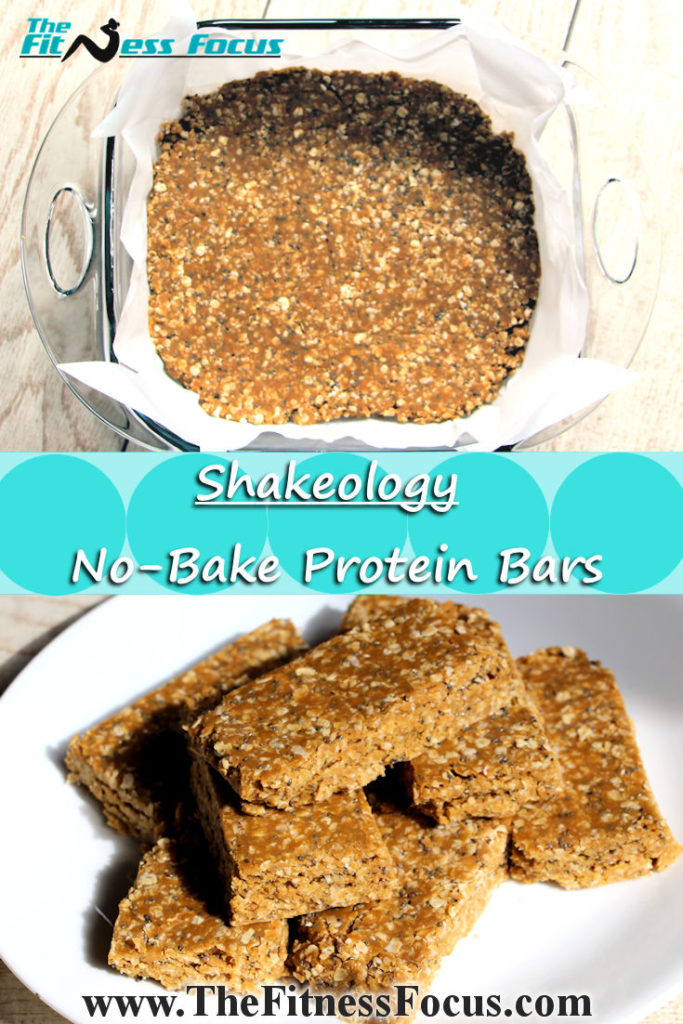 My No-Bake Protein Bar Recipe
Ingredients:
2 cups of quick oats
1/2 cup canned light coconut milk
1 cup smooth organic peanut butter(warm in microwave for easier mixing)
2 scoops vanilla Shakeology or other protein powder
2 Tablespoons chia seeds
2 Tablespoons honey
Steps to make:
Give your can of coconut milk a good shake, or whisk in bowl.
Whisk coconut milk and protein powder together.
Add peanut butter, chia seeds, and honey to bowl.
Mix together with hands until well blended.
Place into a parchment paper lined 8×8 pan and flatten with the back of a spatula.
Place in freezer for about 20 minutes.
Cut into equals size bars and refrigerate for up to one week.
Nutritional Facts: This should make about eight even-sized bars. Each bar contains about 318 calories, 26 grams of carbs, 19 grams of fat, and 12 grams of protein.
For those following the 21 Day Fix portion control diet, I would count a serving as 1 red, 1 tsp, and 1 yellow.
I use these as a mid-morning snack or as a pre-workout meal about one hour before any strength training workouts.
Adjustments You Can Make
You can double the recipe easily by doubling the ingredients and using an 8×12 pan. This is how I usually do it, and then I'll leave in the freezer until the day of use, but remember to cut first.
For protein powder, you could use vanilla or chocolate, and no…it does not have to be Shakeology. I often use a RAW plant-based protein like this.
You could use any of these nut butters:
Peanut
Almond
Cashew
Walnut
Hazelnut
You could even use a seed butter like sunflower
For natural sweeteners, you could try:
Honey
Agave
Natural maple syrup
Prune puree
Some ideas to add a little extra crunch:
Nuts
Semi-sweet chocolate chips
Chia seeds
Dried fruits & berries
Sunflower seeds
Flax seeds
As you can see, you can get very creative with the base recipe…so as Leandro sometimes says, have fun with it!
Do you have your own protein bar recipe or variation, please add a comment below.