When I find a recipe I like, the first thing I like to do is make it easier. I mean, who has the time for a 30 ingredient list?! Seriously. What I mostly do is cut down on any unnecessary spices that won't affect the overall flavor, do away with any unhealthy oils, and/or replace any white carbs with whole grain carbs or vegetables.
One of my favorite simple meals to make is oven baked chicken fajitas. Mmmmm….so good!!!
And making chicken fajitas in the oven significantly reduces your active cooking time, because you don't need to stand over them while sauteing. Instead, you just place all the ingredients in the a casserole dish with some oil and bake.
Super easy to make, the chicken always remains moist, and the onions and peppers come a perfect al dente texture – not mushy or burnt. The best part is that this recipe is approved to eat while following almost all Beachbody workout programs including the 21 Day Fix, 80 Day Obsession, and the ultra flexible 2B Mindset eating plan.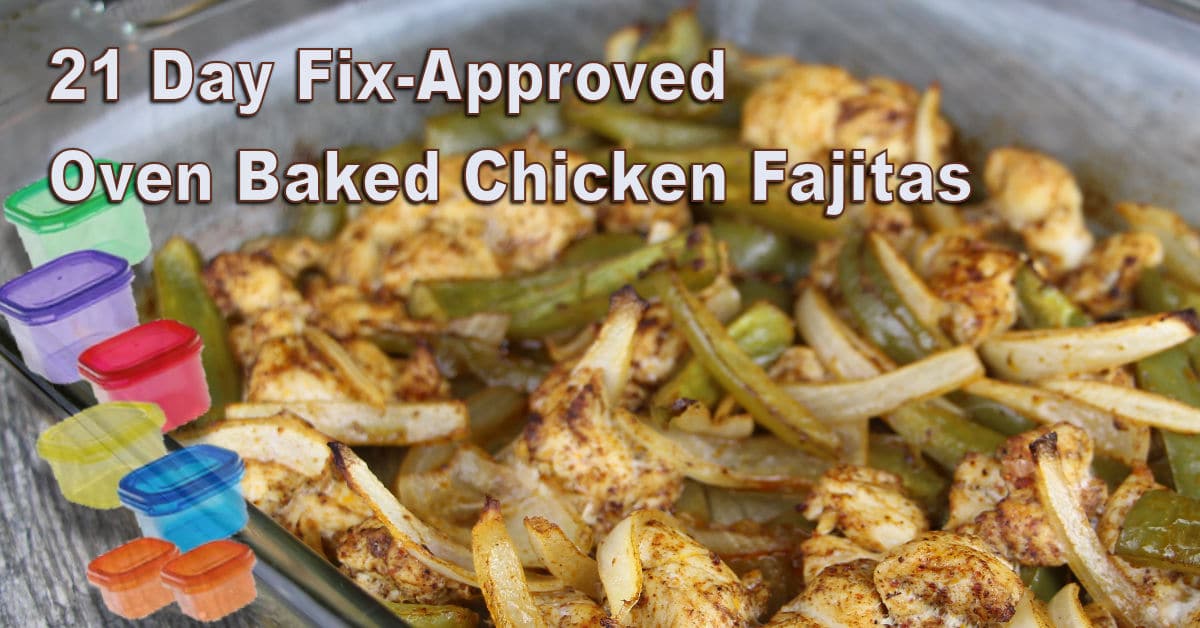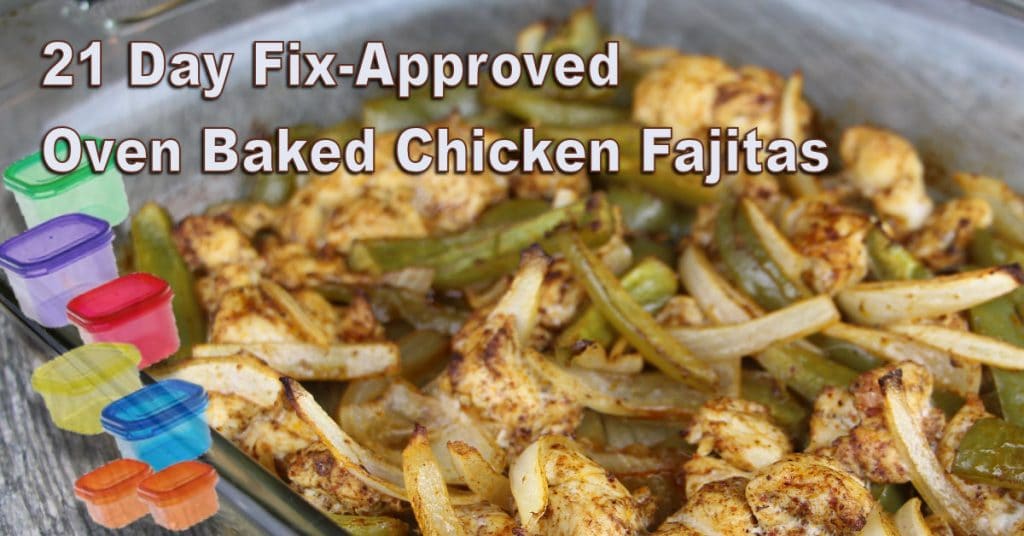 How to Serve Your Chicken Fajitas
The best part about oven baked chicken fajitas may not just be how easy they are to make, but how many different options there are when it comes to serving them! There are so many delicious and healthy ways to eat your chicken fajitas that you will never get bored! Here are some of my favorites:
Depending on your diet, you can serve them on:
A lettuce leaf for a low carb, keto-friendly dish
A traditional corn tortilla
A whole grain or whole wheat wrap
Depending on whether you're following a specific Beachbody program or not, you'll obviously need to keep your containers in mind or your nutrition plan to see what you can use for toppings. Here are some of my favorite ways to top my chicken fajitas:
Shredded cheese
Guacamole
Sliced avocado
Salsa
Finely chopped jalapenos, jarred or fresh (don't forget to remove seeds if you're not a heat-lover!)
Chopped iceberg lettuce
Pico de gallo
Refried beans
Cilantro
Freshly squeezed lime juice
And now that you know how to serve them, here's the simple recipe you've been waiting for!
Simple Oven Baked Chicken Fajitas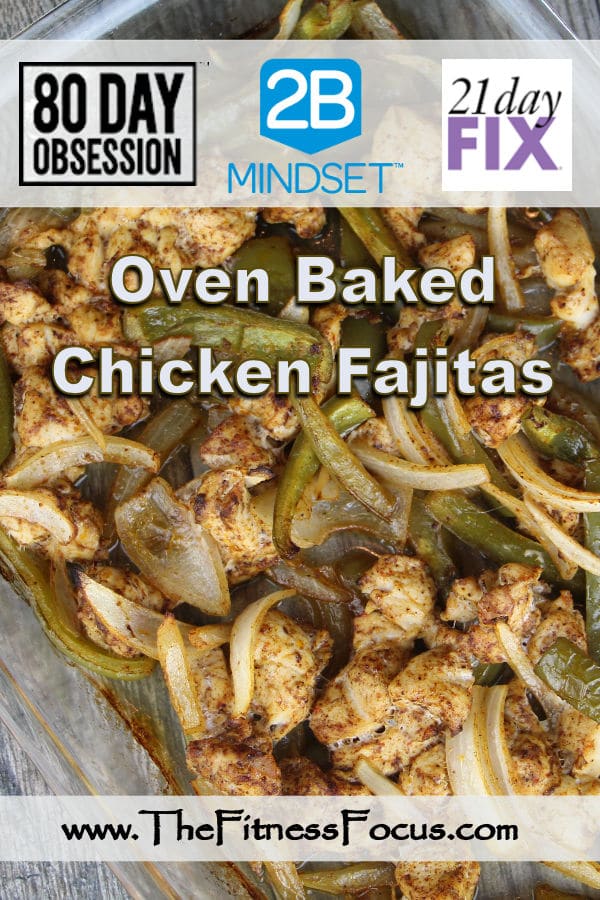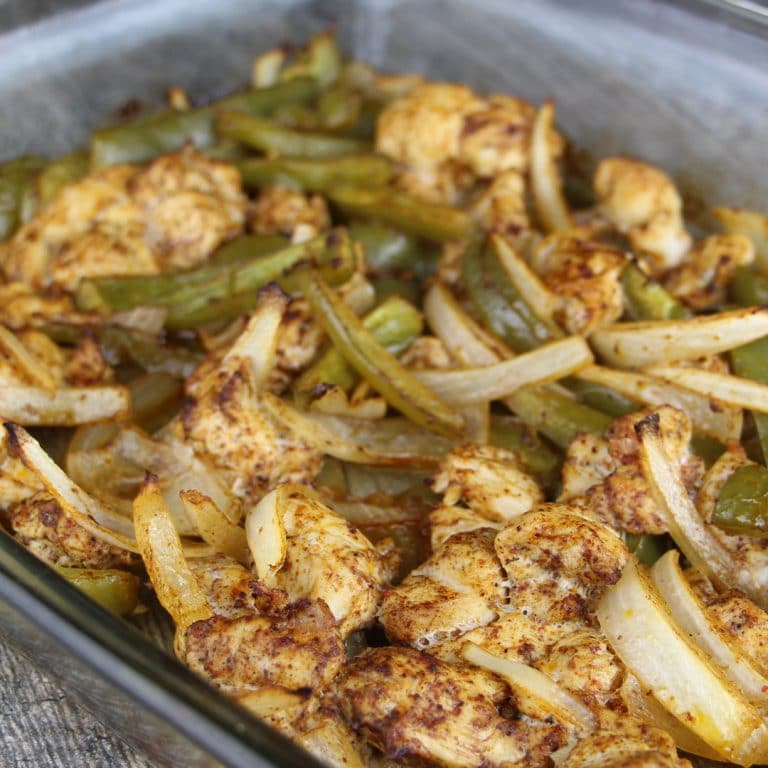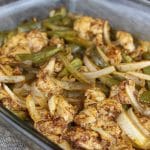 21 Day Fix Approved Chicken Fajitas
Ingredients
1

pound

chicken

1

onion

1

pepper

1/2

tsp

sea salt

1/2

tsp

cumin

1

tsp

chili powder

2

Tbsp

olive oil
Instructions
Preheat the oven to 400 degrees

Cut the chicken into bite-sized chunks

Slice the vegetables

Mix all ingredients in a bowl

Spread into a glass 9 x 13 inch pan

Bake for 30 to 35 minutes in the oven
21 Day Fix, 80 Day Obsession, and 2B Mindset Approved
As I mentioned earlier, this recipe can be enjoyed while following almost any Beachbody program! You'll definitely want to check your nutritional plans to see what foods are allowed, and you may need to plan for the day depending on what your topping your chicken fajitas with, especially if it's your favorite shredded cheese.
But always remember that eating right is not supposed to be a short term fix, it's about a healthier lifestyle change. And hopefully this is one to add to your recipe collection! :)
If you you try this recipe, please let me know how it came out in the comments below!