Plan, Shop, Cook, Eat…PiYo…and Look Fantastic!
You can't out PiYo a bad diet. Sorry, enough with the corny humor.
There are a few things I'm going to cover in this blog post:
I will show you how I planned for the PiYo diet and provide you with the same excel sheet I used to plan my daily diet.
I will show you a sample day of what my PiYo diet looked like.
I will also give you my very own PiYo-approved foods list you can print and take grocery shopping with you.
If you haven't already done so, please read my How to Get Started with the PiYo Diet post before reading any further.  If you already know your Calorie Target and matched it to your Food Plan, then you are all ready to get planning what to eat.
Two PiYo Nutrition Trackers
For me, the key to staying on track with any diet is planning and tracking. For these two very important reasons, I created a couple of excel worksheets to very easily track and plan my PiYo diet.
The First Sheet: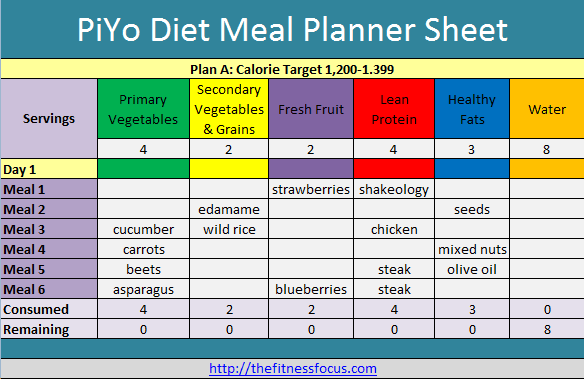 The function of this excel sheet is simple. From the five food PiYo categories, you plan what foods you need to be eating for the day. This way, you make sure you're eating the correct ratio of foods to get you the best PiYo results possible.
The sheet also tallies and lets you know how many servings of each food group you have remaining. Make sure to enter one serving per line. For example, I had cucumbers and carrots at lunch, while I ate beets and asparagus at dinner. As you can see in the above image, I entered them each on separate lines.
To make it easy for you, I created four versions of this excel sheet to download – one for each food plan. Just make sure to select the correct plan for your calorie level.
Plan A – Calorie Target 1,200-1,399
Plan B – Calorie Target 1,400-1,599
Plan C – Calorie Target 1,600-1,799
Plan D – Calorie Target 1,800 or More
The Second Option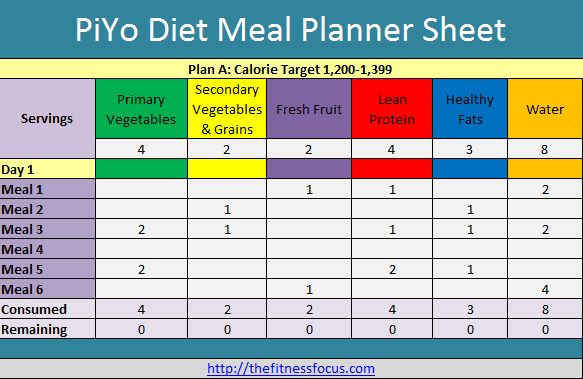 This excel sheet is slightly different than the first, but just as easy to use. To use this sheet, you simply input the number of servings from each food group you have or plan on eating for the day. It then automatically subtracts that number and to let you know how many servings you have left for the particular day.
This is the excel sheet I used when tracking my PiYo diet…after first just drawing circles on a sheet of paper with letters for the different food groups and checking them off as the day went on. That was easy too, but not as easy as these sheets were for me.
It's important to use one of these if you want the best results, because it really helps keep you on track. I found it useful for knowing just what amount of veggies, protein or carbs I needed to eat at dinner.
Servings Sheet – Plan A – Calorie Target 1,200-1,399 
Servings Sheet – Plan B – Calorie Target 1,400-1,599
Servings Sheet – Plan C – Calorie Target 1,600-1,799
Servings Sheet – Plan D – Calorie Target 1,800 or More
You do not need to use both excel sheets, but I do recommend using one of the two. It's much easier than using your own means of tracking your calories as I did my first week. After amassing a few days worth of scrap paper, I knew I had to create something better, which is why I made these sheets. I found them so useful, I want to share them with you, too to ensure you get the best possible PiYo results.
These sheets can also be printed if you find that it's an easier way for you to track with pen and paper when you're on the go.
Sample of What I Ate Today on the PiYo Diet
For Breakfast:
My Strawberry Shakeology mixed with 1 frozen banana, 1 c of frozen strawberries, and 10 oz of water.
For my mid-morning snack:
1/2 c shelled edamame with 1T of sunflower seeds
For lunch:
4oz of chicken breast, one sliced cucumber, and 1/2 c wild rice
For late-lunch snack:
One serving of raw carrots with 1T of mixed nuts
For dinner:
4 oz of turkey meatloaf with 10 lg spears of fresh asparagus and 2 medium-sized beets
This was/is a sample day in the life for me while following the PiYo workout.
For most days, my breakfast was Shakeology blended with fresh or frozen fruit -it's easy, it's quick, and it is super healthy. For lunch, it usually was chicken breast seasoned with different herbs with salad and/or veggies. Dinner was always a little more elaborate, usually a lean meat protein, vegetable, and carb. Snacks were nuts or seeds, but I would mix it up to keep it fresh…sometimes even making my own trail mix with pumpkin seeds and a mixed nut blend :)
The PiYo Grocery Shopping Food List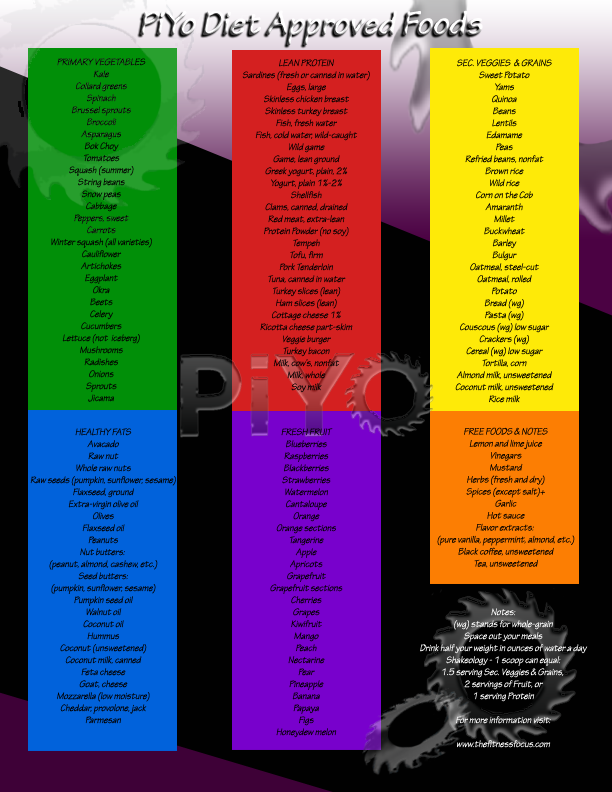 Above is an image of the only foods you should be eating on the PiYo diet – for real. You should really try not to eat anything you don't see. I used this food list for my grocery shopping each week and am even still using it to maintain my results.
To use the sheet, I would make a note of the amount of servings I needed for each food category, and then go through and circle what to buy. To save money on my grocery bill, I would often go through my grocery store's flyer for the week and circle items that would be on sale and buy natural meat in bulk when on sale and visit farmer's markets, which of course, depends on the season you're doing PiYo.
Download or print a copy of the above pictured fancy pdf file here.
And trust me, most people are not going to enjoy every single food listed on the PiYo diet, so I also created a plain text Google Doc that you can get here. To be able to edit the document, go to File and Make a Copy to be able to modify the sheet as you see fit.
Have questions or a comment, please share below. :)