When I was just shy of five months pregnant, the grocery store cashier told me my cart was "full of expensive items." Of course it looked like I was eating expensive! Eating organic foods add up, right?
But it doesn't have to be.
Since I've gone to eating more organic foods, I've actually been able to lower the amount of money I spend on groceries.
How? It's super simple:
Buy local.
No more fast foods.
Cut back on processed and premade foods.
Cut down on red meat.
When we first switched to eating organic, I began looking at different ways to save that didn't take a lot of time or effort. Because who has lots of extra time? What really took me by surprise is our food budget hasn't really changed since we cleaned our eating habits.
I'm going to share a few core tips to get you started. Some of these could be blog posts on there own, but I wanted to give you a quick look in just one post to get you started.
Keep in mind that some of these buying-organic-on-a-budget ideas may or may not apply to you. I live in a small town in New England where local farming is making a strong comeback with lots of great tasting, pesticide free foods for less during the growing seasons.
1.) Buy From Your Local Farmer
Not all local farmers will pay for organic certification. From what I've heard, it can cost the farmer anywhere from $200 to $1400 in yearly renewal fees and extra money for the initial inspection fee.
So just ask….Do you use roundup? or Do you spray?
I'm very lucky to live within 10 minutes of a couple certified organic farms. From your local organic farmer, expect to spend what you would pay at the grocery store for non-organic produce.
As I am writing this article at the beginning of March, many local farmers are starting to offer CSA subscriptions. CSA stands for Community Supported Agriculture.
With a CSA, you pay for the season (usually upfront) to receive a set amount of veggies throughout the year. This money is often used for the startup and production costs farmers are responsible for at the beginning of the year.
You will almost always get more with a CSA than if you purchased things on your own. Plus, the farms will often supply a variety of veggies, some of which might be new to you!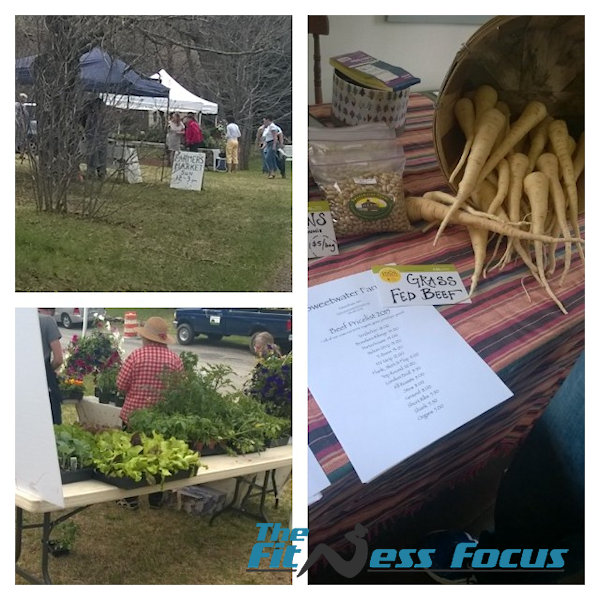 A farmers market is a group of local farmers, and often artisans. They come together to sell vegetables, fruits, and other items like meats, cheeses, soaps and other crafts directly to us.
Here is another money saving tip for farmers markets. Remember to AARP (not the one you're probably thinking of!):
AARP:  Always Ask for Reduced Pricing (you will be pleasantly surprised.)

Do you have any items on sale?
If I buy more than one pound, do you offer a discount?
I've never tried that…how do you prepare it?

Go towards the end of the day when farmers are packing up for the day (most would rather sell at a discount than take items back with them.)
Shop with cash. Many sellers will round food prices down than have to give change.
Go in bad weather. If your market is outside, less people attending often means better deals for those who do.
A couple ways to find farmers markets and support local agriculture near you that you might not know about:
www.localharvest.org:  A large directory of farmers markets, farms and csa offerers.
www.eatwild.com: Another directory of local and organic goods with a more of a focus on organic meat and dairy.
Google Search: "farmers markets near me" "organic farms near me" ets.
3.) Shop Online for Certain Items
Some organic food and other essentials that are often cheaper online than in store are items like nut butters, oils, bulk grains, bars, cosmetics, and proteins.
Three online places I tend to shop from the most:
Amazon: Not always the cheapest, but 90% of the time, Amazon will carry the most variety and lowest prices around. If you find items that are offered or sold through a 3rd party, try googling the company name first. Often smaller sellers increase their Amazon price to cover the associated fees buyers pay to sell on the marketplace.
Vitacost: A large selection of protein powders, natural foods, and other items. They have a Subscribe and Save program (monthly autoship that allows you to choose the ship dates). Pro tip: Sign up for their email list for discounts. If you add items to you cart and leave them in there without purchasing, you will almost always get a follow-up email with a discount code to complete your order.
Thrive Market: An online membership site that sells organic and natural products at a discount. If you sign-up for this one, be sure to use it. This is a great choice if you purchase mostly organic food, but there are involved membership fees. Make sure what you're saving each month is worth what you're paying in your monthly membership fees.
Use along with tip number 11, and start a comparison book of your favorite places to shop.
4.) Grow Your Own Vegetables
This can be pretty scary if you've never grown anything before, but growing your own vegetables and other edibles is actually pretty easy.
If you don't have the space for a dedicated garden area, you could always try container gardening. That is how we got our start. Instead of dealing with soil conditions and pests, you plant and grow in containers.
5 relatively easy vegetables for the new gardener to grow:
Carrot
Turnip
Peppers
Green Beans
Broccoli
More expensive veggies like winter squashes, melons, brussels sprouts, cauliflower and kale can be a little more difficult to grow but could be worth it for the savings.
Berries are also some of the more expensive fruits you might want to consider. Strawberries grow well in containers. Blackberries and raspberries are also easy to grow without much hassle.
5.) Take Advantage of Manufacturer Coupons
If you have a few organic brands you like and trust, an easy way to save a few dollars here and there is to subscribe to the company's email marketing lists for coupons.
A few of my favorites:
I also bookmarked the promotion or coupon pages from the above sites and will check for new coupons periodically.
6.) Shop Manager Discounts
Every store is different, but"manager discounts" are often a great way to save up to 50% or more off retail prices. Usually these items are either about to expire or the packaging is damaged.
Most often you can find these deals on boxed items, produce and bread at the end of an aisle or tucked away in the back corner of the market.
Be on the lookout for yellow stickers on organic meats! Many people pass by the organic sections not knowing you can often find great deals here. Just be sure to freeze or use within the recommended day as most deals on meat will be nearing their expiration dates.
7.) Pay Less for Organic Meats
Other than being on the lookout for yellow sticker sales on meats, here are a few additional ways to save on organic meats:
Opt for the cheaper cuts like chicken thighs, ground meats, and stew beef. These all cost a lot less than top cuts.
Buy the whole bird. Organic chicken breast can cost around $8.99, yet the price of a whole organic chicken is around $2.99/lb. Plus, you can use the leftover bones to make a delicious homemade broth.
Bulk savings on meat. It can be a little intimidating to think about buying a couple hundred pounds of red meat, but if you want to pay less than half the price per pound you'll find at the grocery store, a half or quarter cow is something to consider. You can always split the cost with a family member or friend if it's too much for you.
Remember pasture-raised, grass-fed, and grass-finished beef is best.
A chest freezer is a must have if you are going to be storing a large amount of frozen meat. Chest freezers or stand alone upright freezers are much colder than your typical refrigerator freezer. This will help preserve meats and veggies by reducing bacteria growth for much longer periods. They can last months, even years.

8.) Buy In-Season Produce
Here is a simple money saving tip. I see this one particularly with citrus fruits(winter) and cruciferous vegetables(fall) in my area.
Think about your local climate and what foods grow in your area during that season. Try to buy more of the produce that is currently in season.
Below is a download link to my In-Season Fruits and Vegetable List in PDF format. Feel free to use and share with your friends. :)
https://drive.google.com/file/d/1OifUy8NpCWwpsomv1731vQRxkjKsptj2/
9.) Dirty Dozen and Clean Fifteen Lists
While this article focuses on saving money on organic foods, it is actually pretty unrealistic to buy everything organic due to seasons and sometimes costs.
The Environmental Working Group, which you can visit at ewg.org, is a all about helping people live healthier. Every year they put out their "DIRTY DOZEN" and "CLEAN FIFTEEN" lists. Simply put the EWG measures the amount of pesticide residues on foods and puts foods with the lowest pesticide residue on the "clean list" and the produce found with higher amounts of pesticides on the "dirty list".
When I was just starting out with organic produce, I often just bought organic produce that were on the "Dirty Dozen" list.

10.) Comparison Shop by Checking Out the Weekly Flyers
Every Thursday is flyer day. If I ever forget what day of the week it is, I can always get back on track by the arrival of the three flyers from our local grocers. Many stores will run sales cycles or offer the sales on the same goods that are not always equal.
Below are the steps I take each week when the flyers arrive (before my toddler has a chance to get to them!):
Clip any coupons (but don't just use because they're a good deal)
Look for buy one, get one (or two!) free sales
Look for deals on meats and dairy products as these are typically the most expensive items
Usually we will do one large grocery shopping trip and one smaller produce run to finish off the week.
Another thing I'd recommend is to keep a notebook of the staple foods you typically buy and note their prices in columns like I have below.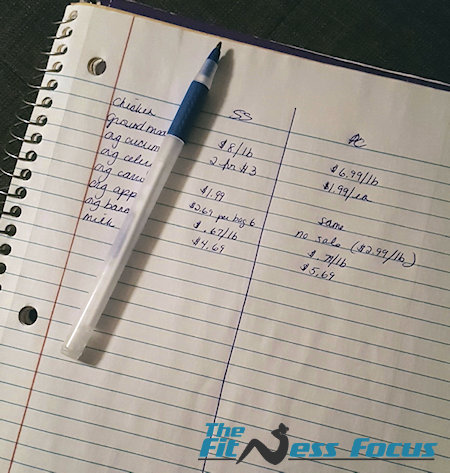 11.) Limit the Pre-Made and Processed Foods
Many people think eating organic is too expensive and won't even try to buy organic products. These are often the same individuals who will fill their cabinets with expensive pre-made and processed foods without thinking twice, assuming that they're saving money.
Sadly but truly, these types of made for you food often cost much more per unit than anything organic. If you buy organic with pre-made and processed foods, expect a very high grocery bill. But when you buy organic with healthy foods, you will spend the same, if not less money. Plus, you get to see exactly what goes into your meals!
12.) Get the Store Discount Card
Almost every supermarket offers their own store card. Simply sign up at the Customer Service desk to start receiving extra savings. Look for special deals for cardholders to maximize savings and earn points to save money on gas or gift card promotions.
I used to avoid the do you have a card question believing I would just be spammed with offers, but this has never been a problem.
That's a Wrap
Hopefully this post has given you some ideas on how to shop organic and stay on budget. It turned out to be a lot longer than I thought it would be.
If you have any of your own money saving tips please leave them below. I would love to hear them.