I am super excited that streaming Beachbody at-home workout videos just became possible, so I wanted to share with anyone who might be interested! Not that anyone could not be.
This newest "stream" feature simply adds to the list of Team Beachbody Club membership benefits, allowing you complete instant access to the following programs from anywhere at anytime. All you need is a device with an Internet connection…how cool is that?!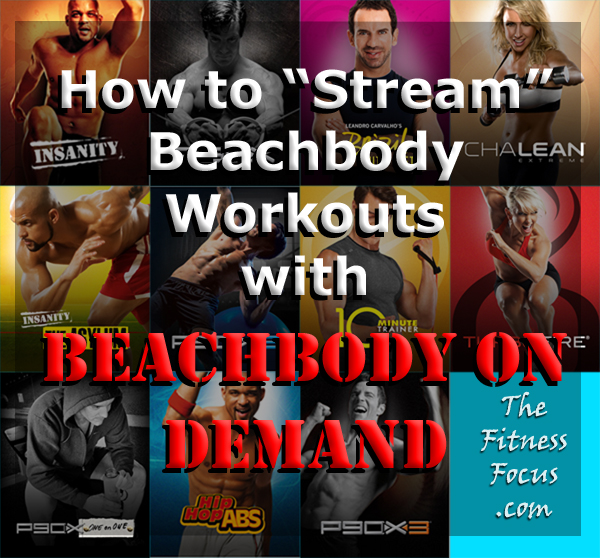 Here is a list of the current programs being offered on Beachbody On Demand:
Insanity (the original)
P90X
P90X One-on-One
P90X2
P90X3
10 Minute Trainer
Brazil Butt Lift
Hip Hop Abs
Chalene Extreme
Turbo Fire
Insanity: the Asylum
Update: These programs were just added.
P90X One-on-One Vol. 2
Insanity Asylum Vol. 2
RevAbs
Tai Cheng
Purchased Program Feature
Beachbody On Demand is still in Beta Mode, but I did not find any bugs or have any issues with streaming the workouts since I began testing it at the beginning of February.
The "Purchased Programs" feature of Beachbody On Demand is great. This feature will allow for any program you ordered in the past and present to be available in the On Demand center.
This feature is currently being rolled out, you can currently stream the following workouts if have you have purchased them.
21 Day Fix
21 Day Fix Extreme
T25 
I believe when On Demand comes out of Beta phase, the price will likely increase at some point. Beachbody does tend to grandfather you in of the old price modules, so if this is something that might interest you, I would suggest doing it sooner than later. I can't imagine the price remaining the same for very long with the amount of value there is now.
Not Just Streaming Workouts – You Get EVERYTHING!
All of the materials that come with the individual programs are available to download, view, and/or print from the Beachbody On Demand center. I lost my 6-Day BBL Supermodel Slimdown guide from years ago, but now I have it back for good….yay!
What You Need to Make it Work
You will need a device with an Internet connection, a web browser, and you're ready to go. So far, I've streamed workouts to my desktop, Kindle Fire, Smartphone, and television via the Playstation 3, and they all worked well. And it was really great to be able to get some workouts in while on vacation.
Here's exactly what the requirements are:
You'll need a broadband connection download speed of 3Mbps or better, which means you'll need DSL, Cable Internet, 3G or faster.
A web browser. If you use the Internet, you should be fine: Internet Explorer, Firefox, Chrome, Safari any modern browser should all be okay.
Adobe Flash player installed and enabled. This feature is pretty standard, and if you don't have it, no worries – you'll get a pop-up asking if you would like to allow it.
On Demand is a Club Upgrade
Like I mentioned in the first paragraph, Beachbody On Demand, while entirely new, is being added as a Team Beachbody Club membership benefit. The other benefits of Club membership include:
Extra 10% off any Beachbody program
Access to live trainer chats
Meal plan customizer with recipes
And more, but the above three are the goodies
Here is the link to review the full benefits if you're interested in becoming a Team Beachbody Club member.
By Popular Demand
From what I've heard, Beachbody did not intend to incorporate the popular Challenge Pack promotion with the streaming program service at first. Luckily, they decided to reconsider and created the "Beachbody On Demand Challenge Pack".
Here is the link to subscribe to the Team Beachbody Club and get Shakeology HD for this month's introductory rate of $140.
Frugality – What is the Value
I never reviewed the Team Beachbody Club membership on this site before. The added benefit of the custom diet and recipe planner did make upgrading from a free Team Beachbody account to a paid Club member account worth it, but now I think the upgrade is almost a steal with this new feature.
If you were to purchase all of the programs that are in the Beachbody On Demand library, it would cost about $1620 before taxes and shipping (yes, I rounded the prices up to the nearest dollar and added them together.)
A Team Beachbody Club membership costs only $2.99 a week, which is billed quarterly for a cost of $38.97 plus tax. The first 30-days are a completely risk free trial period, your credit card will not be charged.
To review, your 30-days free trial period starts the day you join the Team Beachbody Club, and then the billing starts at the end of the 30-days and continues quarterly, explained below. You can cancel the service at anytime.
Here's an example: You join in January; your billing periods would be February, May, August, November, February, etc.. The only way this would not make it worth it financially is if no new programming were added to the On Demand feature after you belonged to the Club membership for like ten years…
You can join the Team Beachbody Club or upgrade your free Team Beachbody account through this link.
How I Have Been Using the New Feature
I tend to get a little bored with the repetitiveness of ab workouts, or any workout for that matter. Now instead of just having the ab workout from the program I am currently following or have purchased previously, I can just turn on Beachbody On Demand. From there, it's easy… I can simply select an ab workout from any of the available programs.
I love adding the Cardio Abs workout from Insanity to the end of my workouts that don't have an ab workout already. Cardio Abs just 10 minutes, gives my abs a nice burn, and also burns some extra calories.
Have you tested out the new Team Beachbody Club member feature, Beachbody On Demand? What do you think? Please share in the comments!