It is from you, the reader, that I was given the idea to write this post about following the 21 Day Fix on a vegan diet – thank you…Please keep those questions coming!
There are adjustments that you can make, mostly focused around the red container. But, there is also the blue container that we will need to take into account.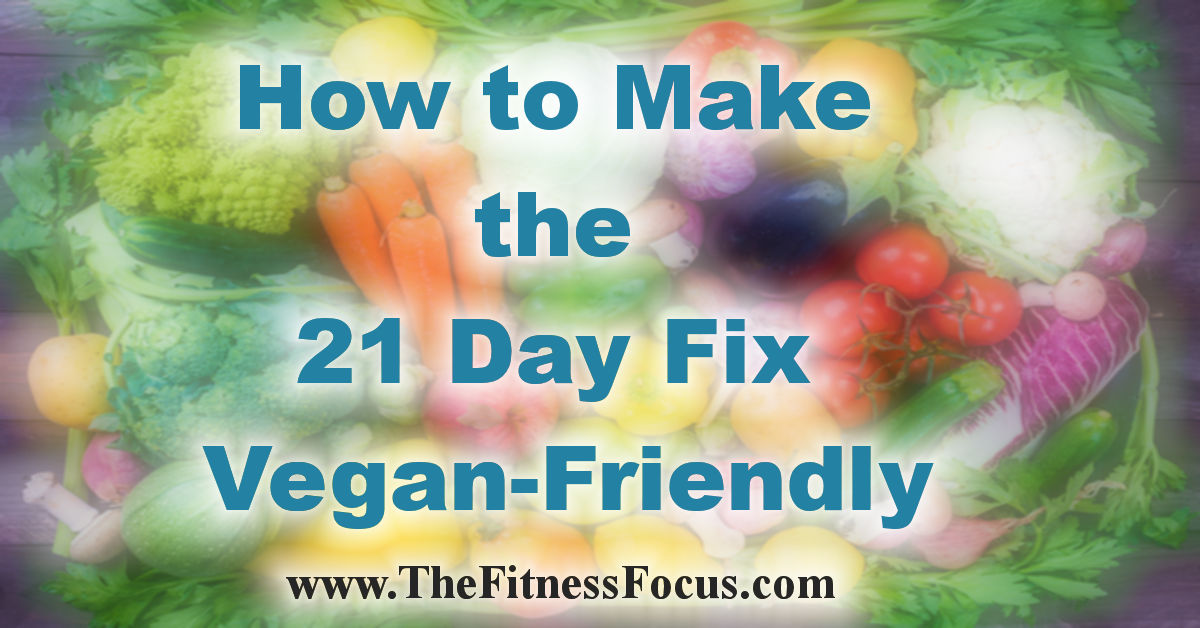 Also note: I will be writing another post covering lacto-vegetarian and lacto-ovo vegetarian diets soon.
Adjustments You Can Easily Make
As a vegan, there are two containers that will be affected: your red container and your blue container.
The red container is for complete proteins. From the original red container list, here is what we can include from the list:
Tempeh
Tofu, firm
Vegan protein powder
Veggie burger
On a vegan diet, you can also count some of the yellow container foods as reds. These are the foods I would recommend swapping from yellow to red:
Beans (kidney, black, etc.) cooked, drained
Lentils, cooked, drained
Edamame, shelled
Refried beans
Quinoa, cooked
Here are the foods from the blue container food group that will also need adjustment, you can have:
Avocado
Hummus
Coconut milk, canned
Almonds, cashews, peanuts, pistachios, pecans, and walnuts
Since this container is only used once each day for all calorie levels, I would not worry about the food list being small.
What About Protein Powders?
Vegan, plant-based protein powders can simply be used in place of those containing dairy. These include protein powders that are made from pea, soy, artichoke, and brown rice to name a few.
Remember that the original Shakeology formula contains whey protein, but luckily, the Vegan Shakeology formulas do not. They are a pea, oat, and brown rice-based protein blend.
I actually just made the switch to the Vegan about four months ago as I have cut dairy from my diet after learning that it's something my body tends to be sensitive to. To me, the Vegan Shakeology is better-tasting than the original, not as chalky tasting to.
21 Day Fix Vegan Food List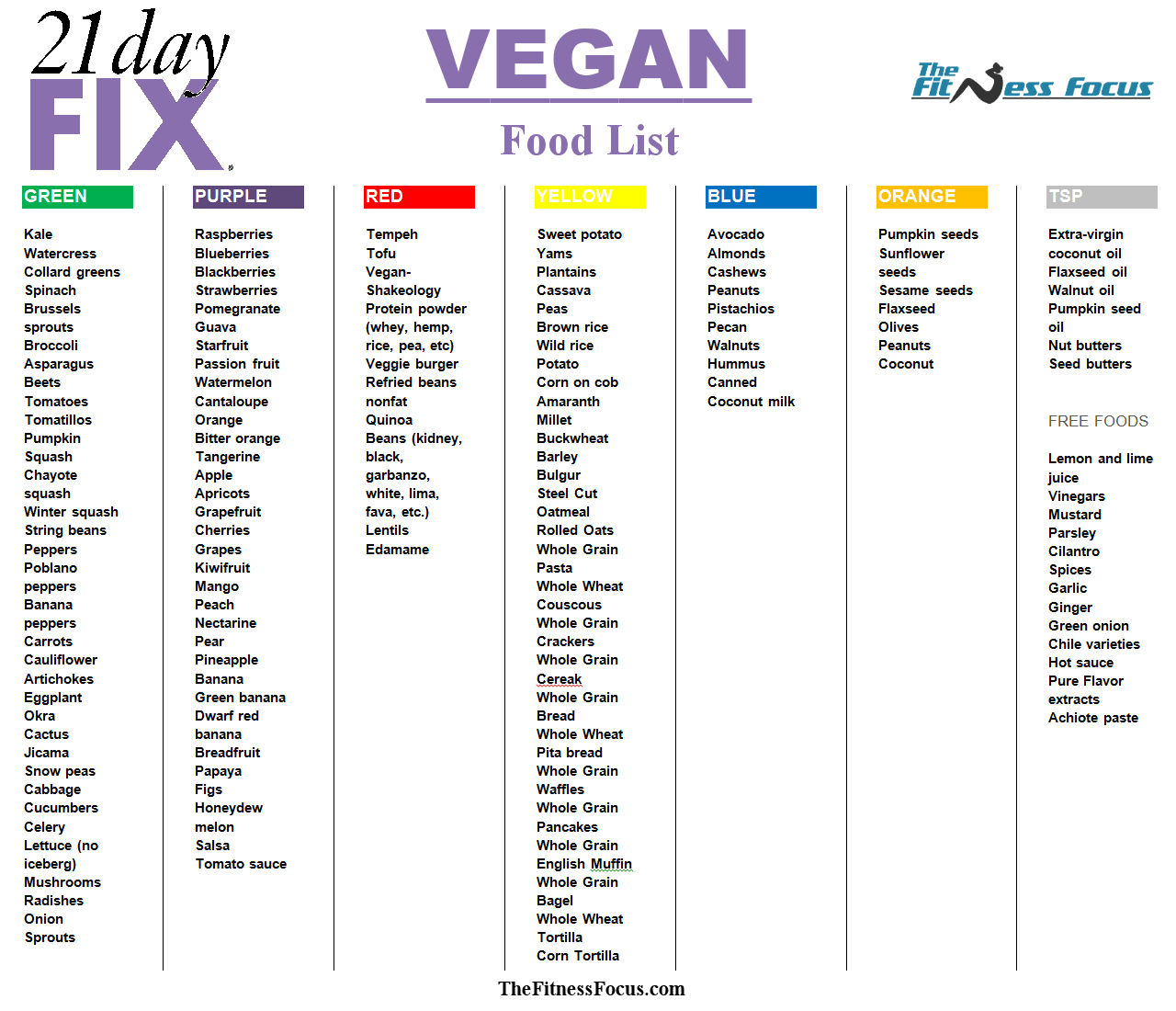 *You always want to try and choose foods that are nitrate free and are minimally processed.
I realized that there is a an official Vegan Food List available with a Beachbody Club Membership(14-day trial with all workout programs included). This one also gives a few extra foods and serving sizes of odd shaped foods that do not fit well in the containers.
Here is the link to a copy of the above food list in pdf format.
Here is a link to a copy in microsoft word format that you may download and save a copy to edit yourself.
Sample 21 Day Fix Vegan Meal Plan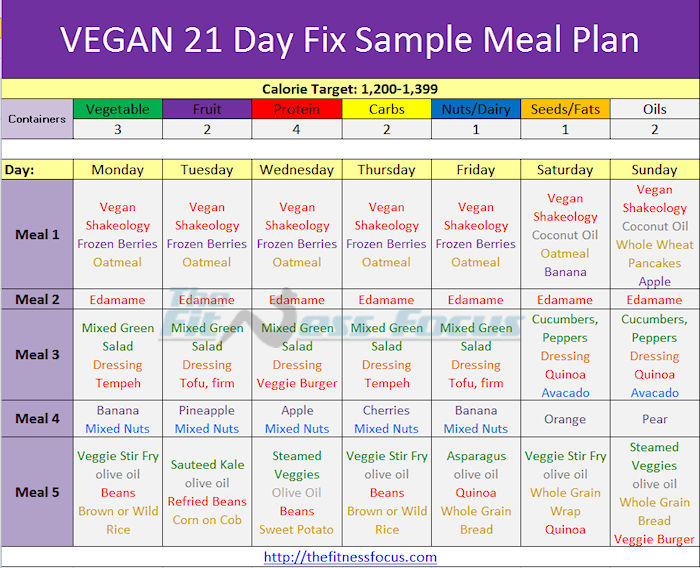 Click here to download an excel version of the image above, you can the use this as template to plan your own week.
And if you don't have excel here is a pdf version of the vegan 21 Day Fix meal plan.
Where to Go From Here
I hope this post has given you some insight into how you can adjust the 21 Day Fix diet to a vegan lifestyle. I tried to make this as thorough as possible. :)
I'm not vegan, but have started doing Meatless Mondays. I've been wanting to try to eat less meat, and much of the research that I did for this article has inspired me to continue.
But, if I missed something that needs a little further explanation or if you have experience with following the 21 Day Fix as a vegan, please leave a comment below.