If getting rid of those stubborn last 10lbs were only as easy as having our fairy godmother wave her magic wand and say the magic words, that would be amazing! Unfortunately, that's just not how we lose those last 10 pounds.
The last few pounds are the toughest for me to drop – and the toughest to drop for most people. At one point I actually believed I would never get rid of my last little bit of stubborn lower belly fat and layer of cellulite off my hips and thighs. I learned to accept that was just how my body was. Until I found MAX:30 and began to implement the simple tips I share below.
To finally get rid of the extra pudge, I didn't have to do any type of crazy fad diet like eating only cabbage for a week or using fat burners. In fact, a simple combination of sticking with clean eating, exercising and following a few of the tips I outline below is what finally helped me to reveal the six-pack abs I never thought were even possible to have! A little much I will admit now, but wow!!!
Why Is It So Difficult To Lose The Last 10 Pounds?
It's simple. If you had no body fat, you would not survive. Your body doesn't care about how fit you look or how you feel about the way you look. All your body cares about is your survival.
Body fat actually has its benefits. It provides reserve energy, acts as a cushion for your internal organs, is a major component of a healthy brain, and is a part of every single living cell in the human body.
The good news? You may not really have 10 pounds left to lose. Interestingly enough, men have a tendency to underestimate their body fat levels while women tend to overestimate their body fat levels. Not really surprising, lol. This is why knowing your body fat percentage can go a long way in learning how much weight you actually need to lose.
To have a visible six-pack…
men need to have around 10% body fat.
women need to have around 12% to be considered very lean.
These numbers are not set in stone and will vary depending upon an individual's genetic tendency to store body fat.
5 Tips to Get Your Body Running Optimally
These five tips will help your body function at an optimal level and are easy to follow:
Don't eat carbs past seven at night. Many people tend to do a light lunch, and then overeat as the day goes on, eating something sugary right before bedtime as dessert. By limiting carbs, you take away the one food group you really don't want to eat too much of.
Drink a glass of lemon water upon waking. Studies have shown this may improve digestion, but we know it will definitely supply you with some extra Vitamin C to help boost your immune system.
Eat every 3 to 4 hours. Eating often may boost your metabolism. I find that it does help keep me feeling satisfied throughout the day, which leads to less of an urge to splurge.
Drink dandelion tea. Dandelion tea has a light diuretic effect and can help digestion.
Get enough rest. Your body is going to be under greater stress when you're dieting down those last 10 pounds and trying to work them off with exercise. Sleep will be the time when your body repairs itself from your workouts.
Get in the Game Mentally
It's not rocket science and not impossible to lose the last few pounds. Physically speaking, it's not even really that difficult to do. But mentally, it can be a huge challenge for many of us.
The recipe for losing those final ten pounds is simple: you need to eat clean, watch your calorie intake, and do some cardio along with some strength training. That is how you reach your goal. The question is whether or not you have what it takes to stick with 100%, because that is what it is going to take.
Here are a few mental games to help keep you on track:
Go out and purchase an outfit, or even a bikini or swimsuit if you're daring, that you will fit into once you hit your goal weight. Every morning, visualize yourself in your new outfit.
Write down your goal, and share it with someone close to you. Accountability is a huge motivator and makes it much more difficult to fail. I host monthly online support groups for people who are trying to better themselves. Please contact me if you would like to get involved.
Just do it. Planning and thinking about what you're going to do only goes so far without implementation.
I Lost the Last Ten Pounds with INSANITY MAX:30
I am someone who needs a fitness and nutrition plan outlined for me.  Otherwise, I have a difficult time staying on track with living a healthy lifestyle because I can't just wing it. I need to know how much of what I need to be eating and what workout I should be doing for the day.
I tried the original version of Insanity when it first came out, and it was just too much for me.  It was too long for the days when I was working in office for 10+ hours on top of a two-hour commute. It was also too tough for me at that time both mentally and physically.
This is why I was unbelievably excited when Beachbody decided to revive the Insanity workout with a new 30-minute version called Insanity MAX:30. Here is a link to my full review.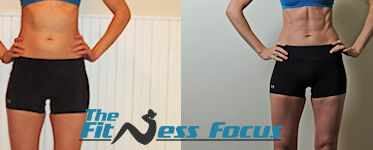 Introducing the Ab Maximizer
Low body fat does not mean you'll have visible abs. This is where there is always a lot of confusion. In order to see your abs, you also need to have enough ab mass. Ab muscles are extremely difficult to make bulky, but you need to work them if you want to be able to see them.
Insanity MAX:30 comes with an add-on Ab Maximizer series of workouts. These are just simple 10-15 minute additional core and ab-focused workouts you do in addition to the other workouts a few times a week. If you're looking to rock your results and look more athletic than ever, I would highly suggest them if you want to get your abs popping.
How Long Will It Take To Lose the Last 10 Pounds?
It will take as long as it takes. I know that's probably not what you wanted to hear, but it will depend on where you are now, the rate at which your body naturally burns fat, and how you choose to lose the weight. A goal to lose 1-2 lbs each week is considered optimal. Lose the weight too fast, and you may have a much more difficult time keeping it off permanently.
Questions? Please leave a comment below.