"Breakfast is the most important meal of the day."
I think we have all heard that saying at least once or twice growing up.
It would give us the energy to not fall asleep during algebra class or better yet, to play at recess (do kids still get a recess?)
As adults, breakfast still might be the most important meal of the day, but it is also the easiest meal to skimp on or completely ignore as we rush off to work or prep meals for the little ones and forgot to take care of ourselves.
The Importance of Breakfast for Our Health
Here are three reasons you should start the day with a healthy breakfast:
1. Gives you energy: When we sleep, our body is using energy to repair itself. When we eat in the morning, our liver will be able to effectively produce glycogen that we need for fuel.
2. Reduces cravings: Late morning runs to the vending machine. Having a breakfast that keeps us feeling full makes it less likely we grab a not-so-good for us snack later in the day.
3. Sets the tone: Starting your day with healthy foods will go a long way in making sure you keep eating healthy all day.
Not All Breakfasts Are Created Equal
Our breakfasts give us energy, but not all foods give us the long-lasting energy to be our most productive during the day.
For example, if your breakfast consists of a bowl of sugary cereal, you'll get a burst of energy, which will shortly be followed by a crash. In this scenario, the sugar causes your liver to produce a spike in your glycogen levels (aka sugar rush).
However if you instead start your day with a whole-grain, a light amount of protein and some healthy fat, you have a breakfast that will give you a sustainable source of energy from the carbohydrate, protein to help repair muscle tissue, and a healthy fat to keep us feeling and support general health.
Breakfast Tips:
Eat breakfast within one hour of waking to jumpstart your metabolism.
Have a breakfast that is between 200-350 calories. Consume too many calories, and you could actually become tired.
Have an easily digestible form of protein to aid in muscle recovery.
My Favorite 21 Day Fix-Approved Breakfasts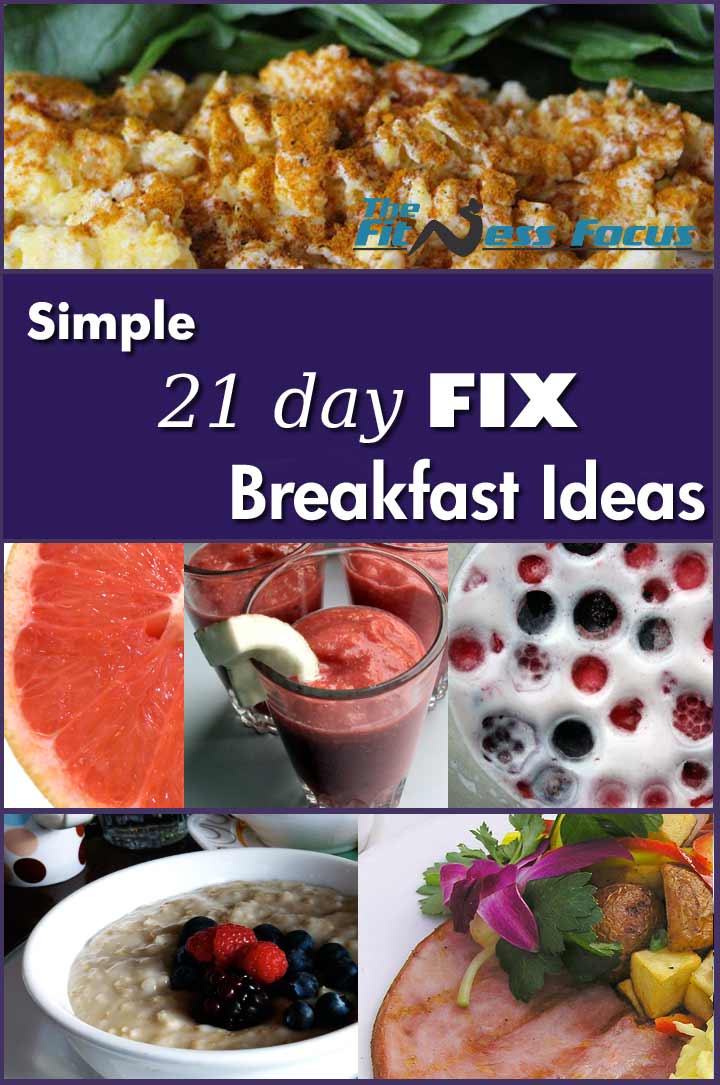 Breakfasts that you can prepare in the less than 10 minutes that are 21 Day Fix approved.
The portion control container-based 21 Day Fix diet is perfect for creating a simple and healthy breakfast. Use a couple containers, and you can have the perfectly proportioned amount of food to kickstart your metabolism, start your day with healthy fuel in the engine, and repair those hard working muscles.

Easy: Ready in 5 Minutes or Less
Strawberry or Greenberry Shakeology with frozen berries. A big bag of mixed frozen berries from the grocery store will last about ten days. Mix in a high-powered blender with water. 1 red, 1 purple
1/2 Whole Wheat English Muffin with Almond Butter. Add 1 tsp or 2 tsp to a whole wheat English muffin, and you have a grab and go breakfast that will be surprisingly satisfying. 1-2 tsp, 1 yellow
Overnight Oats. The night before you plan to eat it, combine oatmeal, liquid (water or almond milk) and a half container of Greek yogurt, and place in the fridge. You can also get creative by adding cinnamon, your favorite fruit, or even a nut butter! Heat in the microwave for a minute or two to take the chill out. 1 yellow, 1/2 red
Spinach and Eggs. Sauté frozen chopped spinach in 1 tsp coconut oil until heated over medium heat. Add two eggs and scramble until the eggs are cooked through. 1 red, 1 green, 1 tsp
Greek Yogurt with Fruit. I eat this at any time of the day, but with the warmer weather coming up, this is one of my favorite breakfasts. Add fresh fruit or frozen fruit to your yogurt, stir, and enjoy. 1 red, 1 purple
Waffle, Fruit and Peanut Butter Sandwich. Take a lightly toasted whole-wheat waffle, top with 1 tsp of peanut butter, add sliced fruit (banana or strawberries) on one side, fold in half. You can also make this on a slice of whole wheat bread. 1 yellow, 1 purple, 1 tsp
You should never feel overly hungry on the 21 Day Fix diet. If you need to make your breakfast a little larger, here are a few simple additions:
Greek yogurt = 1 red
Piece of fruit = 1 purple
Slice of whole-grain bread = 1 yellow
2 hard-boiled eggs = 1 red
1 tsp of nut butter = 1 tsp
Very good, But A Little More Time Consuming
I like to make these 21 Day Fix-approved breakfasts on the weekends when I have a little bit more time get fancy with a recipe.
Veggie Scramble. I got this idea while vacationing. Heat 1 tsp coconut oil in a skillet, stir in your favorite mixed vegetables (frozen or fresh) until heated through, add two eggs, and mix together. Top with shredded cheddar. 1 red, 1 green, 1 blue, 1 tsp
Breakfast Burrito. Take two eggs, scramble them in 1 tsp coconut oil, place on a whole wheat tortilla, top with black beans, a little salsa, and Monterey Jack cheese. Roll and return to your skillet. Heat each side for a couple minutes, placing something heavy on top of the rolled tortilla to keep them closed. 1 red, 2 yellow, 1 blue, 1 tsp
Have a healthy breakfast idea for the 21 Day Fix? Please share with everyone below.