After purchasing and actually following the 21 Day Fix program exactly for three weeks, I decided to share my thoughts on this at-home workout. Is the promise of losing up to 15 lbs in just 21 days realistic? It depends.

I posted my original 21 Day Fix review in 2014. In 2018, I decided to make some major updates after seeing hundreds of women and men making long-lasting changes to their lifestyles.

The program was originally marketed as more of a quick fix, but I think it is so much more than that. Yes, you can definitely drop the initial weight pretty quickly following the 21 Day Fix plan, but I like the program best for those who are also looking to make a permanent lifestyle change while also being up for some seriously quick weight loss.

Here is my maybe a little too honest 21 Day Fix review of what I loved about the program and what wasn't necessarily my favorite.
Who the 21 Day Fix is Perfect For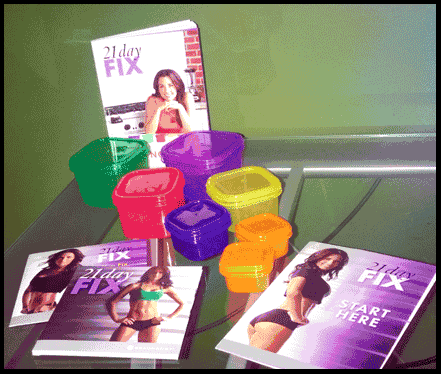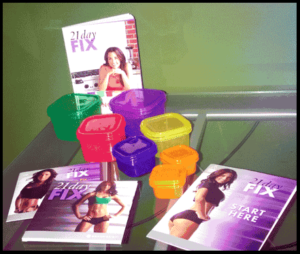 The 21 Day Fix is not only designed to get you looking as good as you could possibly look in 21 days, it's also about teaching you how to eat healthier in proper portions. It's about learning to eliminate processed foods and making exercise a part of your daily routine – not just for the 3 weeks of the program, but to create a lifestyle change.
The Basics Behind This Program
You work out 7 days a week for 30 minutes with a mixture of strength training, cardiovascular and recovery workouts to get into the habit of exercising daily.

Portion control diet system: You use the 21 Day Fix-approved 7 color-coded containers to make sure you're eating the right amount of food in the correct macronutrient percentages for optimal health and weight loss.
The Nutrition Plan
The eating plan is for the beginner and/or for someone who struggles with bad eating habits:
It's not a starvation diet.

It's a well-rounded sustainable way of eating (eating healthy, no eliminating or restricting food groups)

You can expect pretty fast weight loss in the beginning followed by gradual sustainable weight loss when doing multiple rounds.
The 21 Day Fix workout program was created to help you lose up to 15 lbs in 21 days through simple fitness and simple eating. Its Portion Control eating system and seven, 30-minute workouts each week are designed to burn calories and eat the correct portions of the right foods. The unique aspect of this workout program is not so much the workouts but the simple nutrition plan. If it doesn't fit into the color-coded container or isn't listed in the eating plan, you don't eat it. Simple!
Why the 21 Day Fix Program is Unique! The Colored Portion Control Containers

There's a promise to help you lose weight or get in shape almost everywhere you look. But for the most part, it's the same old stuff we've all tried and failed with in the past.

The portion control containers are what make the 21 Day Fix program a unique and effective program. It's also what makes the program easy to follow for anyone.
The containers are color-coded for a foolproof diet plan. Whatever fits into the container from the specific food group is what you're allowed to eat. It's better than calorie counting, because if it's an approved food and it fits, you can eat it. You can even sneak in that glass of wine in exchange for a yellow container, which I just think is amazing – and just makes it better to know nothing is totally off limits(remember it's a lifestyle).
Here's the breakdown of containers you'll receive and what they're for:
Green:

Vegetables

Purple:

Fruits

Red:

Protein

Yellow: Complex

Carbohydrates

Blue:

Healthy Fats and Cheese

Orange:

Seeds and Oils
Sample Foods from the Different Color Categories
| | | | | | |
| --- | --- | --- | --- | --- | --- |
| Green | Purple | Red | Yellow | Blue | Orange |
| Kale | Raspberries | Chicken | Yams | Avocado | Pumpkin Seeds |
| Spinach | Blueberries | Turkey | Beans | Almonds | Sunflower Seeds |
| Asparagus | Blackberries | Eggs | Wild Rice | Cashews | Sesame Seeds |
| Broccoli | Pomegranate | Yogurt | Brown rice | Peanuts | Flaxseed |
| Beets | Watermelon | Shellfish | Potato | Walnuts | Chia Seeds |
| Tomatoes | Cantaloupe | Fish | Corn | Hummus | Pine Nuts |
| Celery | Orange | Lean Beef | Oatmeal | Cotija | Olives |
| Peppers | Tangerine | Tofu | Pasta | Cheddar | Peanuts |
| Cucumbers | Grapes | Wild Game | Lentils | Parmesan | Coconut |
This is just a sample of foods for the 21 Day Fix diet, there are lots more foods included in the complete program. There are also oils and nut butters that are measured with a tsp(gray) and a list of free foods that you can have without limits.
Depending on your weight and your weight loss goals, you first calculate your daily calorie needs, which sets you up for your plan level. Then you look into how many of each colored container you get each day depending upon your meal plan level.
Why to Love About the 21 day Fix Portion Control System
Measuring is made simple, no scale or calculations!

You'll eat a variety of foods in the right portions to fuel your energy levels.

You will not starve! The containers look little but you get to eat multiples of most. In fact, I most often hear how women are unable to finish all their containers.

It's all about balance.
Tips for making the most of your containers: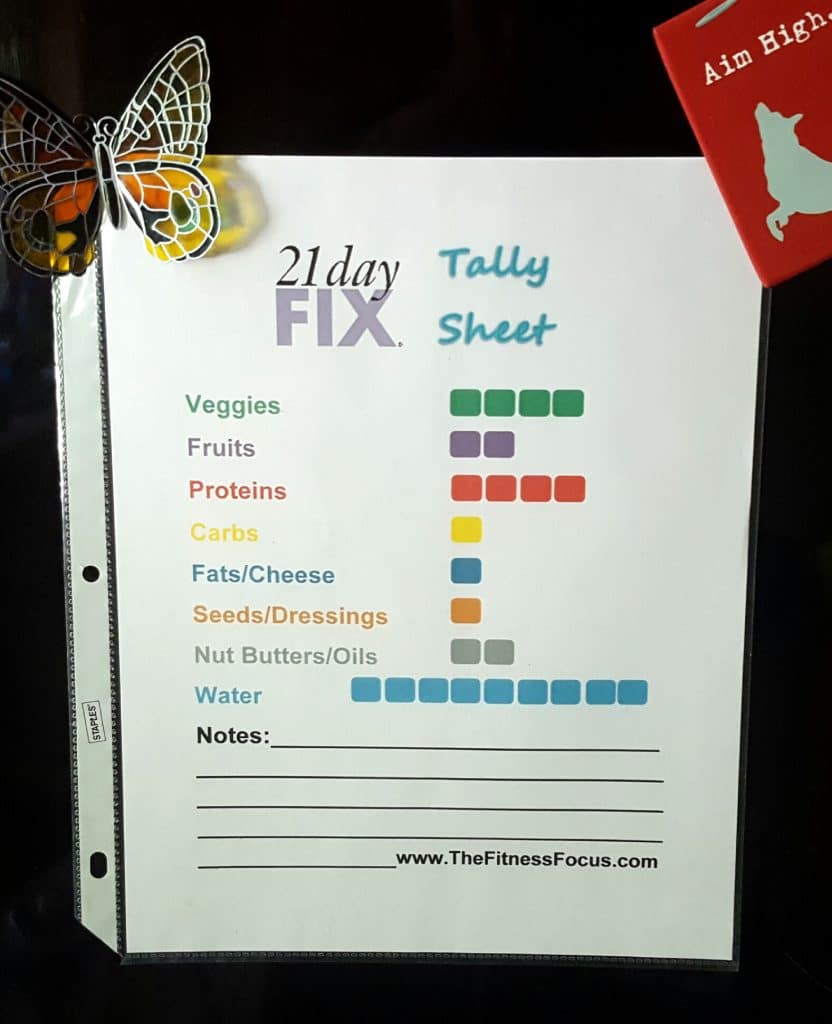 Track everything.

Meal prep your snacks.

Have a list of easy, convenient meals. The FIXATE cookbook is a great help!

Keep a copy of you tracking sheet on your fridge or where you will see it often.
It's definitely not rocket science, but it is an effective way to keep track of how much you're eating and helps you begin recognizing what actual portion sizes should look like. Hello, giant oversized portions everywhere!!!

Could you follow the program without the containers? I'm sure. But for the several years I've helped others lose weight and keep it off, what people have the most success with is an easy-to-understand, step-by-step system that you can easily incorporate into everyday life.
The 21 Day Fix Workouts
The 21 Day Fix has a different 30-minute workout for every day of week. These workouts are designed to burn calories with cardio workouts, tone muscles with strength training, and help you recover with yoga and stretching.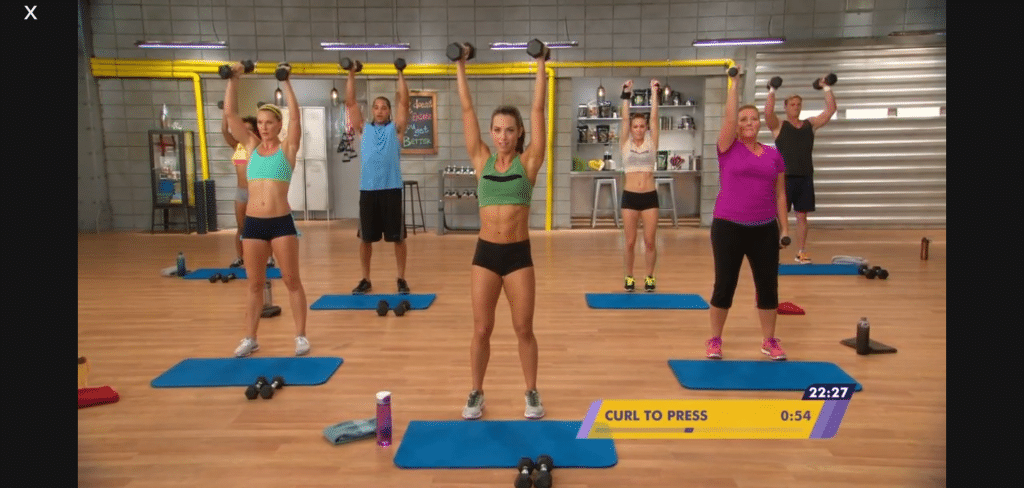 The Workouts:
Total Body Cardio Fix:

This is a total body cardio workout that will send your heart rate soaring and help burn fat. Be prepared to sweat!

Upper Fix:

Get yourself ready to tone up that upper body (including those annoying arm flaps) with upper body targeted resistance training. You will work your chest, back, arms, abs, and shoulders.

Lower Fix:

As the name implies, you will tighten up and tone your booty, thighs and calves while burning fat.

Pilates Fix:

This is your active recovery workout. Like Pilates, this workout strengthens, lengthens and firms up your muscles.

Cardio Fix:

This is another sweat fest. Get ready to burn some serious fat in this heart pumping workout.

Yoga Fix:

This is another active recovery workout that is pretty relaxing compared to the previous day's workout. I always felt stronger, more flexible, and balanced after this workout.

Dirty 30:

This is the bonus workout. You'll do four rounds of calorie-blasting exercises to help give you a leaner, stronger physique.

10-Minute Abs:

This short routine will help you burn fat and carve a lean core.

Plyo Fix:

This workout has 6 rounds of pretty hard core cardio that will help melt fat. This one isn't technically in the normal calendar, but you can use it in place of another cardio workout.
You can make these workouts as hard or as easy as you need. If you find the workouts too easy, simply bump up the weight and amp up the intensity of your cardio workouts. After all, if you're not challenging your body, you're not going to change your body(I stole that from Autumn).
The 21 Day Fix Workout Schedule
You work out 7 days a week on The Fix. While the schedule does start on a Monday for easy tracking, you can begin the workouts any day that works for you. The most important part is to stick with the order that the workouts are listed in (no jumping around).

If you do end up missing a workout, there are a two simple options to get back on track:
Double up the next day (do the workout you missed first, separating them if you can).

Push the entire schedule back one day. Of the two methods, I prefer option one, because then you still complete the program in just 21 days.
Tips to working out 7 days a week:
If you haven't been working out or have an extremely busy schedule, it can be difficult to stick with a new routine. Here are a few tips to help you get those workouts in:
Schedule your workouts into your day. Write down when and where you will work out. Example: I will do my 21 Day Fix workout 30 minutes after I wake up, in the living room, before work.
Prep your workout space. Have your DVD or streaming workout ready to play instead of having to search for it.
Lay out your workout clothes next to your bed if you're working out in the morning or have them waiting for you when you get home.
Just do it even if you don't feel like working out. Tell yourself you'll just work out for 5 minutes and if you don't want to continue after 5 minutes, you'll stop. 90% of the time, you will finish your workout.
Once you create the work out habit, it is very hard to break. When you do end up missing a workout, you'll feel a little lost without it (or disappointed in yourself) and get right back to your workouts.
The Fix Moves and Following the Modifier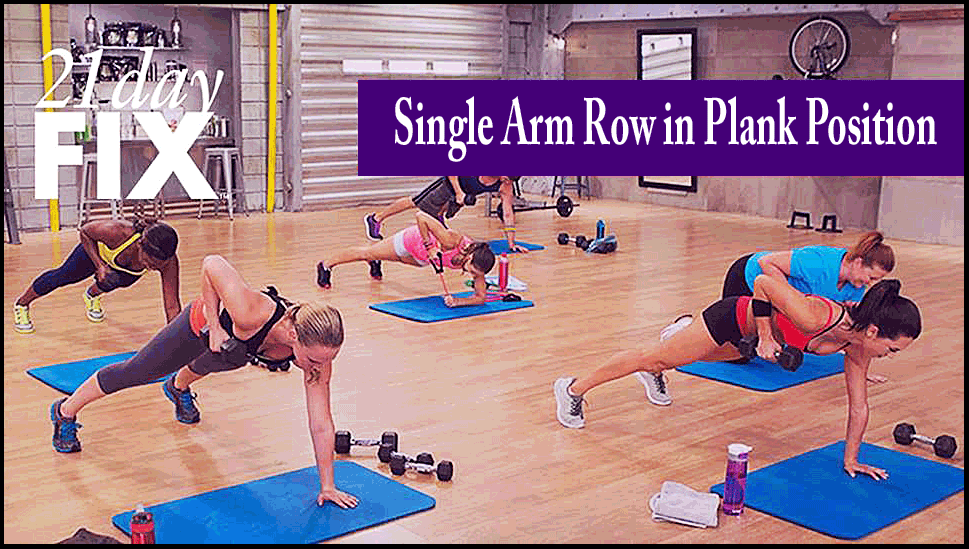 I was completely blown away that the 21 Day Fix is full of combination workout moves I was not familiar with. Renegade rows? Who knew they could be so effective?! But one of the most challenging moves for me were the side plank leg raises….yikes!!!
I definitely had to follow the modifier a lot during my first week. That's because the moves are designed to hit your muscles from head to toe.
Just make sure to listen to how she explains the moves when she first introduces them and watch her demonstration, because there are a lot of background people in the workout videos who will not being doing the same move at the same exact time or the exact same way. If you didn't pay attention, you might get a little confused about who best to watch with many of them performing the moves in slightly different ways based on their fitness level and ability.
There is always a modifier!
Think you'll have a hard time keeping up with the 21 Day Fix? Don't worry!!! There will always be someone (Kat) who is doing a less intense version than Autumn. If you're having trouble keeping up or have bad knees, make sure to watch how that move is done.
The Trainer Behind The Fix: Introducing Autumn Calabrese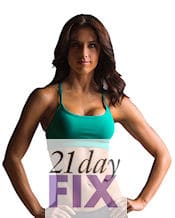 Autumn Calabrese is the celebrity trainer and fitness competitor responsible for this program. Pairing up with Team Beachbody, Autumn is responsible for the portion-controlled eating and well-rounded exercise routine.

The mother-of-one brings her own unique training and motivational style to the table. When compared to other Beachbody trainers I've had experience of working out with like Shaun T, Tony Horton, Chalene Johnson and Leandro Carvalho, Autumn is calmer and always reassuring. I like to think of her kind of like your bff offering words of encouragement. She's not in your face., but she always has a way of throwing in a motivational saying right when you need it most – for example, when you really want to give up on the move you're doing.
What Equipment You'll Need for 21 Day Fix
To get the best results, you will need some weights or an exercise band and a yoga mat to do the 21 Day Fix. If you've been away from exercise for a while, you may be able to get away with using your own body weight as resistance, but if you're not in terrible shape, then the added resistance will help tone you up more quickly without getting bulky.
For beginners:
3lb, 5lb, and 8lb dumbbells or a resistance band
For intermediates/advanced:
5lb, 10lb, and 15lb dumbbells or a resistance band
A yoga mat will also be of use to you when you do the floor moves. It's not a necessity, but it's a great investment especially for the comfort of your knees and back.

My Own 3 Week 21 Day Fix Results
Sorry about the before pictures being at a weird angle and the German Shepherd at my feet! But as you can see from the pictures, I definitely toned up everywhere, especially in my shoulders and my abs – you can see my oblique muscles for once! My thighs got more definition in just three weeks, which is good for me since that's where I have I tend to store most of my fat. No more jiggling by day 21! In the end, I lost 5.3 lbs, which was more than I expected since I did not have much to lose to begin.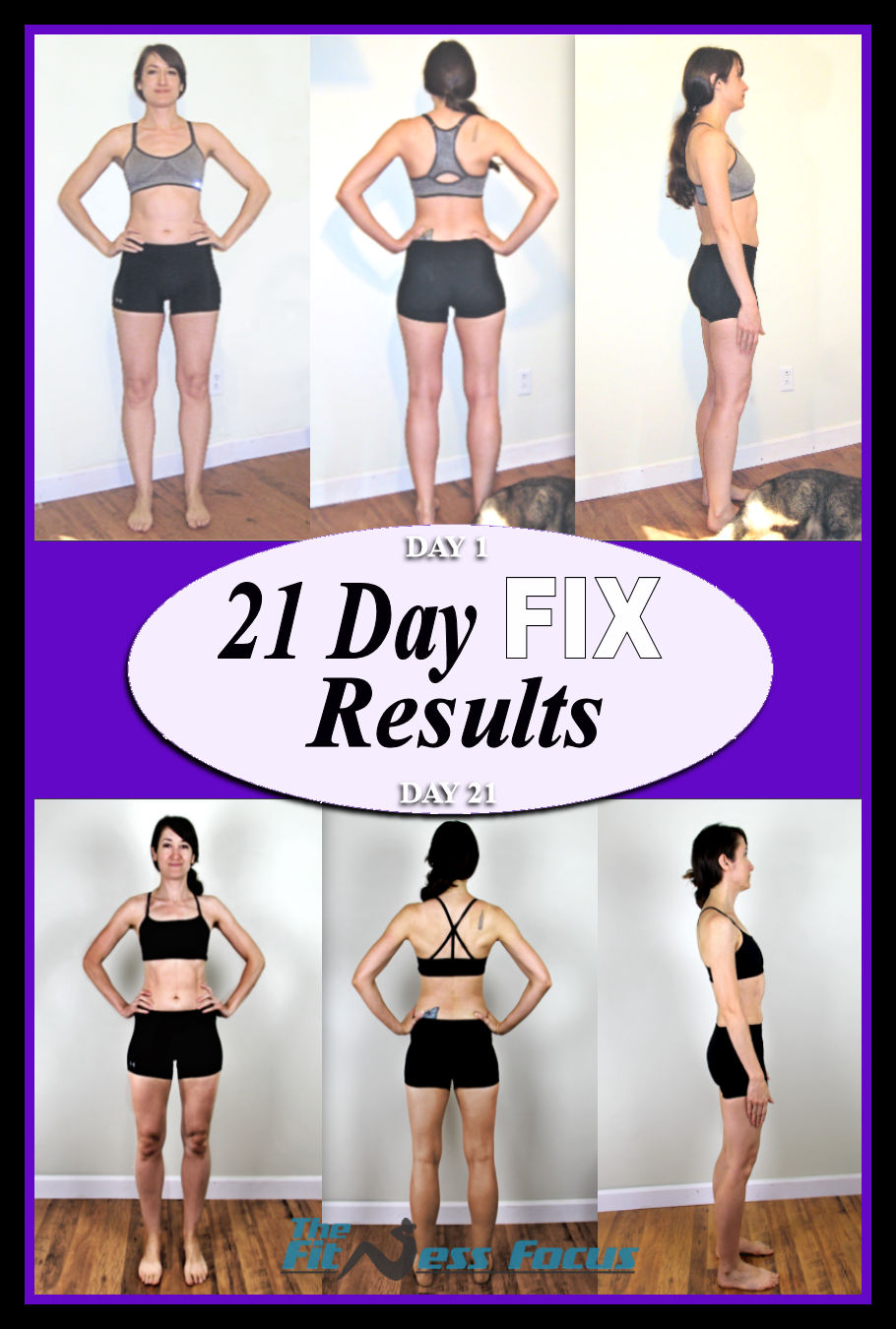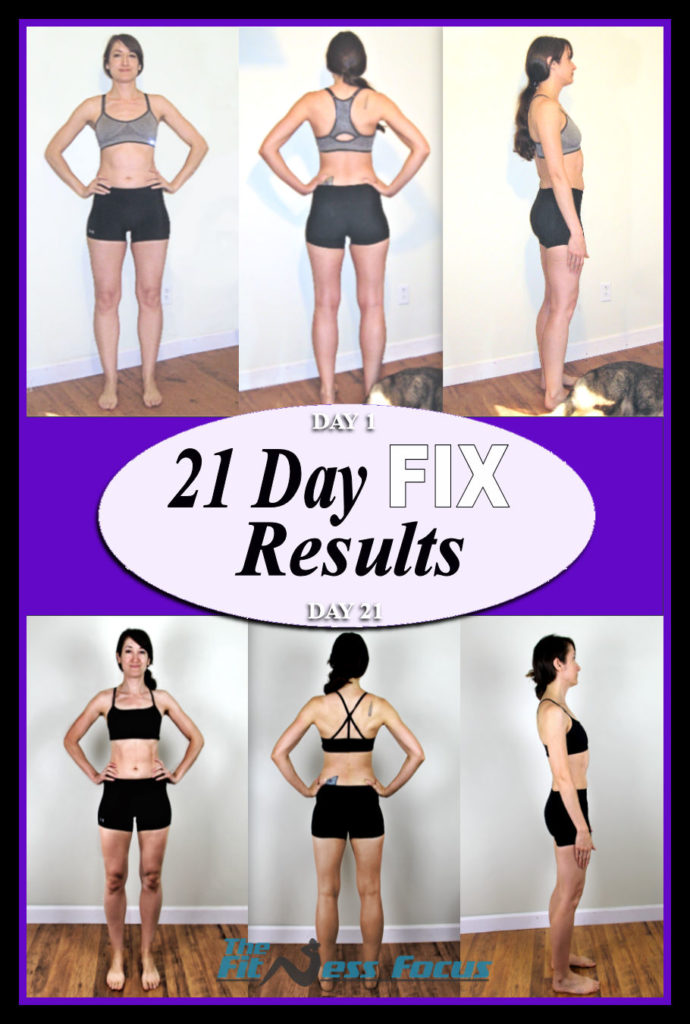 I think these pictures tell the story of what you can really achieve in just just 21 days – not that I was big to begin with, but you can see the definition and fat loss.
The Kind of Results I've Seen
Will you really drop the amount of weight that is promised in just three weeks? It depends on a lot of factors. If you have more weight to lose and follow the included 3 Day Quick Fix, you could do very well.
The most weight loss I've seen others get with this program are from a man who lost 14lbs in three weeks, and a woman who lost 11lbs in three weeks. Both of these individuals stuck to the plan exactly, never missed a workout, followed the doubles schedule during week 3, and they followed the 3 Day Quick Fix the final three days of their first round. It should also be noted they had more than 30 lbs to lose.
What's Included with the 21 Day Fix Program:
When your program arrives in the mail, you may open up the package and be surprised at how relatively compact everything is..or at least I was.

Yes, the containers look tiny, but you'll be amazed at the amount of food that hits your plate. In fact, one of the most common concerns I hear are those wondering what to do when they can't finish all their food for the day. This is what happens when you start eating healthy and stop filling your diet withg empty calories!
You'll soon learn that the Fix is not a starvation-based diet.

Here's exactly what's included:
The Workouts:

The seven workouts are all around 30 minutes long, which really fit well into your schedule no matter how busy you are. No excuses!

The Portion Control System: This is your tupperware-looking color-coded containers that make eating healthy foolproof. You'll get one green, one purple, one red, one yellow, one blue, and two orange containers.
Shakeology Shaker Cup: Shakes/drinks (which was in the dishwasher when I took the photo – sorry!)
21 Day Fix Eating Plan: An easy-to-follow, portion-control diet plan with plain and simple recipes. Think make-your-own spices to put on top of chicken breast.
3 Day Quick Fix: To jumpstart your weight loss or end with a bang, this is a three day diet plan designed to maximize fat loss and get you well on your way to a leaner, sexier you.
24/7 Online Support: This is something useful that comes with any Beachbody product you purchase. It's great for whenever you're looking for support and/or motivation to keep you going when things get tough.
Pricing Update for 2018 with a New Trial Offer
How to Get Started the 21 Day Fix
The 21 Day Fix essential kit (which is what is reviewed in this post) is priced at just $59.85. Here is the link to order through Team Beachbody, which offers the best price online and will get you the Dirty 30 bonus workout for no extra charge.
Online Streaming:
You can now stream any Beachbody workout program and download/view program materials in digital format with Beachbody On Demand. With the June 1, 2017 update to the service terms and conditions, you can now try the 21 Day Fix for free for 14 days.
With this membership program, you also get unlimited access to all Beachbody workouts both current and future releases. Here is the sign-up link to the free 14-day trial (scroll down to the bottom right). If you go this route, you will need to order the containers separately.
"Special Pricing on the 21 Day Fix Challenge Pack"
The best value for ordering the 21 Day Fix is with the 21 Day Fix Challenge Pack. This includes the essential kit and a bag of Shakeology shipped on Home Direct (monthly auto-ship). The HD shipping is a discounted shipping charge of only $2, which you can cancel at any time if you're not happy with it. The Challenge Pack price is normally $160 and can only be ordered through Team Beachbody. This equals about a $70 savings than if you ordered the two products separately. With the challenge pack, you are getting the 21 Day Fix Essential for $10. :) You can't get much better than that, and Shakeology is a dense dose of nutrition and a super easy healthy meal to fit into every day. I know I love the natural energy my Shakeology gives me – especially now with a very busy toddler!!!

Purchasing the items separately would cost:
21 Day Fix base kit – $59.85 (value)

Shakeology flavor of your choice on HD – $129.95 (value)
Bonus workout DVD Plyo Fix – $19.95 (value)
Free 30-day trial to the Team Beachbody Club – $11.96 (value)
The challenge pack is the best value for those who are looking to go with Shakeology. Plus, there is a 30-day money back guarantee if you're not completely satisfied for any reason.
Final Thoughts About the 21 Day Fix
The 21 Day Fix is an at-home workout program that will definitely get you in the habit of eating healthier and recognizing how much food you really should be eating at a sitting. It's not the most exciting workout I've ever done (other people LOVE the workouts…just see the comments below!), I will admit that the workouts are VERY effective at getting you in much better physical and cardiovascular shape.
Whether you're getting ready for an upcoming event or getting on the right track to reaching your greater weight loss goal through a lifestyle change, the 21 Day Fix is definitely a program to consider.
The eating plan is also very family-friendly. There are lots of options when it comes to the eating plan. The newly released FIXATE cookbook: a collection 101 of Autumn's favorite, family-friendly recipes and recipe searches on Pinterest will keep you full!
Have a question or experience with the program? Please leave me a comment below and I will try my best to respond within 24 hours.