Salad dressing seems so simple. Just go to store and buy bottle of your favorite salad dressing, measure in the 21 Day Fix orange container, pour onto your salad, and enjoy!
There is only one problem with this: store bought salad dressing is often not only a source of hidden calories and sugars, but hidden ingredients that you want to try and avoid when following the Fix diet.
In this post, we will explore:
why you should consider making your own salad dressing
how to make a 21 Day Fix approved dressing
choosing a salad dressing brand if you decide to go with a store bought brand
My Simple 21 Day Fix-Approved Salad Dressing Recipe
Here are the two-based ingredients that I use at a 3:1 ratio:
Olive Oil
Balsamic Vinaigrette
I like to use a first pressed, cold pressed organic extra-virgin olive oil. This way you get a full flavored quality oil that does not use heat or chemical methods of extraction. With the balsamic vinaigrette you can get creative and use a naturally flavored vinegar this like pomegranate or citrus flavored.
How to make it:
Take 3/4 cup olive oil and mix with 1/4 cup balsamic vinaigrette. Store in glass bottle and refrigerate.
What I love about this base recipe is how easy it is to add other spices and ingredients to mix up the flavor.
Here are a few optional ingredient ideas:
1T of mustard
½ tsp cracked black pepper
Two cloves of chopped garlic
1T dried oregano
A little raw honey
Making your own dressing is less expensive than store bought, plus you know always know the exact ingredients going into the dressing.
Dressings from the 21 Day Fix Eating Plan & Fixate
Many of the dressings that come in the meal plan contain contain perishable ingredients – unlike the base recipe I've posted. Be sure when you make any that contain egg or yogurt, to use them up before they go bad.
From the original 21 Day Fix Eating Plan:
Balsamic Vinaigrette – this classic dressing is not only great over salads, it can also be used as a dip for cut veggies..
Creamy Herb – this avocado-based dressing is perfect for dipping veggies or can be used as a salad greens dressing.
Lemon Tarragon Vinaigrette – here is another dressing for salads, but also makes for a tasty glaze on your lean proteins.
Dijon Vinaigrette – a classic vinaigrette with a base of olive oil and red wine vinegar.
Asian Citrus Vinaigrette – a little orange juice added to this traditional vinaigrette adds a unique flavor, great for a chicken or steak stir-fry.
The FIXATE cookbook comes with these:
Asian Vinaigrette – a blend of rice vinegar, Tamara, honey, ginger, and sesame oil.
Raspberry Vinaigrette – fresh raspberries and Greek yogurt are used to make this vinaigrette.
Lemon Dijon – simple mixture of egg, Dijon mustard and spices.
Caesar – a creamy dressing made with Greek yogurt, Parmesan cheese, anchovies, olive oil, and other spices.
Honey Mustard – Greek yogurt, Dijon, and raw honey-inspired dressing.
The 21 Day Fix container used to measure dressings is the orange container. If you have ever wondered why the Fix comes with two orange containers even though you are only allowed one orange container daily despite your calorie level, here's my theory.
The salad dressing recipes in the 21 Day Fix eating plan make about two servings each. I believe the nice people at Beachbody provided us with two orange containers to make meal prep and clean up easier.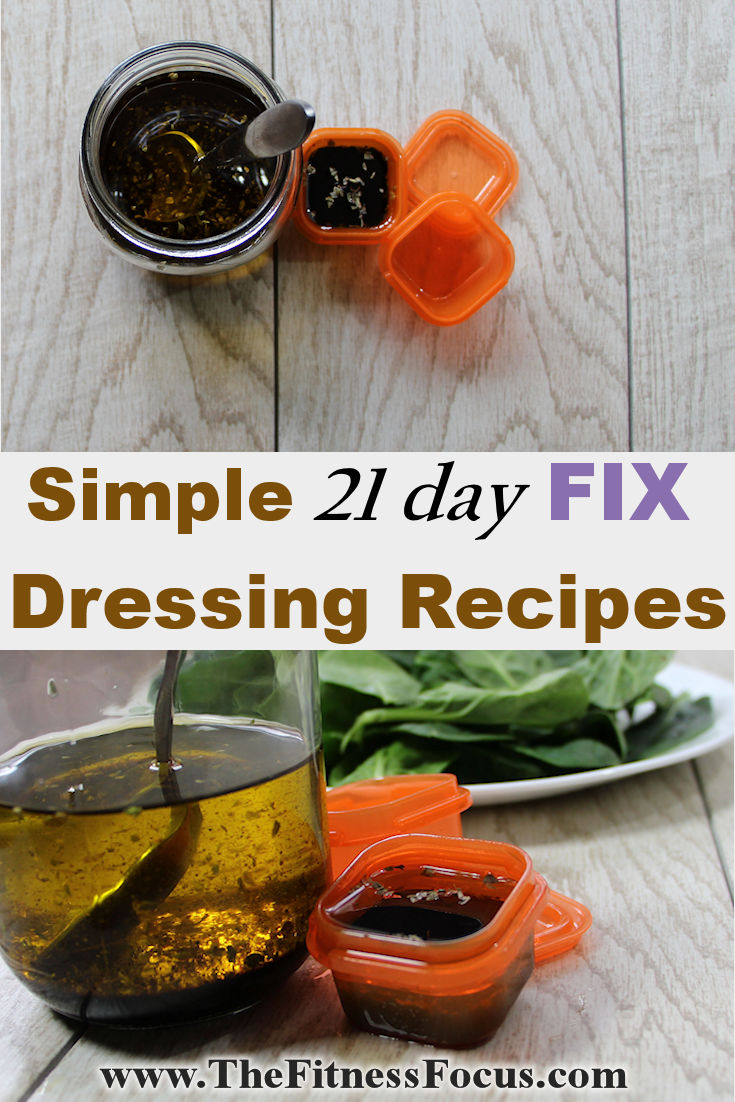 Store Bought Options for 21 Day Fix Dressings
The 21 Day Fix is a whole foods-based diet, this means you are going to want to avoid processed ingredients as much as possible.
Learning to read salad dressing labels is a great skill to have. When you are looking at the nutritional value in salad dressings, pay close attention to the ingredients listed.
Try to Avoid:
High Fructose Corn Syrup
Soybean Oil
Canola Oil
Partially Hydrogenated Oils
MSG
Added Sugars & Salts
Try to look for:
Olive Oil
Sunflower Oil(ok)
Safflower Oil(ok)
Natural Spices
Lemon
Garlic
Even if the label of the dressing you are looking at says organic, you still want to be careful and double check the ingredients. Just because it says organic does not necessarily mean it's healthy.
Here are two brands I recommend that you take a look at if you decide to buy your own instead of making it yourself:
Nature's Promise – This is Stop N' Shop's brand of natural ingredient dressing. My only harp with this product is that some varieties do use soybean oil as an ingredient.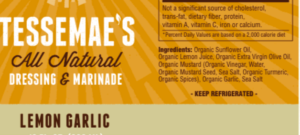 Tessemae's All Natural – We were turned onto this brand from my Aunt. We were looking for a whole foods-based barbecue sauce and discovered a wide range of natural and organic dressings here.
To the right is  a screenshot of the ingredient list from the Tessemae Lemon Garlic dressing. The ingredient section gives you an idea of what to look for when selecting a store bought dressing. I have yet to find the Tessemae brand in store, although we don't have a Whole Foods or Trader Joe's anywhere close to us.
I'm always looking for new dressing ideas, if you have any of your own recipes, please share in the comment section below! (I've been in search of healthy Range dressing if anyone has any ideas!)