I feel like I have done my readers a disservice by not writing about this sooner.
It actually took the neighbor of a one of the people that I coach to bring this to her attention. As her husband was a member of the Navy, she should contact her coach(me) about how she could be saving just over $32 a month with the Beachbody military discount she was eligible for!
What is the Beachbody Military Discount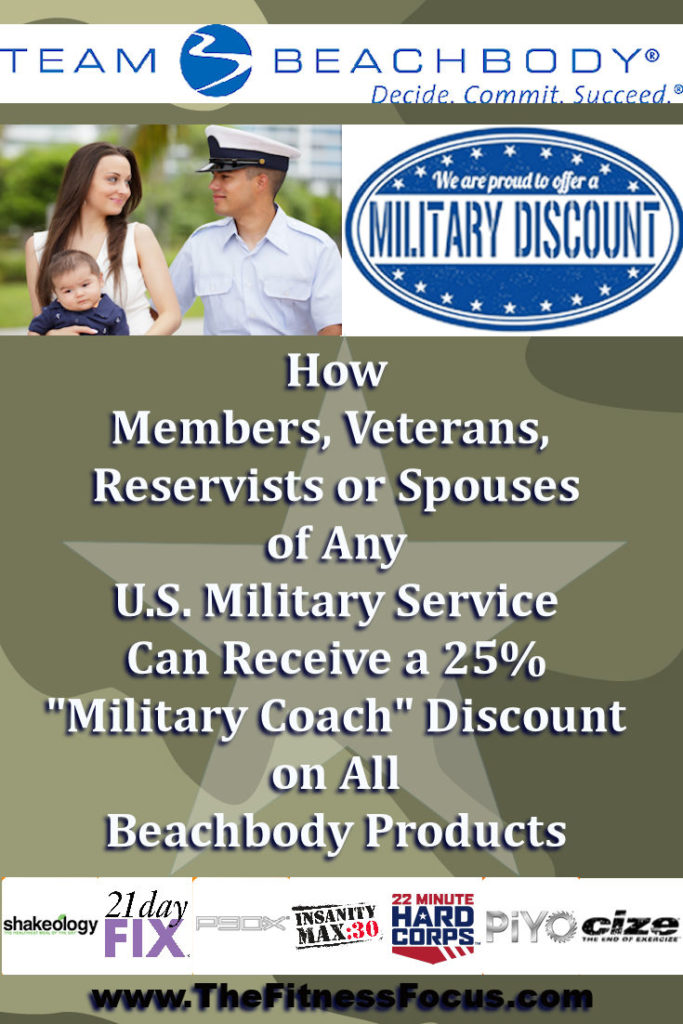 The 25% discount a military coach receives is the same that any other coach benefits from, but the difference is not having to pay the monthly business service fee that is required of for other coaches. The coach sign-up fee can also be reimbursed or waived, see below.
Here are the highlights:
Sign-up fee reimbursed or waived ($39.95)
Monthly business service fee waived, conditions apply* ($16.95)
Receive 25% off the retail price for all product and nutritional purchases
Full earning potential
Please be sure to read the below paragraph in full.
***A coach who is participating in the military program must accumulate 50 personal points in their account every 90 days. Basically, the account cannot remain dormant for 90 plus days or the $15.95 fee would apply. A heads-up email would be sent prior to this happening to make you aware and take action.
What Members of the Military are Included
All members and reservists of any branch of the military including his or her spouse or partner are eligible.
United States Army
United States Navy
United States Marine Corps
United States Air Force
United States Coast Guard
In January 2015, Beachbody also opened the military coach program to veterans of any U.S. military service.
The Documents & Steps to Take to Enroll
Here is the four step process to become a military coach with Beachbody. As discussed above this will get your $39.85 coach fee waived or reimbursed. The $15.95 monthly coach fee will also be waived as long as your account remains active.
Review the enrollment process
You can  enroll online here or by fax or mail here, if you are already part of Team Beachbody contact your coach
Cover Sheet to Fax or Email
Frequently Asked Questions
Q. Can the military coach discount be applied to Shakeology?
A. Yes, it occurs automatically under the account. The normal cost of $129.95 reduces to $97.46 a savings of $32.49.
Q. How long does it take to have the sign-up fee reimbursed?
A. 3-5 business days.
Q. Can I still earn as military coach?
A. Yes, a quote "military coach" has the same earning potential.
Q. Are there time limits to take advantage of this?
A. The business service fee can be waived at anytime. The coach enrollment fee reimbursement must be applied for within 31-days of enrollment.
Disclaimer…
Team Beachbody® does not guarantee any level of success or income from the Team Beachbody Coach Opportunity. Each Coach's income depends on his or her own efforts, diligence, and skill. See our Statement of Independent Coach Earnings for the most recent information on the actual incomes of all our Coaches.
If you have any questions please leave a comment a below.