Being able to work out at home definitely has benefits over going to the gym. But one clear advantage of going to the gym is that you have plenty of weights to choose from, something you will most likely not have access to in a home setting, especially if you're starting out.
You do not need to have hundreds of weights lying around your home. You can still get in a great workout! That's because one or two pairs of the right sized dumbbells are often all you need. In this post, I am going to go over:
Why strength training is so good for us.
Which Beachbody workouts require weights.
How to select the right size dumbbells for you.
Adjustable dumbbells versus non-adjustable dumbbells.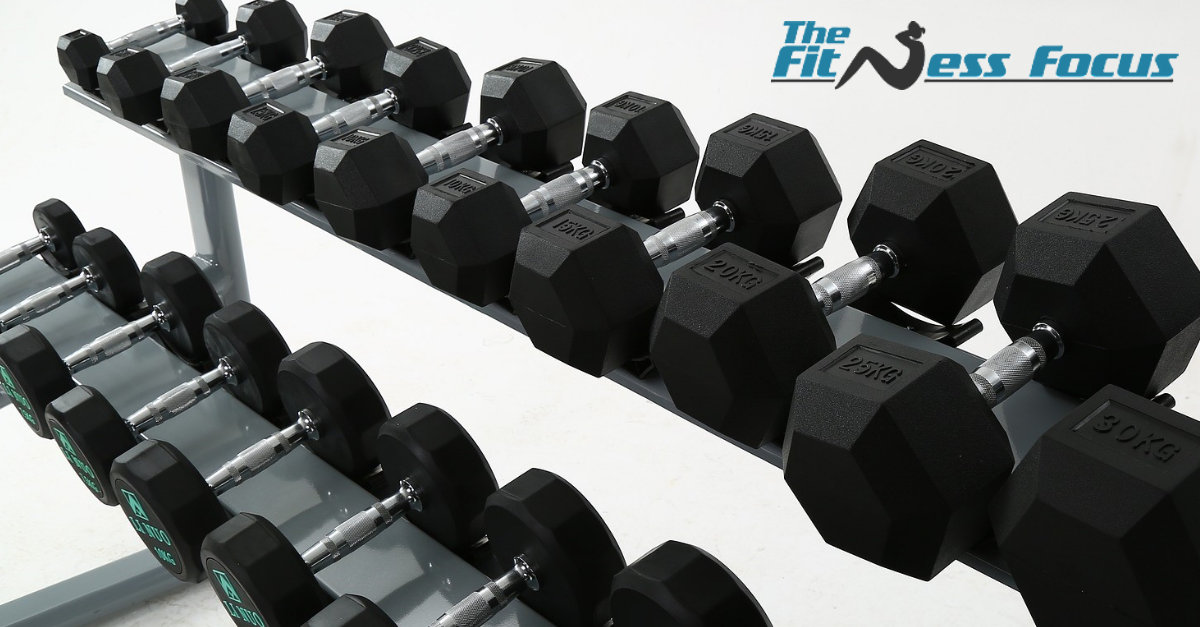 3 Reasons to Include Strength Training
First off, women should not be scared to lift weights! You are not going to get bulky. Our bodies do not produce the same amount of testosterone as a man to gain those large muscles, so don't worry.
Here are three of the best things strength training will do for your body:
You won't get skinny fat. Would you rather be skinny or athletic looking? A little lean muscle will keep you from that deflated look.
Keep muscle mass. At some point in our thirties, we can begin to lose an average amount of 3-5% muscle mass each year. Strength training will help us preserve and replace any muscle we might have lost otherwise.
Helps keep the weight off in the long run. This study shows that people who only do cardio do not keep off lost weight like their peers who also include strength training.
Keeping your ratio of lean muscle mass to body weight is the key to seeing, looking, and feeling your best. Just 2-3 days each week of moderate weight training accomplishes this. This is the number of days many of the Beachbody workout programs incorporate weights into their programs' schedules.
List of Beachbody Workouts That Require Dumbbells
All of the Beachbody workout programs below include cardiovascular exercise AND strength training with weights.
21 Day Fix: A good mixture of strength training, cardio, and recovery workouts.
21 Day Fix Extreme: Resistance training is taken up a notch over the original program.
22-Minute Hard Corps: Circuit training workout that adds strength training into the mix.
P90X Series: The workouts in the P90X series feature strength training with dumbbells or a resistance band in every other workout.
ChaLean Extreme: Similar to the original P90X with shorter workouts. Aimed more for women. More circuit training.
Insanity: the Asylum 1 & 2: The sports specific training in the Asylum workouts includes many moves to build explosive strength with resistance.
Hammer & Chisel: Designed to tone and tighten the entire body this program is more strength training than cardio. Only 1 workout does not include any resistance training of any sort.
Body Beast: This program's entire focus is on building muscle. It is also the only program that recommends a plate loaded barbell but is not required.
Beachbody programs are like having a personal trainer in your home. No, they cannot watch how your form is, but they do explain how to do every exercise properly and then go over common mistakes people make. Having a mirror in your home is a good way to check your form – or even using your window to see your reflection.
What Size Weights to Select for Your Strength Level
I'm going to assume if you're reading this post, you're likely a beginner. In this section, I'll breakdown the key areas you should account for when selecting the appropriate weight sizes for strength training.
Different Exercise Moves Require Different Weight Sizes
Different exercises require different weights. Weight training exercise is typically broken down into two types: compound exercises and isolation exercises.
Compound moves are those that engage more than one muscle group.
Isolation exercises focus more on just one muscle.
For instance, compound movements like the bench press work the chest, triceps, and front shoulders. This would require more weight than doing an isolation exercise like the bicep curl, which work a much smaller and single muscle group the bicep.
Maintain Proper Form
If your form suffers, you need stop and use less weight. It is really that simple. Here are a few things to watch out for:
You start to use momentum to swing the weight instead of lifting the weight.
You have the wrong type of pain. When strength training, you should feel a burning type sensation in the muscle belly. This is caused from lactic acid build-up in the muscle. This is the type of discomfort you should expect. Sharp or shooting pains are often the sign of an injury, and you should immediately stop and reassess before continuing.
Start out light. Learn proper form on all exercises before moving up in weight. Do not go past your breaking point! An injury that keeps you from working out is going to throw you off track with your fitness routine way more than getting in one or two more extra repetitions.
Listen to what your body says and make any necessary adjustments. As I've gotten older, I no longer push every set to failure. My rule of thumb today is to choose a weight that works my muscles to near failure, meaning I could get in one to two more reps, but I usually stop short.
Typical Beginner Dumbbell Weight Sizes
Everyone's strength level will be slightly different, but to give you a general idea of what size dumbbells you will likely start with as a beginner, I often recommend these sizes.
Women: 3, 5, and 8 pounds.
Men: 5, 10, and 15 pounds.
You have two options when selecting dumbbells adjustable and non-adjustable, which we will compare next.
Non-Adjustable Dumbbell Sets with a Rack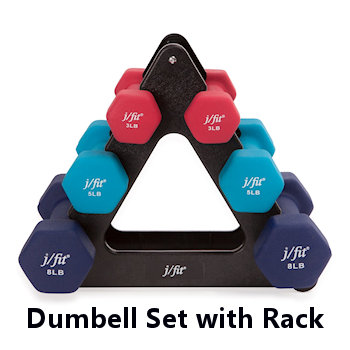 Dumbbells are most often made in a hexagon shape to prevent rolling. Some are made of plain cast iron while others are coated with vinyl or another material to soften the grip.
If you find yourself needing to go heavier on certain exercise but do not have enough weight, a simple trick is to hold two dumbbells in one hand.
A sturdy weight rack is also going to make your life a lot easier than just leaving the weights on the floor. Weights lying around the floor can quickly start piling up and becoming a tripping hazard.
Shop Dumbbell Sets with Racks on Amazon
A Quick Look at Adjustable Dumbbells
If you have limited space, an adjustable set of dumbbells I would suggest taking a look at are the SelecTech from Bowflex or PowerBlock style adjustable dumbbells. They are a more expensive option to begin, but overall, both would cost less if you consider you're getting a 5 lb to 50 lb set of dumbbells.
Both lifting and adjusting between the weight sizes is not difficult, but either will take some getting used to. At first glance, both options look rather bulky, but you must remember they do go up to just over 50lbs. When compared to a 50lb hexagon dumbbell, they are actually shorter in length.
SelectTech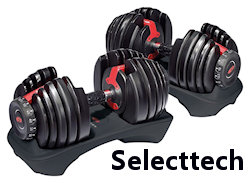 The SelectTech look very similar to the tradition dumbbell. They use a dial to go up or down in weight size when in their rack.
Very fast to adjust the weight, just a few seconds.
A word of caution: you never want to toss theses on the floor when finished with a set. While they are solidly constructed, they do have moving parts that could be damaged.
Shop SelectTech Adjustable Dumbbells on Amazon
PowerBlocks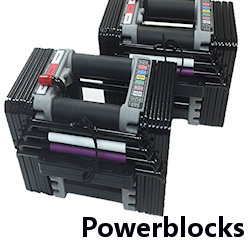 At first glance, you might not even think the PowerBlock is a piece of workout equipment. But once you get over the looks, they are actually very well-designed.
Can take about 5 seconds to adjust the weight setting.
Allows for weight pack extensions to increase the weight sizes.
If I had to choose between the PowerBlock and SelectTech, I would be more inclined to go with the PowerBlocks. They are less awkward and more compact, easier to adjust the weight sizes for, and a little sturdier feeling in my opinion.
Collared Adjustable Dumbbells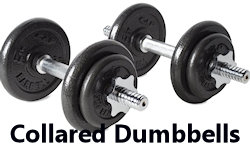 These are often referred to as "old school weights." With the collared adjustable dumbbells, you use weight plates in varying sizes to increase or decrease the heaviness by sliding them off and on the dumbbell handle and using an end piece to screw them on safely.
This type of resistance is used more often with barbells, since with dumbbells, it can be a pain to slide the weights on and off. They are most commonly made using round weight plates, which can cause them to roll too when put down.
Shop Collared Adjustable Dumbbells on Amazon
Where to Buy Dumbbells
Here are three basic options that come to my mind when buying dumbbells.
In store: Most sporting good stores carry all the workout equipment we talked about above, plus you get the added benefit of seeing and touching before buying. But transporting a set of weights home on your own can be a hassle.
Online: Keep an eye on shipping costs. The shipping of weights can be very costly depending upon their size. Amazon is an online retailer that does offer free shipping for Amazon Prime members on many item, including weights.
Used: You may be able save some money buying used workout equipment by searching classified ad sites like Craigslist. Weights are pretty durable and will last a long time when taken care. Just be sure to look out for chipping and rusting.
I hope this post gave you some clarification on which Beachbody workout programs you need weights for and also how to go about selecting the right size dumbbells to use with the workouts.
If you have any questions please leave a comment below.