Who said you can't eat healthy and enjoy chicken parmesan?
Contrary to popular belief, you don't have to deep fry your chicken parmesan to get a moist and crispy piece of breaded chicken.
Try my favorite oven-baked chicken parmesan that is 21 Day Fix-approved. With the tips below, you might even find it even more tasty and a whole lot easier to make, too!
How a Small Changes Make a Big Difference in Calories
Eating healthy does not have to mean plain chicken baked in the oven! If I had known you can cook healthy chicken parm, I probably would've stopped dieting and started eating healthy a very long time ago.
By baking instead of frying chicken parmesan, you are cutting out an estimated 200 calories and 12 grams of fat!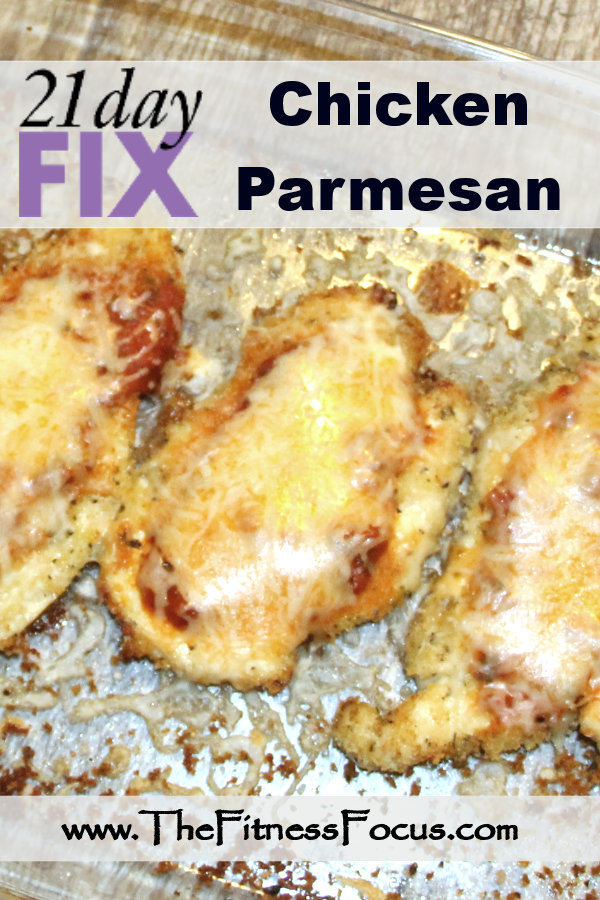 Oven Baked 21 Day Fix Chicken Parmesan Recipe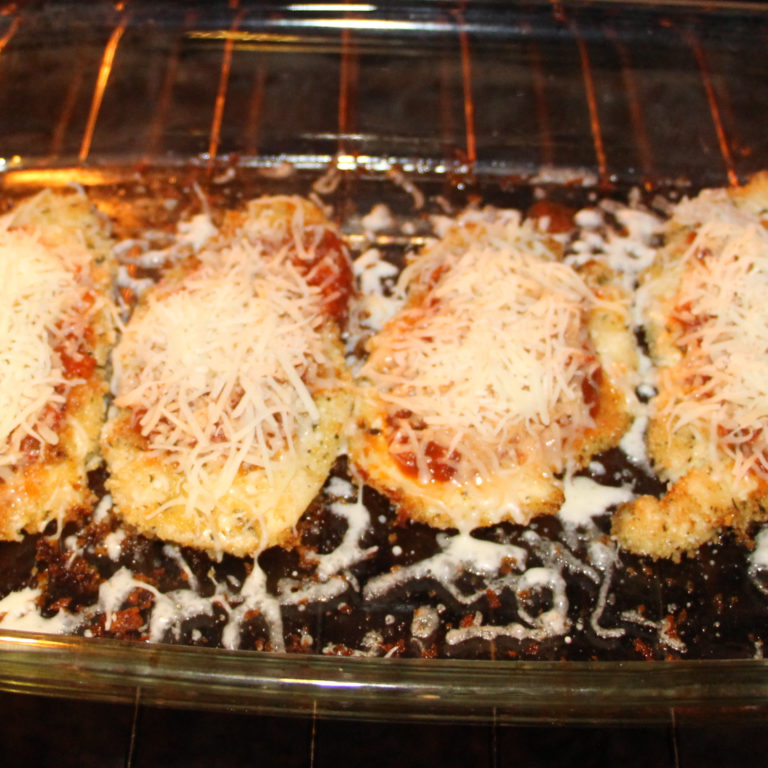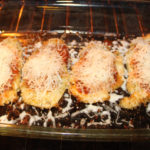 Baked Chicken Parmesan
Ingredients
4

Thin Sliced Chicken Breasts

2

Tbsp

Olive Oil

Extra-Virgin

1

Tbsp

Italian Seasoning

1

cup

Panko

1/4

cup

Mozzarella Cheese
Instructions
Preheat oven to 400 degrees

Combine panko and Italian seasoning, set aside

Use a bowl to coat each chicken breast with olive oil

Dredge each chicken breast in panko breading to cover

Place each panko covered chicken breast in an oven safe glass baking dish

Bake for 20 minutes, flip each piece and bake for an additional 10 minutes or until cooked through

If you would like, add a Tbsp of sauce & cheese, place back into the oven until melted
This recipe uses the following 21 Day Fix portion control containers per serving(each piece): 1 Red container for the chicken, tsp for the olive oil and 1/4 Yellow container for the panko flakes. If you use cheese (which how could you not?!), you would use a Blue container.
Ideas for How to Serve Your Skinny Chicken Parm
Chicken parmesan can be more versatile than you think! You don't just have to serve chicken parmesan with whole grain pasta. Here are some other ideas:
Instead of pasta, use a spaghetti squash.
Use zoodles instead of whole wheat noodles.
Make a chicken parm wrap with a whole grain tortilla.
Serve your chicken between a couple piece of a whole grain bread.
You could even serve chicken parm on a bed of quinoa.
Typically when I make this recipe, I double the recipe and have it leftover, mixing things up by using the ideas above.
Questions? Tips to making a healthy chicken parmesan? Please leave a comment below.