Living in New England, autumn and winter used to consist of lots and lots of comfort foods – especially casseroles. When I decided to make the change to healthier lifestyle, it took me some time to figure out how to replace a lot of my old favorite  meals with healthier options.
This 21 Day Fix chili recipe has become one of the staples in my diet over the last few years. It is quick and easy to make and can be customized in a variety of ways, too.
Meats I commonly use:
Ground bison is my favorite lean meat to use in this chili recipe, because bison is lower in calories and lower in saturated fat than beef, but still has a high amount of protein. The rich flavor of bison is perfect for making a hearty, satisfying chili.
I've also used ground turkey and ground beef in this chili recipe. Both are fine substitutes for the bison.
You could even use lean top round steak cut into chunks. If you do, be sure to precook the steak and add it to the bottom of the slow cooker.
You could also go vegetarian with this chili recipe and skip the ground meat. I would suggest adding an extra can of kidney or black beans if you are going to go the vegetarian route to up the protein and get a better texture.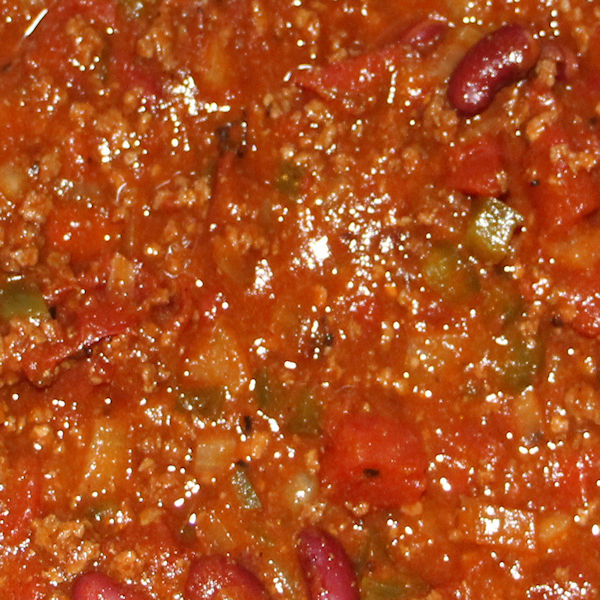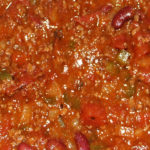 21 Day Fix Approved Slow Cooker Chili
Ingredients
1

lb

lean ground meat

Ground bison, turkey, or beef.

1

tbs

chili powder

1

tsp

cumin

1

tsp

himalayan sea salt

1

onion, diced

1

pepper, diced

optional

1

15-oz can

kidney beans, drained and rinsed

1

28-oz can

fire roasted diced tomatoes

1

15-oz can

no salt added tomato sauce
Instructions
Brown the lean ground meat on stove top

Add browned meat to bottom of slow cooker

Add remaining ingredients to the slow cooker

Cook on low 8 hours or high for 4 hours
21 Day Fix Containers Used
The recipe makes 4 servings. Depending on the ingredients you choose to use, the containers used in this recipe are yellow for the beans, red for the protein, and green for the veggies. If you wanted to get a little fancy, the chili could also be topped with a blue container of avocado,  cheddar or monterey jack cheese.
Not following the 21 Day Fix?, don't worry! This is still a great healthy chili recipe.
If you try this recipe, please leave a comment below and let me know how it was.