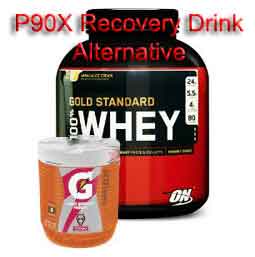 I'm always in the mindset that if you can save money by doing it yourself and you can actually do it yourself, then you should!
That is why when I saw the cost of the P90X recovery drink was $49.95 for a 30-day supply, I knew I had to figure out a way to make my own alternative with the same self-healing benefits for much, much less.
Why Use a Recovery Drink in the First Place?
This is a really common question I get asked all the time. Post-workout nutrition is almost as important as the workout itself. After an intense workout, the body has what has been called a"window of opportunity" where if you take advantage of this time with proper nutrition, it helps you seriously increase your recovery rate.
"A workout does not make you faster, stronger, or bigger – a workout breaks your muscles down. Muscle recovery is what will ultimately determine the results you're going to get."
The After Workout "Window of Opportunity"
Immediately after your workout, your muscles are depleted of nutrients. The good news is that during this time, your muscles are also ready to be fed. Getting carbohydrates and proteins to your muscles as soon as possible will enhance your muscle recovery rate, which is a very good thing.
The Right Nutrients in the Proper Ratios Make All the Difference
You can't just go out, get a Big Mac and expect your body to repair itself at an optimal level. You need a combination of simple carbohydrates and a fast-digesting protein source in the proper ratios to maximize your muscle recovery rate.
Two Key Ingredients:
Simple Carbohydrates & Fast Digesting Protein
When you ingest simple carbohydrates like dextrose after a workout, it causes an insulin spike. This insulin spike is what will help replenish the depleted glycogen stores within your muscle caused by working out.
Fast digesting protein like whey protein will increase the rate of protein synthesis. This repairs the muscle breakdown exercising caused.
Proper Ratios of Carbohydrates to Protein
Consuming only one of the key ingredients, while better than nothing at all, is far from optimal. Multiple studies have shown that in order to get the most from this window of opportunity, you need a carbohydrate to protein ratio that is 4:1.
Combine 4 parts simple carbohydrate to 1 fast-digesting protein and you have a recovery drink that contains the main P90X recovery drink ingredient profile – for pennies on the dollar!
How I Make My Own P90X Recovery Drink Alternative
There are two ingredients we need: dextrose and whey protein. I have not found a cheaper source of dextrose than the Gatorade powder you can find in most supermarkets or even in your super Walmart. Update: Now Foods sells a pure Dextrose Powder that costs about a dime per serving.
The brand of whey protein I prefer is 100% Whey Gold Standard by Optimum Nutrition, which you can find on Amazon.com and in nutritional supplement stores. I use vanilla or strawberry for this type of thing, since chocolate with Gatorade just seems nasty.
Here is the recipe:
3 servings Gatorade Powder (14 grams of carbs each)
12 grams of protein (most brands will be a half a scoop)
8-Oz of water
Simply stir all ingredients together.
The above gets you about 42 grams of simple carbs and 12 grams of fast-acting protein, which equals around 225 calories. This is very similar to the P90X Results and Recovery formula of 40 grams carbs, 10 grams of protein and 220 calories.
What My Recovery Drink is Missing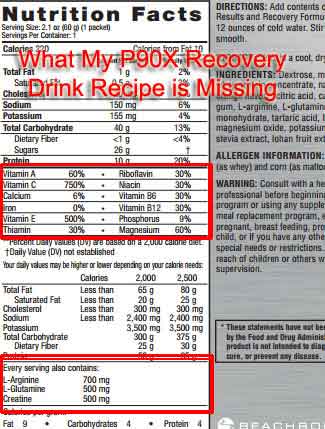 I'll be the first to admit my homemade P90X recovery drink is not perfect. While it does contain the fundamentals of the original recipe, like most do-it-yourself projects, it is not 100% perfect.
The real P90X Results and Recovery Formula contains added vitamins, antioxidants, l-arginine, l-glutamine, and creatine. These added ingredients do provide additional benefits when it comes to faster recovery and are likely why the P90X recovery drink is priced the way it is.
L-arginine is an amino acid that helps support a healthy immune and hormone function and has been known to convert to nitric oxide, a neurotransmitter that improves circulation by helping blood vessels relax.
L-glutamine another amino acid that also supports the immune system and has been shown to help muscle wasting during times of intense working out.
Creatine is an organic compound naturally made by the body and is mostly found in muscles. Creatine supplementation has been shown to improve exercise performance and increase muscle mass. Creatine creates energy in the muscles, allowing them to work harder.
You could technically purchase all of the above ingredients separately and add them to your made-at-home P90X recovery drink, but it would start to get a little cumbersome and expensive.
Conclusion
I've put it out there, so you have my cheaper P90X recovery drink. However, if you think the P90X drink would be better for what you get, here is a money-saving tip:
UPDATE: The P90X recovery drink is no longer produced by Beachbody. It has been replaced with the Beachbody premium line of supplements. I will review this new line in a future post.