I've been around Beachbody workout programs for a long time now! Five plus years now – wow!!!
One of the most frequently asked questions I hear is, "Which Beachbody program will help me lose weight fast?"
Honestly, that question makes me cringe a little. My reply is usually something to the sorts of "Did you want to lose body fat or water weight? The answer is always fat.
The truth is that if you want to keep the weight off, not just lose it quickly to gain it all back quickly, aim for 1-2 pounds of weight loss each week – not 5-10lbs. Losing 1-2lbs per week may not sound like much, but in just one year, that is a whopping 52-104lbs!
Now if you want to be able to keep that weight off, you will often need a lifestyle change. I'm not saying you have to hardcore diet and exercise for the rest of your life. However, watching what you eat and exercise is going to go a long way in keeping the weight off for good.
Why People Often Drop Weight Really Fast in the Beginning
Many people will lose more than 1-2lbs of weight in the first couple weeks of their diet and exercise programs. Here are a couple of reasons that can happen:
Water weight: If you've been eating a higher portion of your calories from carbohydrates, and then switch to a more balanced diet of protein, healthy fats and carbs, your body will use stored glycogen that is stored in water as fuel. I read somewhere the average person stores almost 2lbs of water due to carb intake alone!
Burning more calories: A heavier person will typically burn more calories than someone who is more on the svelte side. The basal metabolic rate (the amount of calories the body uses to function) is higher when you weigh more, but as weight loss occurs, the basal metabolic rate also begins to decline. This means the body does not burn as many daily calories as it once did.
This also means after one or two weeks of more dramatic weight loss, people usually start to see a decline in the amount of weight they're losing. For example, they may lose 5lbs in the first week of a new routine, 3lbs in the second week and then 1-2lbs in the following weeks. It's a normal process and shouldn't be thought of as something not being right.
What's my point with all of this? It's simple. Don't get discouraged if your weight loss comes slowly. It is completely normal and actually a good thing, because with slower weight loss, you will most likely be getting rid of mostly fat tissue, not water.
Here Are Couple of Beginner Beachbody Program Options
I don't call Beachbody programs Beachbody workouts, because for best results, you are going to want to follow the entire program – not just the workouts. What I like most about the programs and why I think they work so well is how the programs are broken down.
You don't just get the workouts, you get a whole package that is simple to follow in a beginner-friendly format complete with quick start guides to get you started on your program in just a few minutes.
#1. The 21 Day Fix
Promising up to 15 lbs of weight loss in three weeks, I believe the 21 Day Fix is much more than that. To me, there are two key points why the 21 Day Fix is great program to start with for beginners who are looking to lose weight:
7 Short Workouts Each Week Create a Habit:  The Fix is a 21 day long program (which you can repeat as many times as necessary.) According to studies, this is the amount of time habits can form. When you get into the habit of daily exercise it becomes part of your routine. Once this new habit is formed, it can become engraved in you. You may even feel guilty if you miss a workout!
The Portion Control Diet: There a number of different diets that can help you lose weight. Most diets have you cutting back on or cutting out a certain food group such as carbs and using low fat everything, which causes people to eat less calories overall because they're not eating as much food. The portion control diet in the 21 Day Fix does not cut out a food group or restrict one. It is a complete balanced diet of carbs, protein and healthy fats. The portion control containers are used to monitor your food intake, which should create a calorie deficit to help you lose fat while maintaining a balanced diet.
The two points above may not seem like much, but it's simplicity that keeps people on track with the program. And that's the real secret to successful weight loss – stay on the program, and you will see results!
My complete breakdown of the 21 Day Fix is here if you would like to learn more about this program.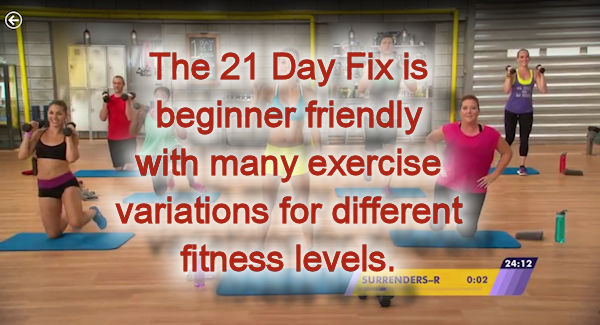 #2 INSANITY MAX:30 Not the Original
The most weight I have seen lost on a program is with Insanity MAX:30 from Shaun T. The original Insanity workouts are extreme and really for more intermediate and advanced. While MAX:30 could also be considered extreme the key here is the onscreen modifier makes this workout possible for most levels of fitness including the beginner.
A couple reasons I chose MAX:30 as a another good program for beginners who want to tackle a Beachbody program.
Calorie Burn – MAX:30 workouts burn a lot of calories. Men should burn 300-500 calories with the workouts. Weight loss occurs when your body burns more calories than it consumes so a program that burns a lot of calories every day plus good nutrition is the cornerstone of weight loss.
MAXING OUT will push you further. Shanu T is a motivator like no other – Shaun T is not the same trainer in all of his workouts. In his dance workouts he is more laid back, in MAX:30 he is extremely encouraging.  And what I like most about the program is every workout you go for as long as you can, when you loose form and cannot keep up, you take a break and write down the time you MAXED OUT, next workout you try to go longer. It is amazing how fast and how much longer this simple mind hack will keep you going.
Since the enormous success of the portion control containers of the 21 Day Fix Beachbody now includes them with any of their new releases so you can incorporate these with MAX:30 to
If you want to learn more about Insanity MAX:30, here is the link to my full review and results post.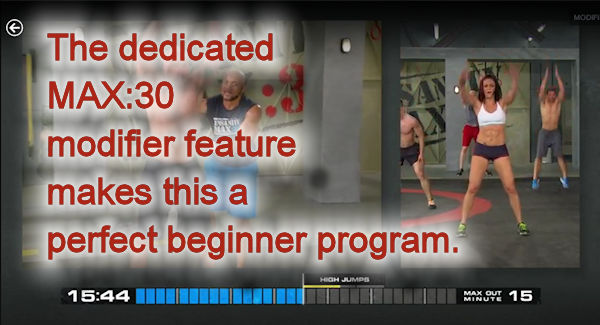 Remember
Slow and steady when it comes to weight loss, it is more sustainable and keeping the weight off for good is 100 times more achievable when done this way.  But either of these two programs is a great way to get that train started.