Skinny jeans in 2017? It doesn't look like this style is likely to go away anytime soon. Sure there are slight style variations coming and going every year, but that classic skinny jean shape remains consistent year after year.
And, I need to get these legs back in shape if I want to fit in my skinny jeans this year! Does this sound familiar?
Good news is with this 30-Day Skinny Jeans workout challenge you'll be able to slide into those jeans in no time. This hybrid program uses a variety of at-home workout videos from Beachbody get our lower body toned and tightened.
I also include my 7 Bum Booster exercises as an add-on to really tone up that tush. These seven exercises specifically target your legs and butt and should be done first thing in the morning(more on this later).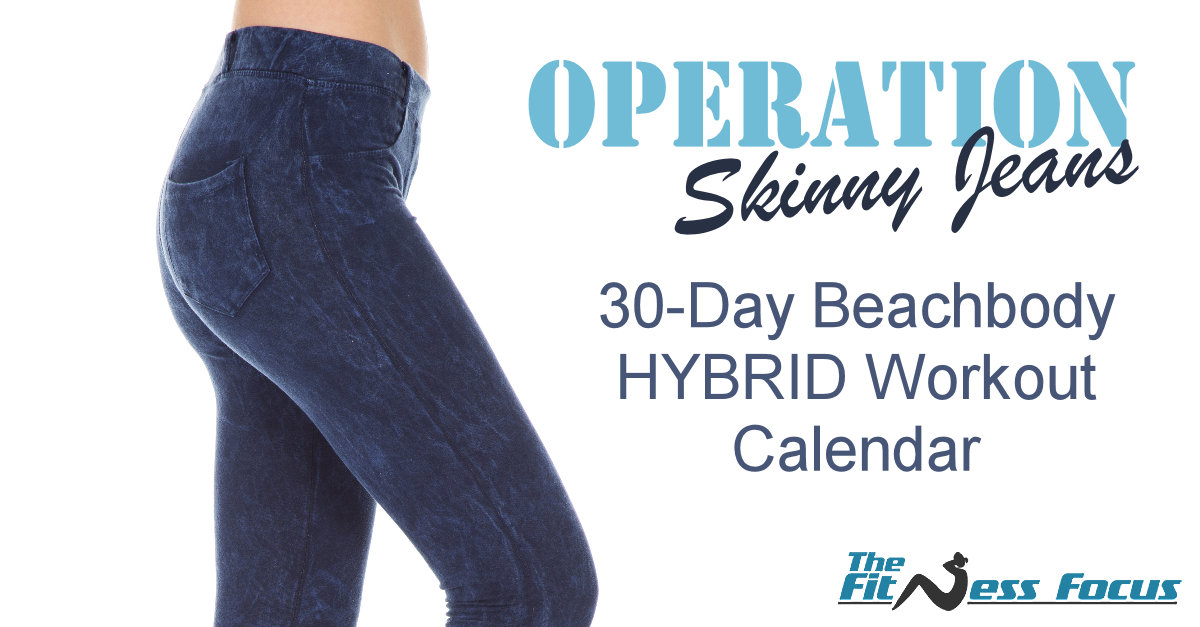 What Skinny Jeans Accentuate
Look:
Skinny jeans are shape huggers. You might think you need stick thin 6-foot long legs to pull off skinny jeans. But that is so not true! You want to keep your sexy curves to really rock the true skinny jean style.
Skinny jeans hug our figure all the way down. Every body is different. Some may need help working on getting lean legs while some may need help creating killer curves.  We all have our own shape to fill out our jeans, but that doesn't mean we can't rock our favorite pair of skinny jeans!
To get our best skinny jeans figure, we need to shape the muscles in the butt and thighs, plus burn extra calories with a little bit of cardio mixed in to tighten up.
30-Day Beachbody Program Hybrid "Skinny Jeans" Workout Calendar
Let's get started.
Our legs and butt are the main target for this routine. The following are the muscles we're going to specifically target:
Glutes: These are the three muscles that make up your butt: the gluteus maximus, gluteus medius, and gluteus minimus. The primary role of these muscles is to provide and control the movement of the hips.  Exercises that target the glutes are squats and lunges.
Quadriceps: The four frontal muscles of the thigh. Think of these muscles as connecting the top of your leg to the bottom half. Exercises that target the glutes also work the quads. Exercises like leg extensions or leg presses put more focus on the quads.
Hamstrings: These are the muscles on the back of the leg. There are four specific muscles here. The hamstrings allow for the flexon of your knee and extension of the hip. Exercises like the stiff-legged deadlift and leg curl specifically work the hamstrings with glute assistance.
I hope this gives you a better understanding of the reason I selected the following workouts to ensure each area of the lower body is worked. I made my no gym required Skinny Jeans hybrid routine from these workout programs:
Brazil Butt Lift Series – High & TIght, Bum Bum, Higher & Tighter, Ipanema Booty, It's Booty Time
PiYo – Buns, Core, Hardvore on the Floor
Focus T25 – Core Cardio, Core Speed, SPeed 2.0, Speed 3.0
21 Day Fix, Extreme – Lower Fix
Master's Hammer & Chisel – Balance
Insanity MAX:30 – Cardio Challenge, Sweat Intervals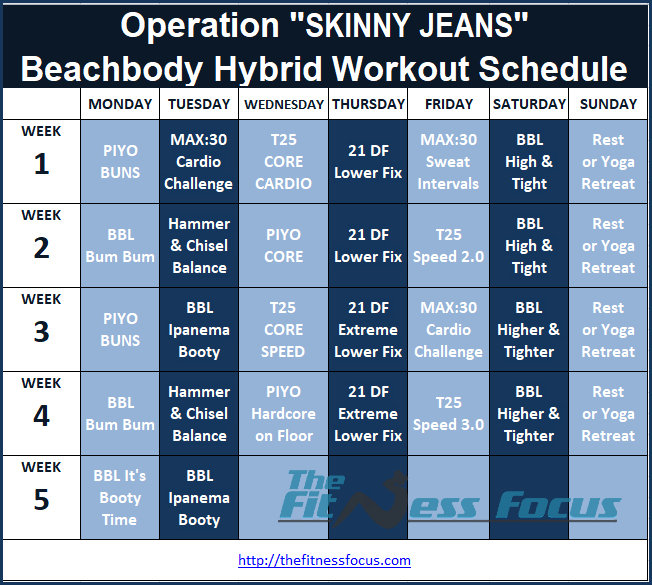 An Editable and Printable Copy of the Above Operation Skinny Jeans Hybrid Workout in Google Drive.
https://docs.google.com/spreadsheets/d/1UN9sfBvXlo3p7BRLShi2TfFWMnLCV8zPZ1cZV-makI8/
To Download in PDF.
https://thefitnessfocus.com/documents/skinny-jeans-workout-beachbody-hybrid-routine.pdf
Stream These Workouts Online with Beachbody On Demand (14-Day Free Trial)
Ready?
A couple of years ago, you would've had to own each of these workout programs to follow this hybrid. Luckily, we are now able to stream any Beachbody workout program with the Beachbody On Demand (BOD) service.
A membership to this service allows for unlimited streaming of any Beachbody workout and access to all of the workout programs' materials in digital format. If you have never used BOD, there is a 14-day free trial(scroll to the bottom right option) that will not charge your credit card until the trial is over if you continue.
A Bum and Thigh Booster Exercise is the Right Way to Start Your Day
In addition to that, let's step it up a notch.
Did you know it is actually scientifically proven that just doing a little of something will give you the willpower to get more and more done? I guess this is where the saying about starting small comes from.
Now, I challenge you to start every day with a little additional morning exercise you do at home.
Each morning before you do anything else, you need to perform the one exercise I have listed for that day. Perform 2 sets of 8-10 repetitions with a one-minute break between each set.
This little bit of extra exercise does not seem like much, because it's not. Performing these exercises is more about getting you in the right mindset for the rest of the day. It's that little something in the morning to make you want to do more later on. This little motivational trick is guaranteed to make working out each day easier.
Here are the 7 Bum Booster Exercises
Do two sets of 15 repetitions with a minute break between sets each morning for the day listed.
MONDAY: Sumo Squat
TUESDAY: Single Leg Squat
WEDNESDAY: Single Leg Lunge
THURSDAY: Stiff Legged Deadlifts
FRIDAY: Skater Lunges
SATURDAY: Bridge
SUNDAY: Parallel Squat
All of these exercises are taken from the videos. If you need help with form, I would suggest a Youtube search of my channel or leave a comment below and I'll give written instructions.
Don't Go it Alone – Join Our Community
The downside of at-home workouts is that the support and motivation can be hard to find alone.
That's why I created an online community where people can come together and get that support we all can use to whip our butts and thighs into shape for skinny jeans season!.